'El Risitas' Comedian Juan Joya Borja Dies at 65 – Remembering His Life & Work
The Spanish comedian Juan Joya Borja, better known as 'El Risitas,' inspired a plethora of memes and viral videos with his contagious laugh and funny stories. 
Juan Joya Borja, the face of many memes and viral videos, died at the age of 65. The Spanish comedian was known by his nickname 'El Risitas,' which translates to 'The Giggles'. 
Borja was given the nickname after appearing on "Ratones Coloraos," a Spanish variety show. While in the middle of telling a story, Borja burst out in uncontrollable laughter resulting in a hilarious video that instantly went viral.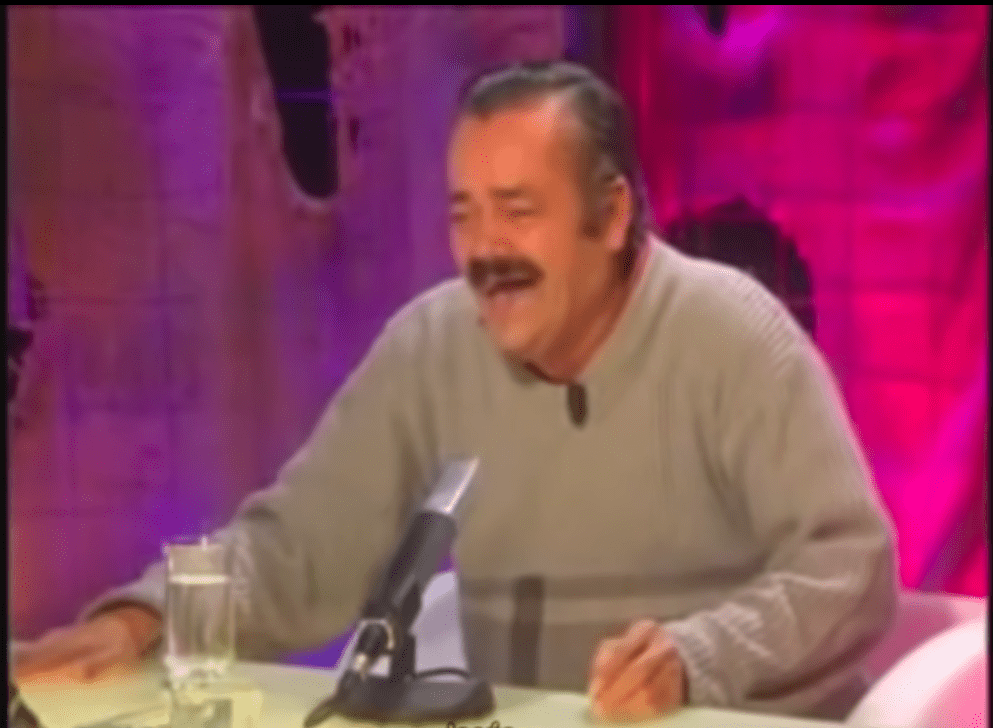 DIED IN SEVILLE
Borja was a full-time patient at Hospital de la Caridad, where he lived since his leg amputation in September 2020. The Spanish native was undergoing treatment for an unknown illness when he suffered a setback and had to be transferred. 
The comedian was then moved to Hospital Virgen del Rocío, located in Seville, where he passed away following complications stemming from the illness he was being treated for. 
Rest in peace to Juan Joya Borja, aka Risitas.

Your legendary laughter will stay with us forever 🖤 pic.twitter.com/gG4v082ybE

— Team Secret (@teamsecret) April 28, 2021
MEME FAMOUS
The late Spanish comedian's legacy lives in on in the memes that include his contagious laugh, which is widely spread across the internet. His giggles are seen on everything from parody videos to comedic skits. 
Jim Steinman, an iconic songwriter, and producer also died. He was 73.
Although his laugh was famous in Spain since his "Ratones Coloraos" interview, Borja also received international recognition when the video was discovered by the rest of the world in 2014 and became a popular meme. 
Man behind 'Spanish laughing guy' meme, comedian Juan Joya Borja, dies aged 65 https://t.co/SxqtrN8YPb

— BBC News (World) (@BBCWorld) April 29, 2021
ONLINE TRIBUTES
Following the 65-year-old's death in Seville, the online community has contributed many tributes to Borja. With so many people knowing both his face and his laughter, his death is mourned by many. Vice tweeted: 
"He was known as 'The Giggles' in his native Spain, and his legacy is that of a joy-spreading meme."
In the wake of Borja's death, the brotherhood de la Santa Caridad will take charge in arranging his funeral and burial, which were two of the comedian's dying wishes. 
Before we go any further with today let's take a moment to remember Juan Joya Borja who passed away yesterday.

His kind face and awesome laugh have brought us so much joy. Heaven's meme game just got stronger.

KEKW. ❤ pic.twitter.com/X01h0BjzWS

— Astralis Counter-Strike (@AstralisCS) April 29, 2021
HOLLYWOOD DEATHS
Borja is not the only celebrity whose death is mourned in 2021. The former lead singer of the Bay City Rollers, Les McKeown, also passed away at 65. He sang the hits "Saturday Night" and "Bye Bye Baby." 
Another loss was suffered in Hollywood when the director and executive producer Monte Hellman died on April 20. He was involved in the making of movies like "Two Lane Blacktop" and "Reservoir Dogs."
Juan Joya Borja, famed Spanish comedian El Risitas and face of the ever-popular "KEKW" emote on @Twitch, has passed away at the age of 65 pic.twitter.com/0J8ikBuGTO

— The Esports Writer (@FionnOnFire) April 28, 2021
Jim Steinman, an iconic songwriter, and producer also died. He was 73. Steinman was the mastermind behind Bonnie Tyler's "Total Eclipse of the Heart" and worked on Celine Dion's "It's All Coming Back To Me Now." 
Actress Helen McCrory also met her end when she died on April 16 at 52. McCroy had a long battle with cancer which eventually took her life. She is best remembered for her roles in "Harry Potter" and "Peaky Blinders."