People: Cindy McCain on Learning to Live with a Broken Heart after the Death of Her Husband John
Senator John McCain passed away in August 2018 after battling an aggressive form of brain cancer, leaving his wife, Cindy McCain as a widow navigating life without her husband. 
Cindy McCain has been learning to live without her better half, Senator John McCain, for the last three years and has decided to put pen to paper and document her journey in the form of a memoir. 
Life without her husband hasn't been easy for Cindy, but she has strived to make the best of life without him. Writing a book has helped Cindy make sense of where she is and where she is going, even if it has to be without her husband.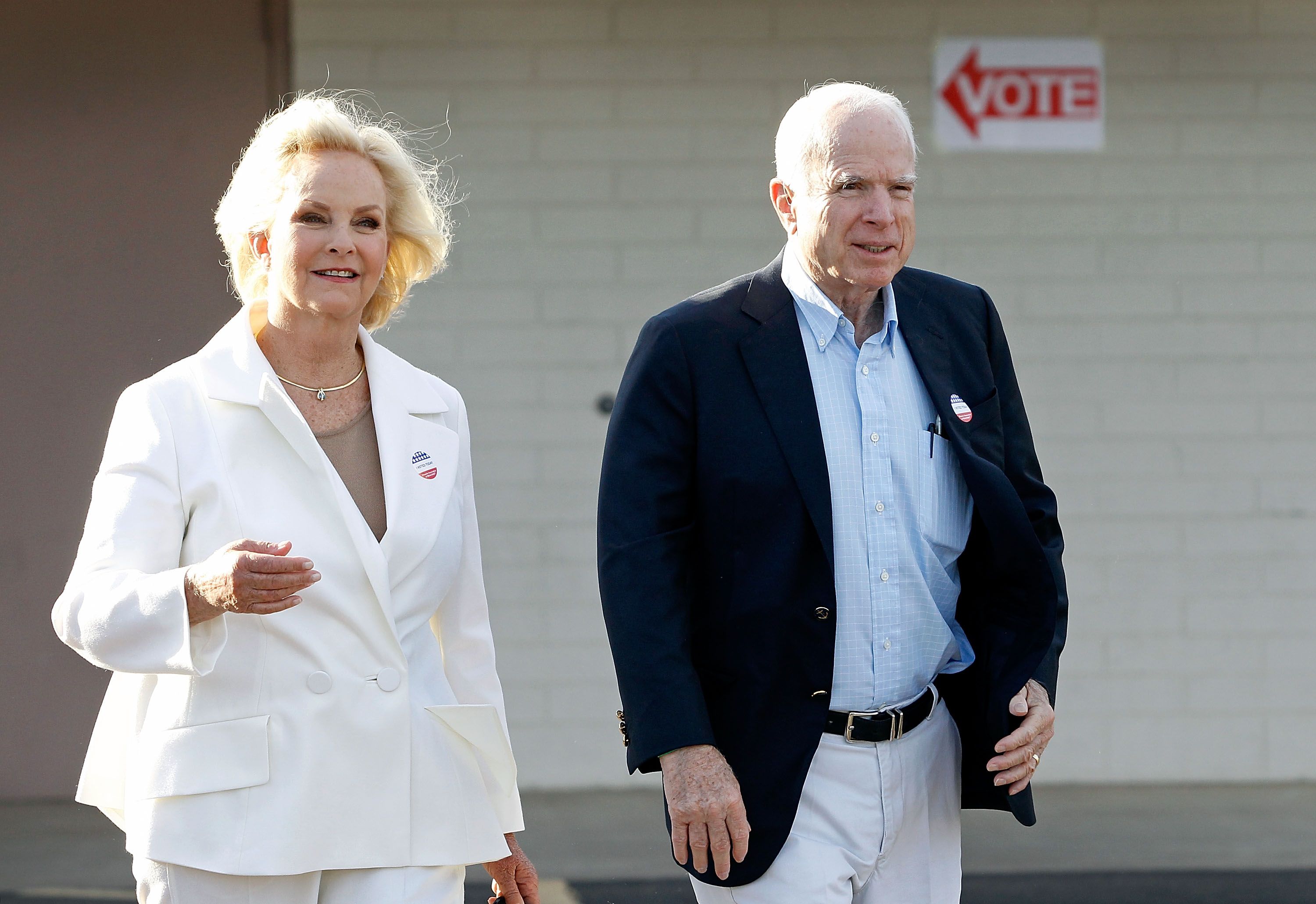 LEARN TO LIVE WITHOUT HIM
As the matriarch of one of the USA's leading political families, Cindy is no stranger to standing strong in the face of adversity but facing the death of her husband required a different type of strength. 
In her memoir, Cindy penned her experience with grief in the wake of John's death following his long and intense battle with brain cancer. She took a vulnerable approach writing: 
"John had occupied such a huge space in my life that I would never stop missing him. All I could do was learn to live with the heartbreak of loss."
TOMORROW: @cindymccain joins the co-hosts LIVE to share how she's opening up about life, love and losing her husband John McCain in her new memoir, #Stronger. pic.twitter.com/td7DvsYVE4

— The View (@TheView) April 26, 2021
 MAKING THE BEST OF LIFE
The senator's widow is now making the best of life, using the COVID-19 pandemic to sit down and reflect on the journey with John that led to where she is at present. 
The politician's daughter, Megan McCain also embarked on the journey of becoming a mother.
The memoir includes a look at the couple's first encounter in Hawaii in 1979 that eventually progressed into a life of tackling American politics side-by-side and everything in between. 
4/28 @ 6PM (9ET) — @cindymccain presents her memoir, STRONGER: COURAGE, HOPE, AND HUMOR IN MY LIFE WITH JOHN MCCAIN.

She'll open up about her beloved husband, their thirty-eight-year marriage, and the trials and triumphs of a singular American life.

🎟️: https://t.co/3rsvLpLjei pic.twitter.com/rabIWWExn1

— Changing Hands Bookstore (@changinghands) April 26, 2021
THROWING A PARTY
Despite the weight of grief and mourning that ensued after losing John in 2018, his family, friends, and colleagues gathered for a celebration a year after his death upon his request. 
The party marked not only 365 days of doing life without their family's patriarch but also allowed them to appreciate the time they did have with John. Cindy shared: 
"Neither did he want us to mark the anniversary of his passing with solemn commemorations and tears, but to celebrate the life we shared with him."
It is our great honor to announce that @CindyMcCain will be receiving the prestigious Commitment to Cures Award at our annual #CommitmenttoCures event. Join us in celebrating her and so many others on April 21st. Tickets available now: https://t.co/CuJYjE1AAQ pic.twitter.com/ATmczZbrjD

— American Brain Foundation (@ABFbrain) April 8, 2021
MOVING ON
Life goes on for the rest of the McCain family that was left behind. John's widow invested her time and energy into humanitarian work that resulted in the adoption of her daughter  Bridget from Bangladesh. 
The politician's daughter, Megan McCain, also embarked on the journey of becoming a mother. She welcomed her first child into the world with her husband, Ben Domenech, in September 2020. 
Big news! My new book, Stronger, publishes April 27, available for preorder today. Link in bio. pic.twitter.com/lgXwBNP3KW

— Cindy McCain (@cindymccain) February 23, 2021
Cindy previously noted that her children and grandchildren were a great source of motivation to keep going in the difficult days. After being married to John for 40 years, life without him was no easy feat. 
Cindy also took on the position of chairman of the McCain Institute's Board of Trustees, where she works to further her late husband's legacy.  There seems to be no stopping Cindy as she takes the challenges of life head-on.