Pioneer Woman Ree Drummond Shares Touching New Photos from Daughter Alex's Wedding
"The Pioneer Woman" Ree Drummond shared new gorgeous and touching photos from her daughter, Alex's wedding this week on Instagram. 
"The Pioneer Woman" Ree Drummond's oldest daughter, Alex just got married to her university boyfriend, Mauricio Scott on Saturday, May 1, 2021. The proud mother shared photos from the special day on Instagram. 
The celebrity chef shared a few posts on Instagram, which including photos leading up to Alex's special day as well as photos of the family at the wedding, and the wedding venue beautifully decorated. 
One of Drummond's posts included a lovely photo of herself and her husband, Ladd Drummond, watching the ceremony. Ladd was wearing a neck brace as he injured his neck earlier this year during a track accident on the family ranch. 
For another post, Drummond shared a stunning photo of the venue table, which perfectly showed the couple's beautiful rose table settings. Drummond shared with fans that they could read more about the event on her website:
"If ya like flowers, brides, and basset hound wedding crashers, you might enjoy browsing the post about Alex's wedding on my website!"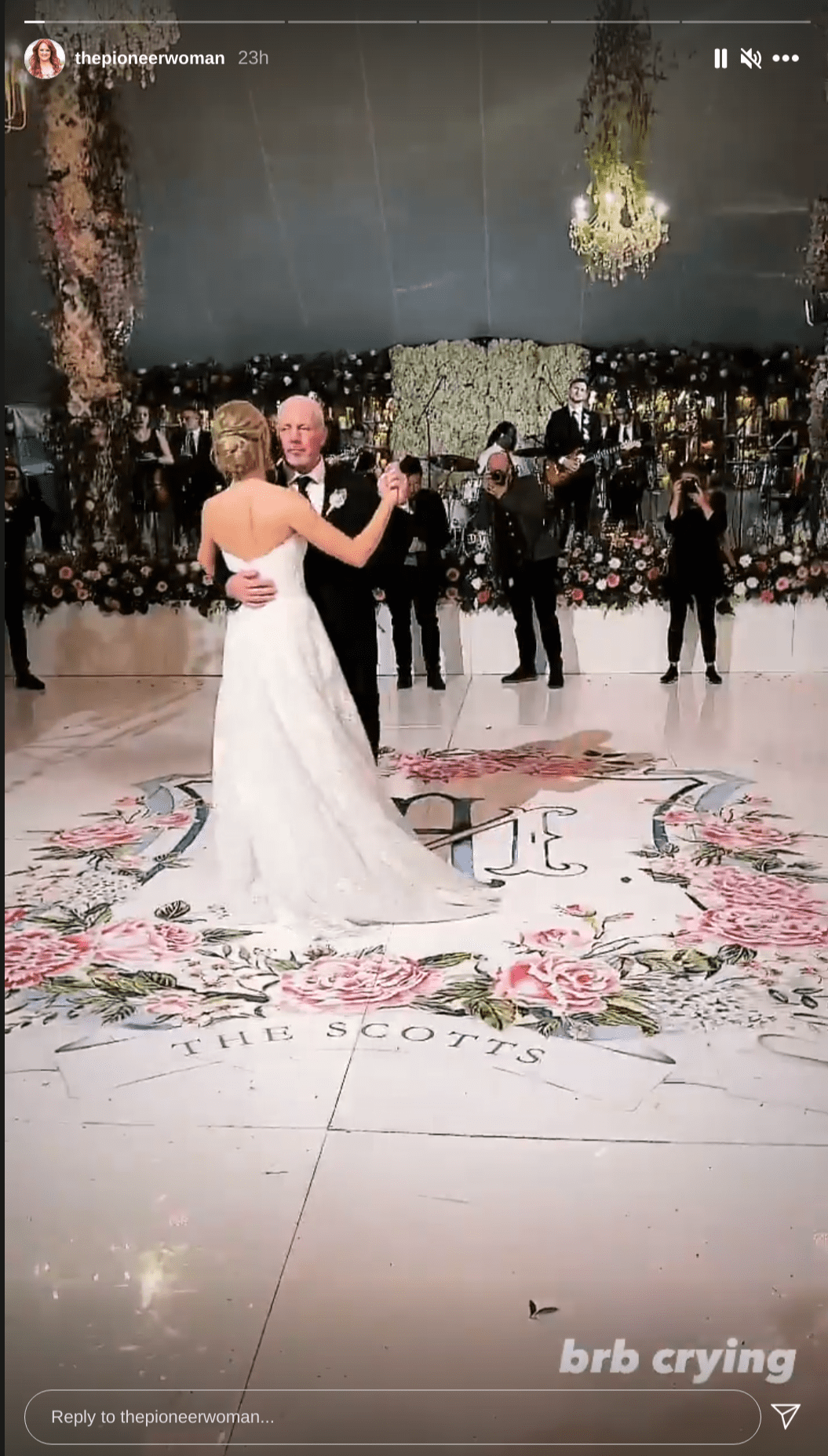 Her post also featured a gorgeous photo of Alex and her new husband giggling on the dancing floor and another photo of Ladd and Alex together during wedding photos. 
The mother of five made sure to share a beautiful photo of the bride and groom sharing a romantic kiss. In the caption, she wrote that with Mauricio, she now had six children. The photo featured all Alex's siblings in the background.
There is no doubt Alex's younger siblings, Paige, Bryce, Jamar, and Todd were happy to see their oldest sister get married.
Drummond also made sure to share a special shout-out to her new son-in-law. She shared a hilarious photo of Mauricio and his mother having fun on the dance floor. 
In the photo, Mauricio is bending down and pointing to his mother, while his mother holds his hand and smiles broadly at him. Drummond used the moment to describe her daughter's husband as:
"This is the man my daughter married. Mauricio embraces life, makes things fun, and cherishes his beautiful mom. "
Alex and Mauricio met when they both studied at Texas A&M University. She graduated in 2019 and moved to Dallas for work. She and her husband both live there. 
There is no doubt Alex's younger siblings, Paige, Bryce, Jamar, and Todd were happy to see their oldest sister get married. Paige attends the University of Arkansas, while Bryce attends the University of Texas. 
Jamar is Ladd and Drummond's foster child and he had been a part of the family for over a year and a half. He played football with both his brothers. Todd, the youngest, is still in high school. 
Ladd and Drummond are definitely proud of their children. Drummond regularly shares photos of all her children and updates her fans on their family life, and happenings.