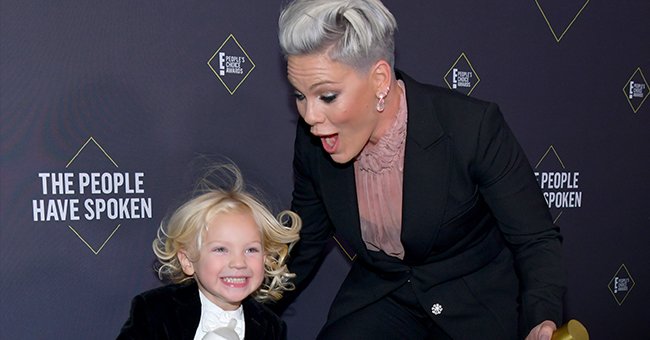 Getty Images
Pink Opens up about Her & Son Jackson's Experience with COVID-19 Last Year
American singer and songwriter Pink has revealed her and her four-year-old son Jameson Moon's experiences while battling with COVID-19 last year.
People who have battled with severe COVID-19 symptoms often speak of how terrible it can be. It was more of the same for singer Pink and her son, Jameson Moon, 4, after they tested positive for the deadly virus in April 2020.
Only the singer and Jameson tested positive for the virus, while her husband Carey Hart and daughter Willow Sage were unaffected.
Pink and her husband, Carey Hart attended the CMAs with their daughter, Willow, and son, Jameson, November, 2019. | Photo: Getty Images
Pink joined Mark Wright of Heart Radio for a chat recently and opened up about her and Jameson's experiences a year ago. She said, "It was really, really bad, and I rewrote my will." Pink also said that at one point, she thought it was over for her and Jameson.
The singer revealed she called her best friend and told her to tell her daughter, Willow, how much she loves her. She further said it was really scary and bad.
Pink explained that many questions ran through her mind about her parenting and a possible final chance of making an impression on her children.
Pink then showed her and Jameson's funny and adorable-looking creation before bursting into laughter.
She noted that as a parent, one begins to think about what they are leaving for their kids or teaching them. They also wonder if their kids would make it in the world and what they need to tell them if that would be the last time they get to tell them anything.
Pink and her son eventually pulled through following their COVID-19 battle, with the singer going on to write a new song, "All I Know So Far," which she dedicated to Willow.
The song's lyrics contain the life lessons Pink wanted to pass down to the nine-year-old if she did not survive her battle with the virus. Since surviving her COVID-19 ordeal, Pink has continued making and sharing adorable moments with her kids.
Last month, she cracked her followers on Instagram up after sharing a hilarious video of her and Jameson's attempts at baking duck cupcakes. The video began with a photo from a baking cookbook showing what the cupcakes should look like.
Pink asked Jameson how he thought they did, and he thumbed up to her, agreeing with her that they nailed it. Pink then showed their funny and adorable-looking creation before bursting into laughter.
The video post generated multiple reactions from Pink's friends and fans, including Jennifer Garner, who said she preferred her cupcakes to the ones in the cookbook. Podcast host Brené Brown also called the cupcakes the most perfectly imperfect duck cupcakes.
Please fill in your e-mail so we can share with you our top stories!