Widow of NYPD Cop Killed by Drunk Driver Delivers Emotional Speech at His Funeral
Wife of NYPD veteran killed by a drunk driver during road patrol put up a brave front as she dearly spoke of her husband's blessed memories during his funeral.
Irene Tsakos bade farewell to her spouse and NYPD officer, Anastasios Tsakos, on Tuesday during his final burial. Irene spoke of how her husband was a good man and a hands-on dad to their two kids.
The late officer was said to have been killed by an alleged drunk driver who rammed into him while he performed his duty amid settling a road crash. Irene was joined by family, friends, and officers of the law.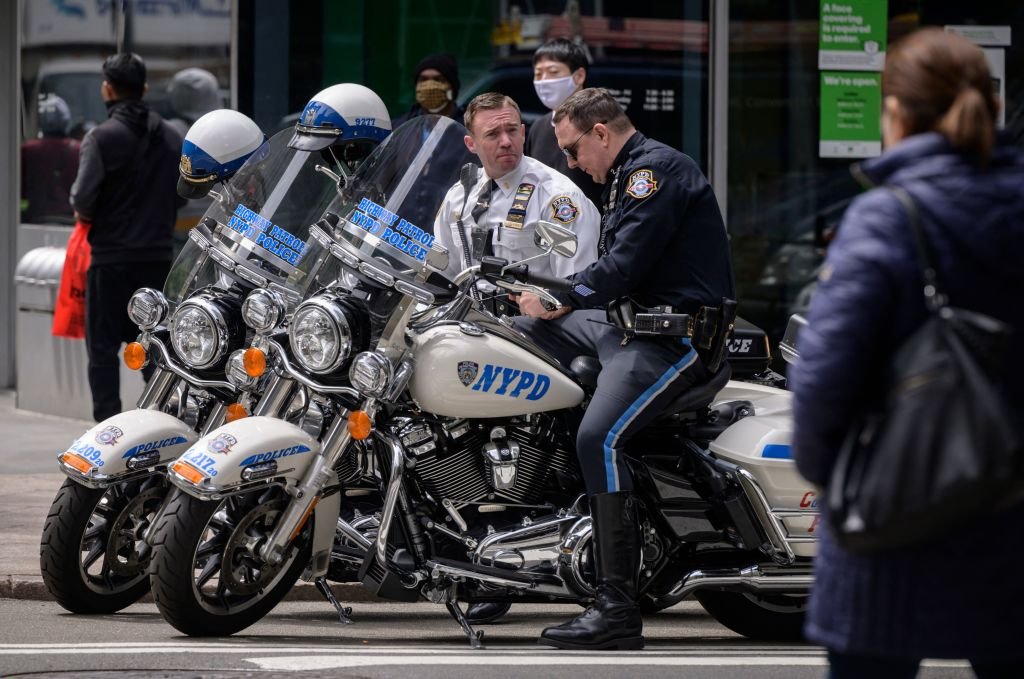 The funeral event, which was held at Paraskevi Greek Orthodox Shrine Church, presented Irene as one of the last four speakers who talked about the officer. She spoke of their blissful years, which summed up to eight.
The bereaved wife spoke of how her spouse was a caring person who always tried to make people's life easier. She called him an eternal optimist with a witty sense of humor. 
Police Officer Anastasios Tsakos gave his life for the city he loved doing the job he loved and leaving behind two families he loved, one in black, the other in blue. Neither will forget "Taso" or each other. pic.twitter.com/wVeyoFBK9U

— Deputy Commissioner John Miller (@NYPDDCPI) May 5, 2021
Irene referred to her husband as her "angel," noting that he always made sure to tuck the kids in for bed while he shared intriguing bedtime stories. The widow relayed that she would watch her spouse spend time with the kids and be grateful to God.
Mayor Bill Blasio of New York shared his condolences.
Police Officer Anastasios Tsakos Funeral Service https://t.co/yNGJBu68GD

— NYPD NEWS (@NYPDnews) May 4, 2021
She vowed while giving her speech to make sure his memories were kept alive for the sake of their three-year-old and six-year-old children. At the end of the service, she leaned into the casket as final respect.
A day before Anastasios' funeral, many of his co-police officers gathered for a befitting wake. He was referred to as a cop's cop who loved motorcycles and helicopters. 
Officers from @NYPDHighway salute Police Officer Anastasios Tsakos before providing a motorcade escort from Queens to Long Island as thousands prepare to join us in paying respects and mourning this tremendous loss. pic.twitter.com/63NmtInNHJ

— NYPD NEWS (@NYPDnews) May 3, 2021
The drunken driver has since been identified as Jessica Beauvais, and she has been charged on several counts, including Vehicular manslaughter, driving while intoxicated, and driving without a license.
Beauvais reportedly fled the scene after she hit Anastasios but was later apprehended by the other police officers on the ground. She confessed to having been under the influence of alcohol and marijuana. 
Final goodbyes to a fallen hero: Funeral held for NYPD Officer #AnastasiosTsakos a week after he was killed by an alleged drunk driver in Queens

Friends and fellow officers shared their memories with @kirstincoletv this morning: https://t.co/ruo9YX1V0F pic.twitter.com/WHeyc8FpoO

— PIX11 News (@PIX11News) May 4, 2021
Mayor Bill Blasio of New York shared his condolences describing the 14-year veteran as someone whose heroism was uplifting. He called the late officer a true hero.
Shea and Pat Lynch, the head of the Police Benevolent Association, made it known that Anastasios was a favorite officer in his unit. The late lawman was posthumously promoted, and his gold detective shield was presented to Irene.