Magic Johnson's Wife Cookie Stuns in Leopard Jumper & Ripped Pants Hanging Out with Him on Vacation
Magic Johnson recently shared new photos of himself and his wife Cookie, who stunned in a leopard jumper and black ripped pants, and fans could not stop swooning over her beauty. 
Magic Johnson's wife, Cookie Johnson, is a proud mom of three, but time and time again, the 62-year-old has shown that age and motherhood does not stop her from looking her best. 
Taking to Instagram recently, Magic shared a post featuring two snapshots of him and his wife giving couple goals while donning simple yet stunning outfits.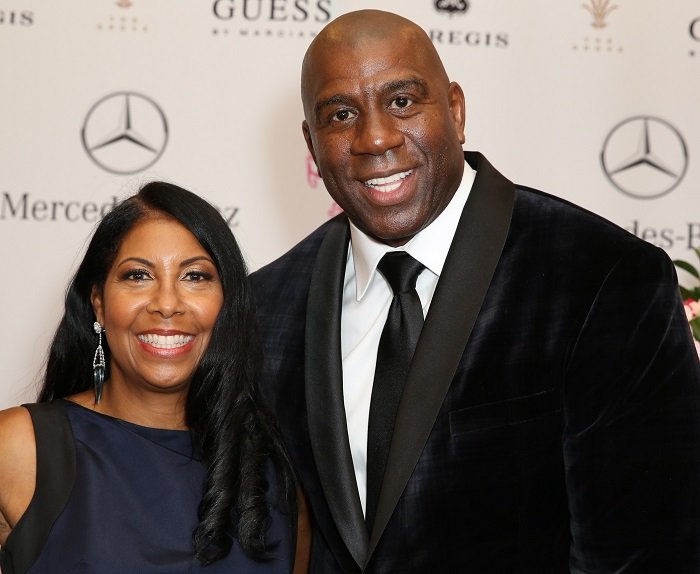 In the first snapshot, Cookie donned a beautiful leopard jumper over black ripped pants with her perfect silky hair falling across her face. She topped off her look with a pair of glasses.
Magic stood gallantly behind his wife, appearing in a white top over a black trouser. Cookie accessorized with a purse and a pair of studs, with the duo giving a smile at the camera.
The second photo was an all-black affair for the mother of three, who showcased style in a black top over black pants, while her husband wore a Dior shirt.
He accompanied the pictures with a caption revealing that he and his wife decided to hang out and enjoy each other's company at the Miramar in Santa Barbara.
The NBA legend was diagnosed with HIV in 1991 and quit his career.
Shortly after sharing the post, fans and followers trooped to the comments section, gushing about how they loved it. Their daughter Elisa Johnson was not left out as she dropped heart emojis. 
The couple has been enjoying the best of marital bliss, and they have perfectly complemented each other since tying the knot in 1999. They celebrated their 29th wedding anniversary last year.
The icon thought his wife was a gift from God via an Instagram post stating that they were waxing stronger after forty-two years of knowing each other.
When it comes to marriage anniversaries, the lovely couple does their best to appreciate themselves and spend quality time, sharing beautiful moments with their fans on social media.
They also shared pictures from their 25th anniversary in Italy on Instagram. The fabulous duo are lovely parents to Earvin Johnson, Elisa Johnson, and Andre Johnson. Magic fathers Andre from a past relationship.
No marriage is complete without negative moments. The NBA legend was diagnosed with HIV in 1991 and quit his career. However, this could not break their marriage. They waxed stronger and are unbreakable to date, ready to surmount future obstacles.