Daily Joke: Man Reveals to Friend That He Hasn't Spoken to His Wife in 18 Months
A man told his friend that he had not spoken to his wife in eighteen months. After being asked the reason behind the situation, the answer he gave was quite hilarious.
A married man informed his friend about the nature of his relationship with his wife. The man had not spoken to his spouse for eighteen months. The friend asked why this was the case and the man replied:
"I don't like to interrupt her."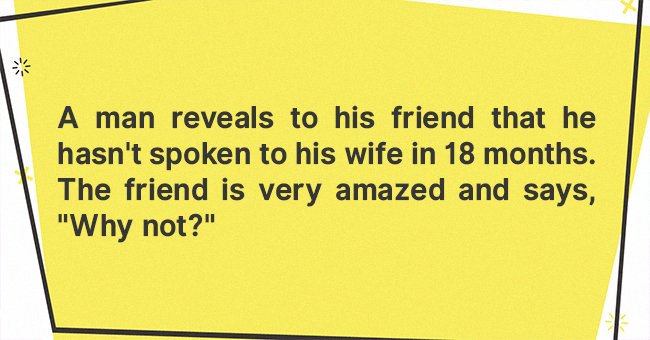 Here's another marriage joke: While at his company's Christmas party, a man named Jack thought it wise to fill himself up with some bottles of drinks, getting drunk. 
Waking up the next day with a terrible hangover, Jack wondered how he got home, pondering if he had done something wrong as he was not much of a drinker.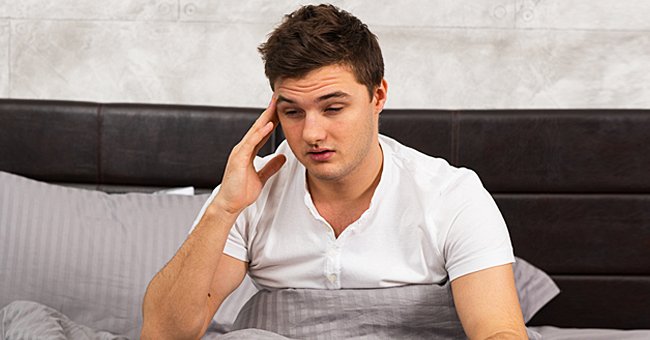 Jack managed to open his eyes and he saw some painkillers next to a glass of water. Catching his attention was a single red rose at his side. 
Puzzled, he also noticed the house was in perfect order with his clothes freshly washed and ironed. While taking the painkillers, he was startled, seeing a big black eye looking back at him in the mirror. 
Hanging from the corner of the mirror was a note written in red with a kiss mark from his wife. In the letter, Jack's wife, Julian, explained that she had gone out for some grocery shopping and kept breakfast for her husband, adding that she loved him.
Clumsily, Jack walked into the kitchen and the contents of the letter were true. Arranged for him were his breakfast, coffee, and newspaper. Surprised, he asked his son who was sitting at the table what happened the previous night.
The son narrated the escapade, including his father's fall over the coffee table and his collision with the door that led to his black eye. Perplexed, Jack was curious to know why everything was in order including his breakfast and the rose.
His son further narrated the ordeal of the previous night. He explained that in an attempt by his mother to take off his drunk father's trousers after being dragged to the bedroom, the man exclaimed: 
"Leave me alone, I'm married!"
Here is another joke about a man who got his wife really angry after he forgot about their wedding anniversary. 
Sources: Uniijokes, Startsat60