Small Wounded Whale Spotted in Thames after Being Rescued from a Shoal in Richmond
A rescue mission recently went south as a young wounded whale escaped while being transported to safety after tragically spending hours stranded in Richmond.
When it comes to humanity's love for animals, man has never failed to show his generosity towards creatures of different species. However, not all animals wish to be helped, just like a certain minke whale.
The mammal in question was reportedly first seen around 7 pm at Richmond Lock and Weir on May 9, 2021. The young minke whale drew the attention of people after it became stranded.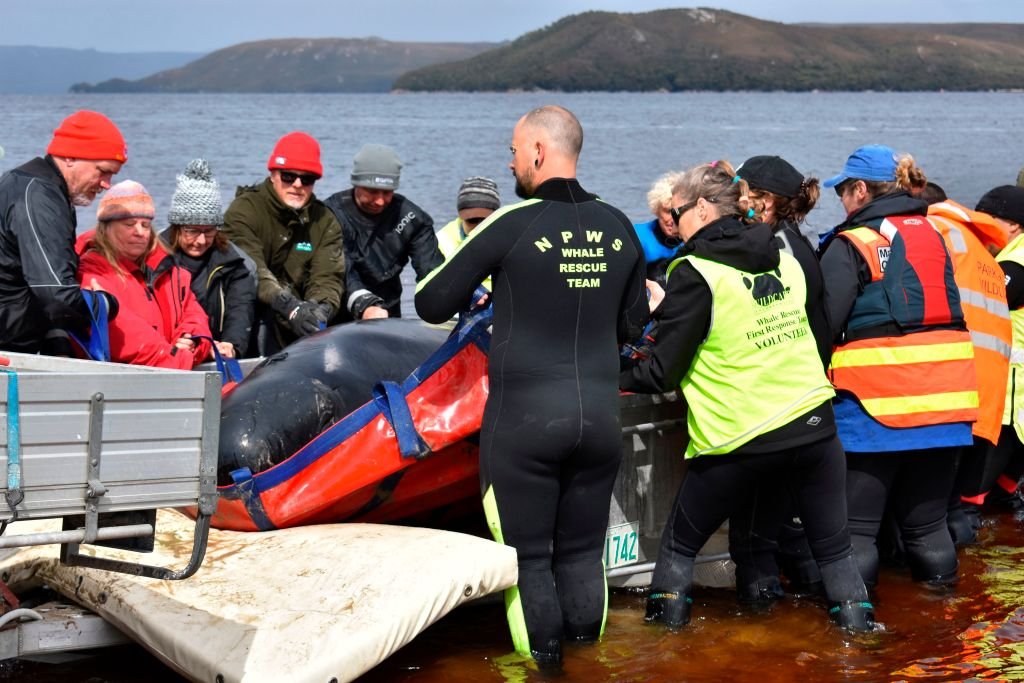 The mammal was trapped on the lock's boat rollers which were not surprising as the creature was about three to four meters long. However, humanity came together to save the poor whale from harm.
Through the joint efforts of the London Fire Brigade, the Royal National Lifeboat Institute (RNLI) crew, and the British Divers Marine Life Rescue, the young minke whale was freed from its confinement.
The whale, believed to be a baby Minke, was spotted in Richmond Lock.https://t.co/ROFvJmwd9h

— BBC London (@BBCLondonNews) May 10, 2021
The joy of the successful rescue mission was short-lived as the mammal reportedly escaped from its rescuers just hours after it had been saved. The whale was then spotted swimming in the River Thames.
Last year, many whales needed to be rescued after being stranded on Macquarie Harbour in Tasmania, Australia.
The @RNLI has said a whale they are trying to rescue from the River Thames is 'very distressed'.

The young minke whale has become stranded again further upstream after being refloated last night in Richmond.@AshnaHurynag reports from Teddington.

More: https://t.co/pIwBU0JDGw pic.twitter.com/4Ctjft7QLz

— Sky News (@SkyNews) May 10, 2021
According to sources, the minke whale escaped while it was being transported on an inflatable cushion to the deeper part of the river in the early hours of the morning. Despite escaping, the whale was being monitored.
This was reportedly due to the mammal's alarming behaviors, which made the whale's rescuers concerned about the creature's wellbeing. The experts on site were also worried that the whale might be unwell.
Experts from the RNLI are now on the scene and trying to rescue the trapped whalehttps://t.co/vhMrFhb1qX

— My West London (@mywestldn) May 9, 2021
In April, two whales, a mother, and her child were distressed and in need of desperate help after the baby whale was trapped off the coast of Victoria Beach.
The small whale was caught up in a fishing line, and although rescuers rushed to help the mammal, the mother and child wouldn't let them out of fear and kept going underwater whenever they came close.
Ocean debris again in spotlight as entangled baby whale struggles off California https://t.co/yiYvPWW2MA

— Los Angeles Times (@latimes) April 23, 2021
Last year, many whales needed to be rescued after being stranded on Macquarie Harbour in Tasmania, Australia. This rescue mission ended up bittersweet as many of these glorious mammals tragically died.
Kris Carlyon, a marine conservation biologist who advised the government's response to what was considered one of the world's biggest mass whale strandings, told sources that rescuers could save 94 whales.
Tasmania pilot whales: Rescuers release 108 surviving animals https://t.co/rwrZAA8nNj

— BBC News (World) (@BBCWorld) September 26, 2020
According to Clayton, it took great effort to save that many whales, and he also expected most of these creatures, who lived in deep waters, to recover from the incident once they regrouped fully.