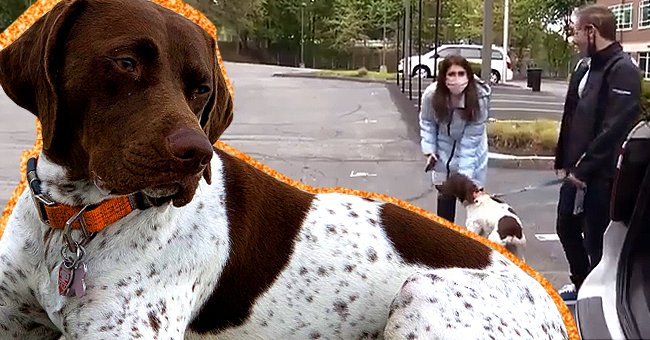 twitter.com/CambridgePolice twitter.com/julianamazzatv Shutterstock
Boston News Crew Accidentally Found a Stolen Dog While Filming a Story about Its Search
A dog was reported stolen in Cambridge, leading a news crew to cover the story. However, while they interviewed a man with a dog, they realized that they'd accidentally found the missing canine!
Last Friday, the Cambridge Police Department reported that the previous day at around 12:32 p.m., a man broke into a parked car at 620 Memorial Drive. The suspect stole a 13-month-old white German Pointer.
The dog named Titus was wearing an orange collar. Video footage picked up the suspect as he walked with the German shorthaired pointer over the Boston University Bridge into Boston, and police tweeted the images.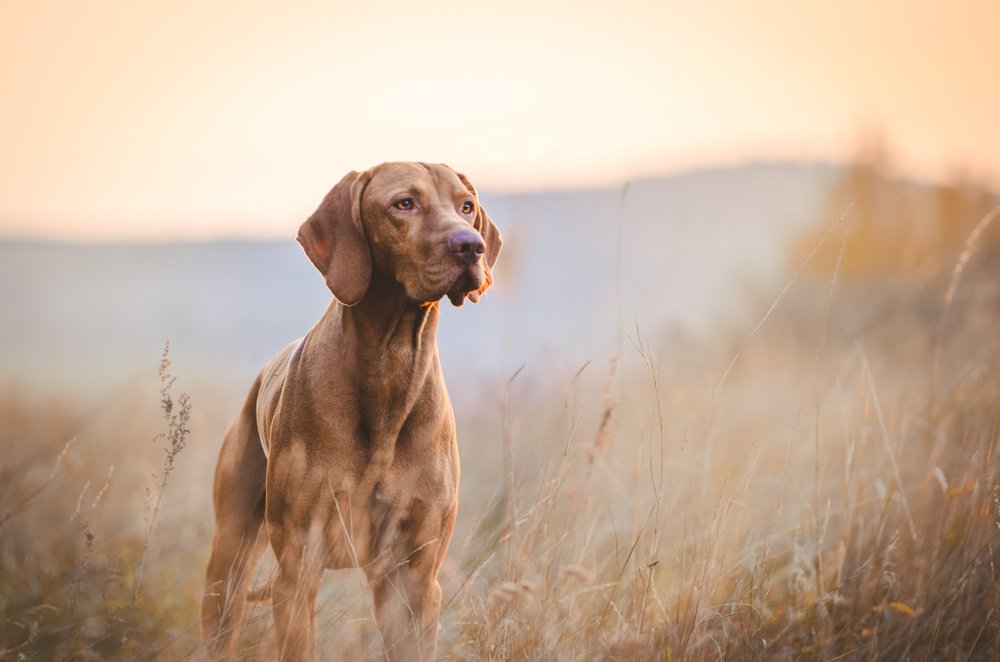 Hungarian hound pointer dog in the fall standing in a field | Photo: Shutterstock/TMArt
Police also asked for those with information to come forward. On Saturday afternoon, the local 7NEWS crew, along with photojournalist John Guice and reporter Juliana Mazza followed up on the story.
They were filming in the neighborhood where Titus was seen with the suspect. The crew stopped a man to ask him about the alleged dognapping, and that's when he explained that it was all a "misunderstanding."
Kyle Gariepy, the alleged suspect, revealed how he walked past the dog in the car and saw it barking. He reportedly mistakenly thought Titus was the dog he was supposed to be walking and took it.
Gariepy said it was all mistake. However, Mazza and the new team didn't believe him and called the police only to find that Gariepy was indeed the suspect from the police's surveillance images.
Mazza took to her Twitter account to share the accidental discovery images and explain what happened next. Having called the police, the reporter and her team convinced Gariepy to give them Titus.
Mabel was later found dumped in a bag and buried under sticks in a remote country lane.
Then they kept him engaged until the police arrived and arrested the suspect. The whole interaction was caught live on video, and Gariepy was asked why he hadn't called the number on the dog's tag.
He'd spent more than 24 hours without returning the dog or reporting it. The suspect was charged with breaking and entering into a vehicle to commit a felony and larceny of more than $1,200, with the police writing on Twitter:
"Titus has been reunited with his owner. The suspect has been taken into custody."
The police actually arrived with Titus' owner, Greg Siesczkiewicz, who hugged his pet emotionally during their reunion. In a different but similar story that occurred in April 2021, a dog was found safe after being kidnapped.
Mabel, a two-year-old Maltese, was stolen on April 27, 2021, from her back garden near Boston, Lincolnshire. She was later found dumped in a bag and buried under sticks in a remote country lane.
Please fill in your e-mail so we can share with you our top stories!