Heavily-Pregnant Fantasia Shows off Her Baby Bump in a White Leopard Mini Dress in a New Photo
Fantasia recently gave fans a glimpse of her bulging baby bump when she shared a shot that saw her dressed in a sexy outfit — her delivery date draws closer, but she is dripping confidence. 
Fantasia Barrino recently gave her fans on Instagram a glimpse of how big she has gotten over the past couple of weeks after she shared a picture of herself via her Instagram story. 
The picture featured Barrino leaning against a wall as she cradled her round tummy. She wore a small smile on her face and captioned the post, "Daddy's girl." 
The "American Idol" alum looked gorgeous in a white leopard print mini dress that clung slightly to her curves. The dress ended mid-thigh, giving her fans a glimpse of her shapely legs. 
Barrino seems to be in high spirits, which means everything is good. The talented singer ended up in the hospital a couple of weeks ago after she started experiencing sudden contractions. 
She kept her fans updated with videos she shared via her Instagram story. She said, "We've been in the hospital all day. We have to stay in the hospital for a while."
Apparently, her child had wanted out too early but was fortunately denied. The expectant mother praised her husband Kendall Taylor for sticking by her side through everything. 
Their courtship lasted about three weeks before they got married.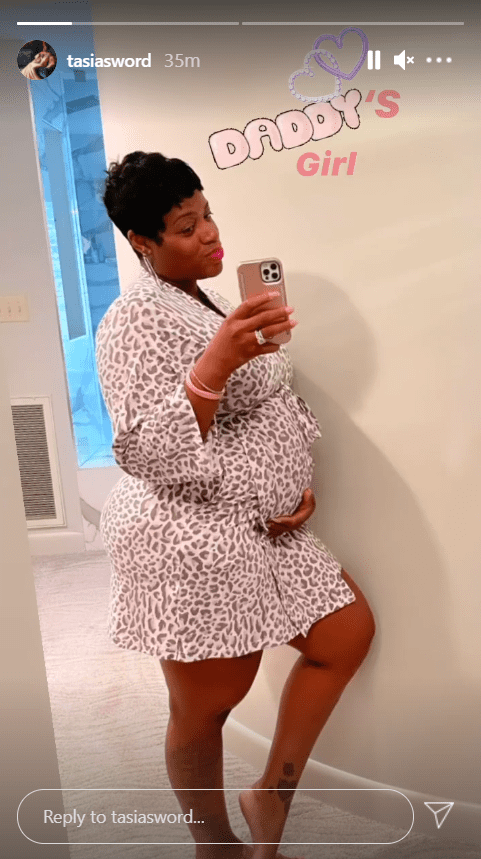 She announced news of her conception last year and early this year, revealed the sex as a girl, who would be named Keziah London Taylor.
Keziah will arrive to meet Zion and Dallas, Barrino's children from a previous relationship, and Treyshaun, Taylor's son from a past relationship.
Taylor and Barrino tied the knot in 2015. Their relationship drew a lot of ire at the time because she had only known him for three weeks before she decided he was the one. 
She had allegedly been impressed with Taylor, a former felon who took the reins of his life and turned it around for good by starting his own business. 
Their courtship lasted about three weeks before they got married. The union was a happy one, but they had difficulty expanding their family. After trying for three years and getting discouraged by doctors, Barrino decided to leave it all to God.
Shortly after, she noticed a change in her anatomy, and it turned out to be a budding Keziah. Fans can't wait to meet the already popular girl.