10 Times Magic Johnson's Son EJ Stole the Show with His Total Black Looks
EJ Johnson's fashion style transcends gender, and for that, he has become a trendsetter among those who are not afraid to disregard societal norms to go for a bolder, androgynous look. Here are some of his best all-black looks.
Cookie and Magic Johnson's son, EJ, has been in the spotlight since he was in his mother's womb. But EJ is not bothered by fame. Instead, he basks in the spotlight and has used the attention thrown his way to spread one specific message: be yourself.
EJ has explored the realms of reality television and talk shows in the past, but it is in fashion that he found his true calling. "You should be able to create yourself and present yourself in any way that you want," he said, and he does exactly as he preaches.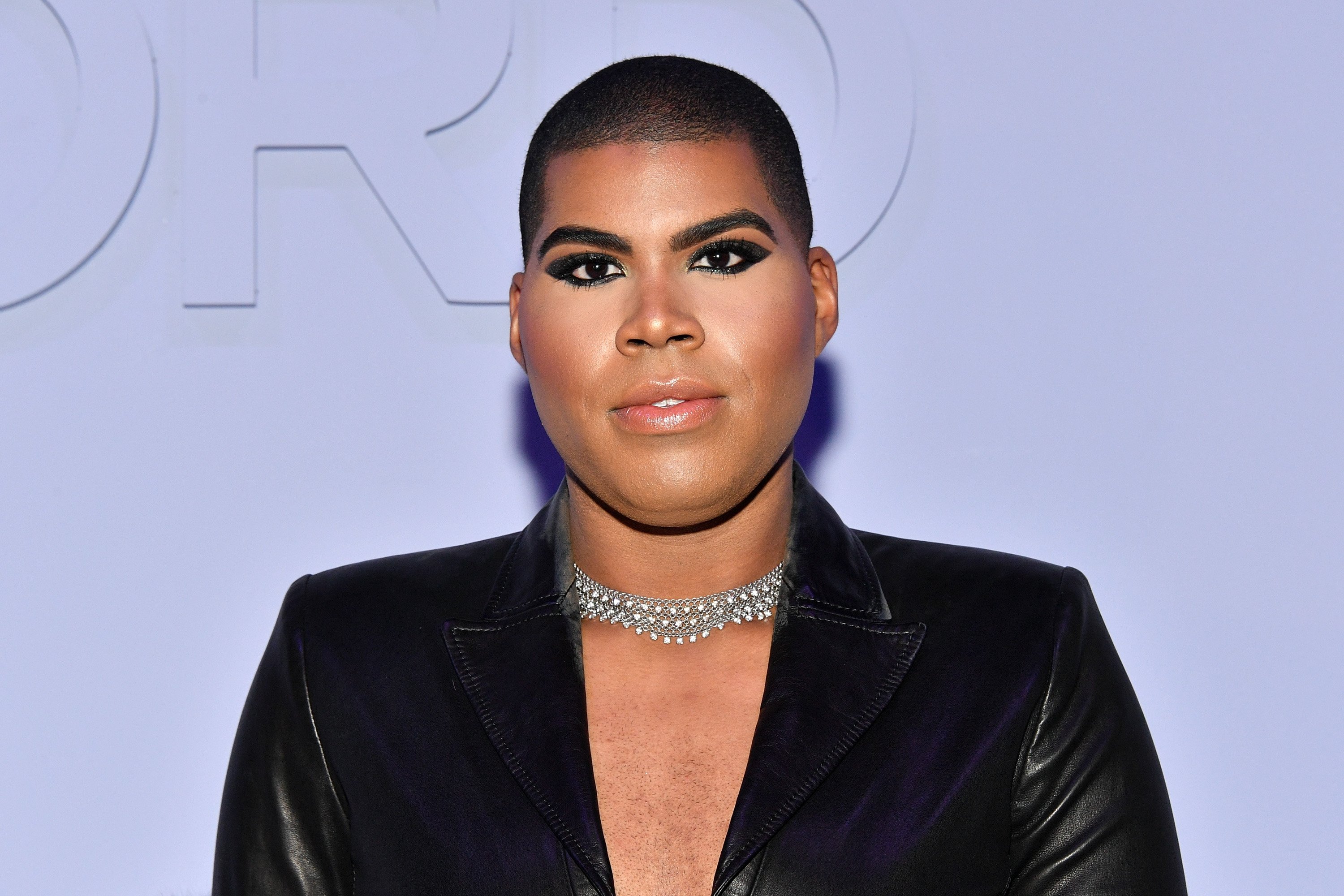 COMING OUT
EJ's mother, Cookie, knew her son was different since he was three years old and started trying out her clothes and his grandmother's skirts. When he came out as gay before leaving for college, she wasn't surprised at all.
Magic Johnson, on the other hand, had a hard time grappling with the situation. He didn't want his son to be discriminated against for his sexual orientation, and he knew how harsh the world could be to those who are different.
Still, Magic and Cookie are EJ's biggest cheerleaders, and although they made sure to surround him with love and protection, they also prepared him for the staggering reality of the world he would face.
GENDER & FASHION
EJ started exploring his fashion options while living in New York City, where he studied at NYU. He realized that there were men using dresses, heels, and skirts in the city and not caring about anyone's opinion. He was inspired.
After years of restraining himself from buying clothes from the women's section, EJ finally started following his gut. Soon, he filled his wardrobe with sheer and sparkly tops, mesh dresses, ankle heels, and fur shawls.
For EJ, there's no truer saying than "beauty is in the eye of the beholder." He wrote in an op-ed piece for L'Officiel in 2019 that "everyone should be free to experiment and play in that space as much as they please."
When EJ started rocking his body-hugging dresses, makeup, and sometimes wigs, fans began speculating that he would transition. However, the star has made it clear that he's comfortable in the body he was born in. 
He can be feminine and masculine at various degrees and depending on his moods. After all, EJ is not tied to societal expectations of what a man should wear. And most importantly, he's having fun.
Wherever he goes, EJ always has all eyes on him. His fashion choices have become riskier with the years and his 100 lbs weight loss. He loves to show skin, and his makeup is always on point too. Take a look at some of his better looks below.
1. GOLDEN GLOBES 2019
In January 2019, EJ stunned fans and critics alike when he attended InStyle's Golden Globe's after-party in a headline-worthy black gown from Alexandre Vauthier. 
The sparkly dress featured a plunging neckline and a thigh-high slit that put EJ's long and toned legs on display. He completed the look with a pair of patent ankle boots and a pearl necklace.
2. PARIS FASHION WEEK 2019
EJ attended the Chanel fashion show at Parish Fashion Week in 2019 wearing a more demure but still stunning look. Instead of a dress, he went for leather pants, a black crop-top, and a sparkly blazer over it.
He completed the look with sunglasses, boots, a Birkin bag, and a choker as he posed at the ski chalet-inspired set—snow and all— where the show had taken place.
3. GQ MEN OF THE YEAR
EJ did it again in 2019 when he posed on the red carpet of GQ's Men of the Year celebration, wearing a buttoned-up leather jacket with fringe sleeves and a pair of thin belts that cinched his waist. 
He completed the fierce look with mini shorts hidden by the jacket's length and showcased his legs in all their glory and his signature thigh-high boots. He also added a silver necklace and purple eyeshadow.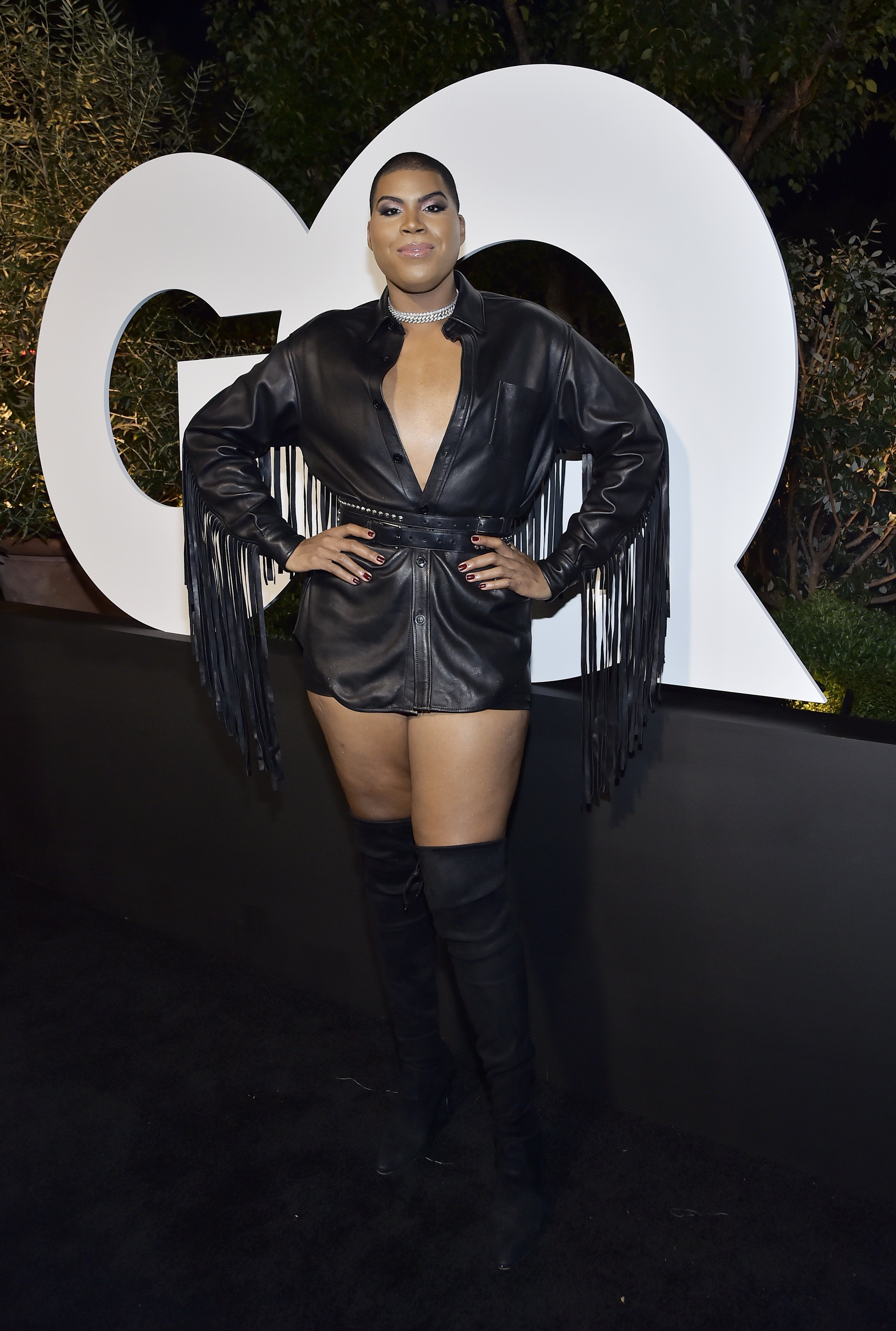 4. NEW YORK FASHION WEEK 
This time, EJ flaunted his weight loss at the VFiles Ready to Wear Fashion Show, part of the New York Fashion Week in February 2018.
He donned a strapless corset with satin details, a see-through skirt embellished with sparkling stones, and an elegant fur shawl. He also added ankle boots, a handbag, and a choker to the look.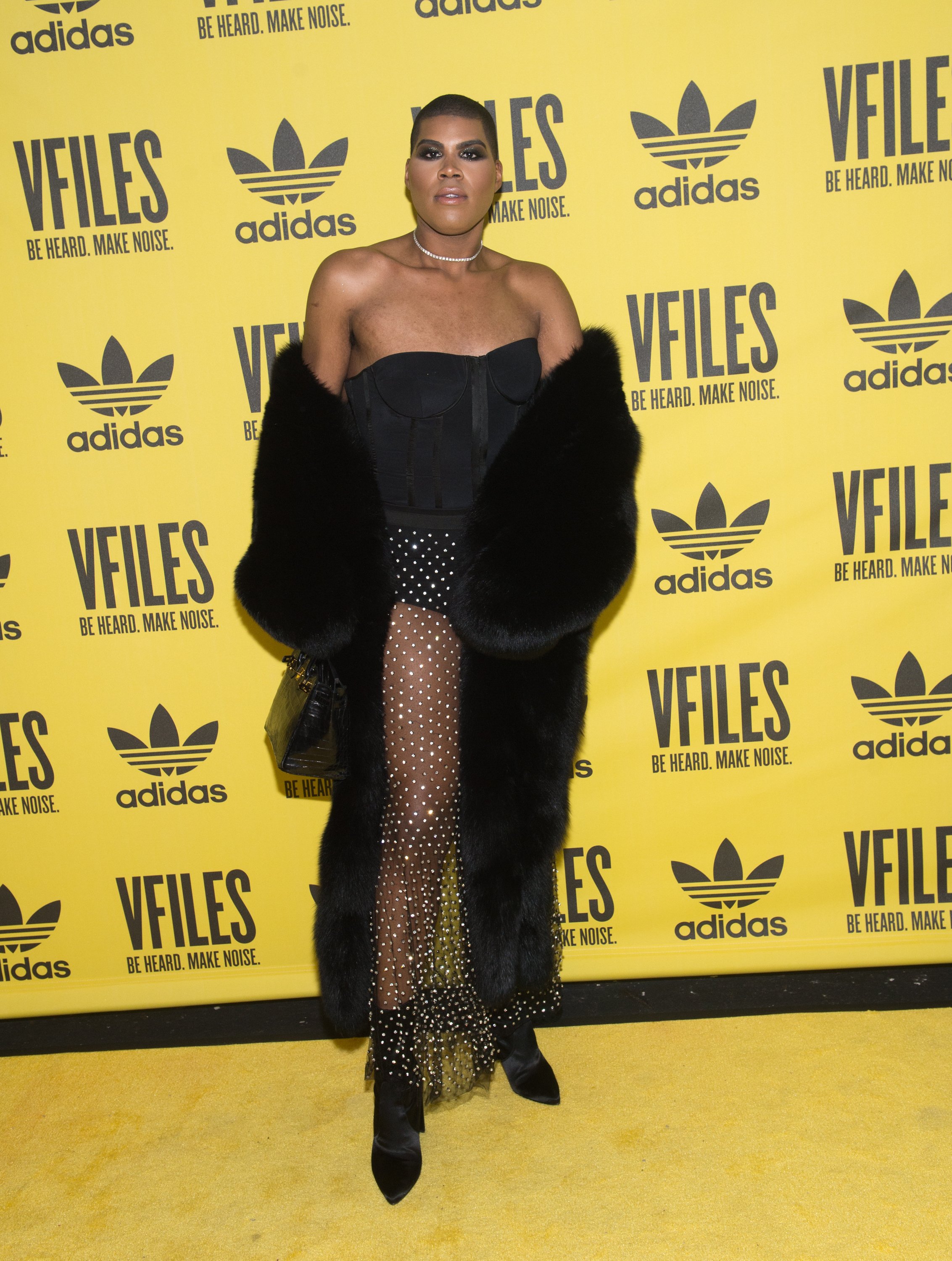 5. MCM STORE GRAND OPENING 
EJ stole the spotlight in March 2019 at the MCM Global Flagship Store Grand Opening in Beverly Hills by wearing a revealing black dress that exalted his figure.
The cleavage-revealing dress featured long sleeves and a slit on the left leg. It gave the impression of being a wrap-around piece with a knot on one side. EJ matched the dress with the usual boots and choker.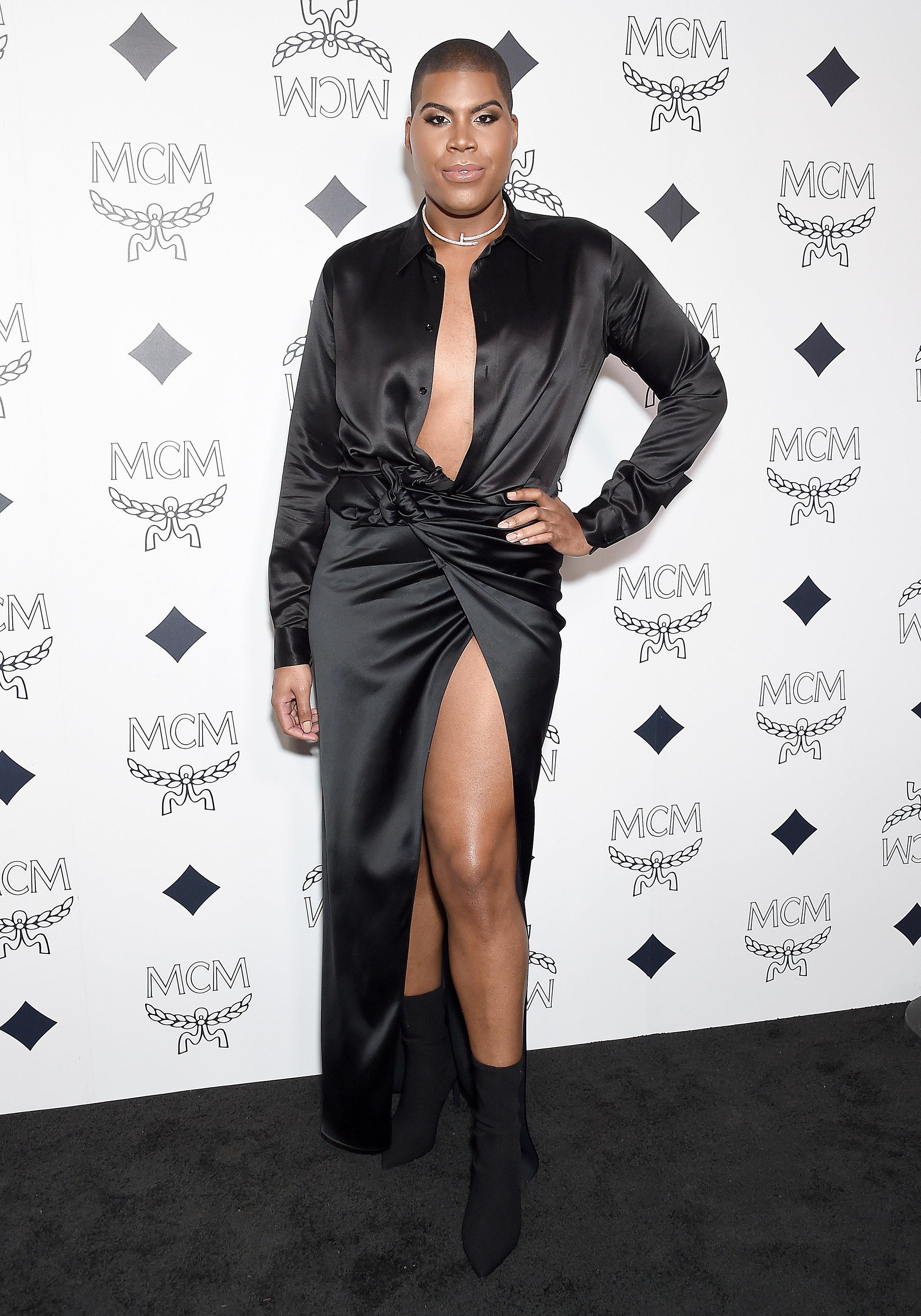 6. VMAS 2018
The MTV Video Music Awards are often one of those ceremonies where celebrities can let their creativity go wild as they show their best not-so-elegant looks on the red carpet.
For the occasion, EJ went with a safer option: high-waisted pants, a blazer over his bare torso, and a pair of grey rushed boots. He also donned a smokey eye and gave photographers his best smile.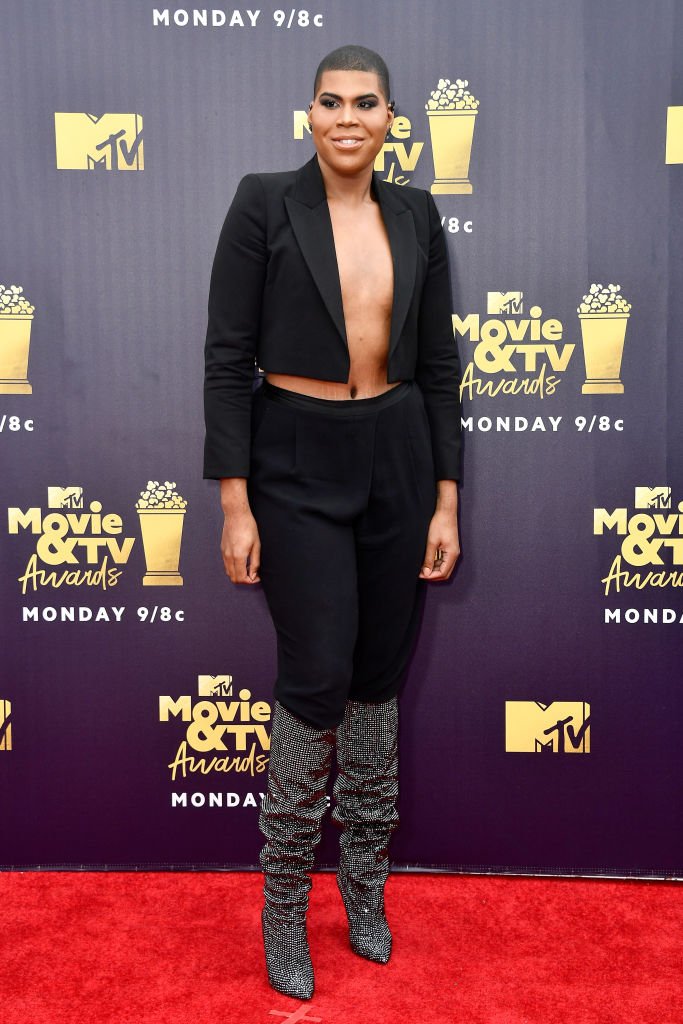 7. THE 2019 GLAAD AWARDS
The GLAAD Awards, which celebrate the best of the LGBTQ culture, embraced EJ as he posed in a cutout blazer with nothing underneath and a silk skirt with his by now signature slit on one leg.
EJ accessorized with velvet boots and a diamond necklace. He presented an award that night alongside "Glee" star Lea Michelle. 
8. TREVOR LIVE 2019
EJ is not only a fashionista; he's also a dedicated advocate for the LGBTQ youth, and as such, he had to be part of the Trevor Project's "TREVO Live" event in 2019. 
He wore a short satin dress for the occasion, which featured two cutouts, one in the abdomen and the other in one shoulder. The cutouts were held together by a series of golden brooches and ornaments, which elevated the look.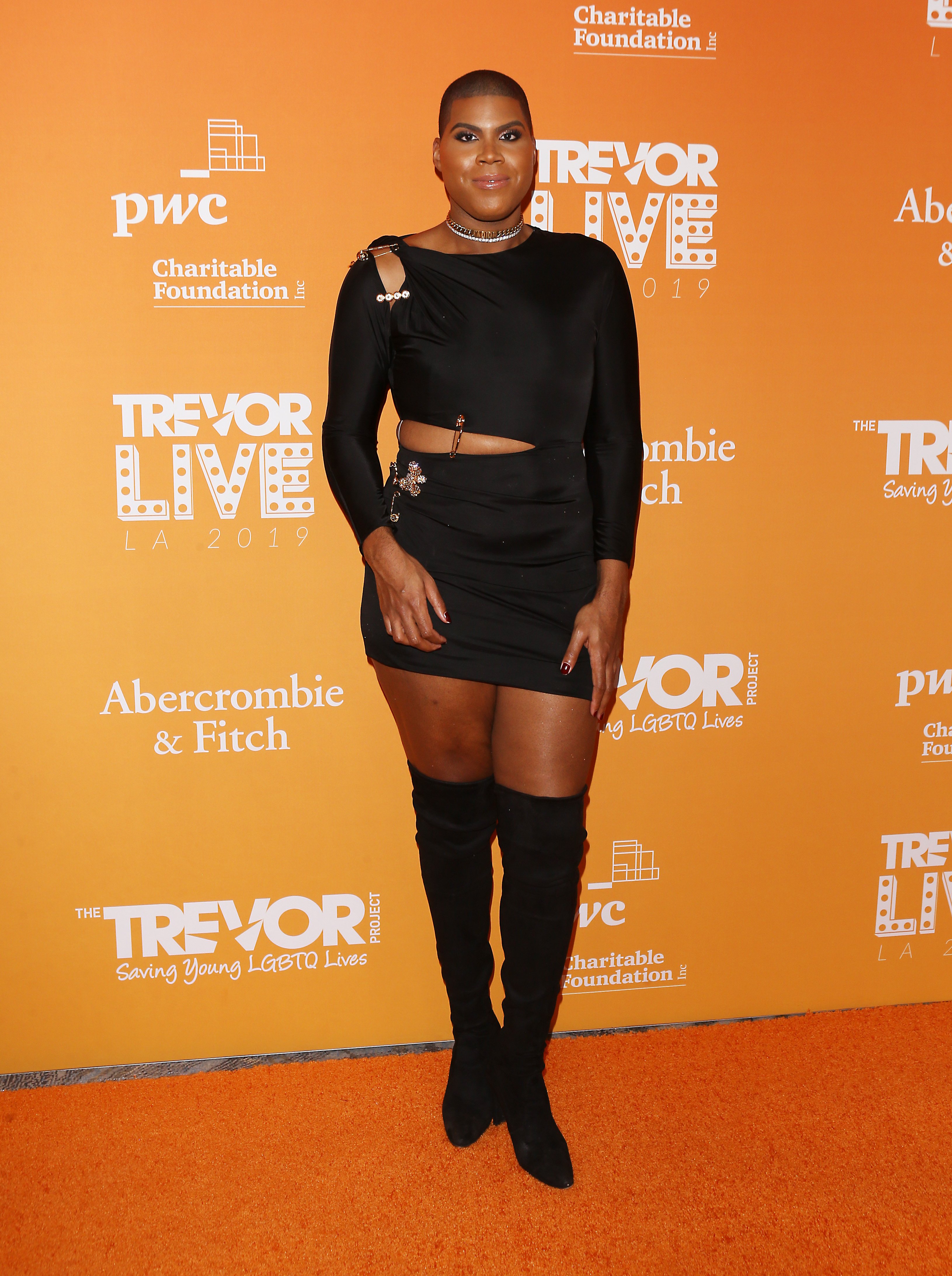 9. MESH WITH A FRIEND
EJ posed alongside his friend and socialite, Ezra William, wearing a sheer jumpsuit that showed off some skin, paired with tiny shorts, a black belt, and ankle boots.
He added flair to the look with some necklaces and had a full makeup face on. His nails were also sporting a burgundy color as he leaned on Williams' shoulder.
10. A BIKER LOOK
One of the first pics found in EJ's Instagram account from 2016, shows the beginning of his fixation with black, tight clothes. He wore an embellished top in the pic that put his abdomen on display and matching leather shorts.
EJ accessorized with a series of metal chains in his waist, a biker leather jacket thrown over his shoulders, and a statement necklace featuring large pins. He also wore knee-high boots.
EJ is not afraid to defy norms and trends. He's always one step forward and has fans wondering when we will have an EJ Johnson Fashion line. 
Although there seems to be no plan in motion for EJ to try his hand as a designer, the star appears to have many aces under his sleeve, and he seems to enjoy the surprise factor.