People: MSNBC Anchor Katy Tur and 'CBS This Morning' Co-host Tony Dokoupil Welcome 2nd Baby
Katy Tur of MSNBC and her husband Tony Dokoupil, a co-host of "CBS This Morning," have welcomed a second child. The little girl completes their wonderful family of four.
Congratulations are in for Katy Tur and Tony Dokoupil, who recently welcomed a second baby. According to People, Tur gave birth to their daughter Eloise Judy Bear Dokoupilon on Thursday, May 13. 
The elated parents-of-two, in a statement to the publication, recalled how the delivery day went. The powerhouse journalist duo shared that contractions began the night before when Tur had a bowl of spicy noodle soup.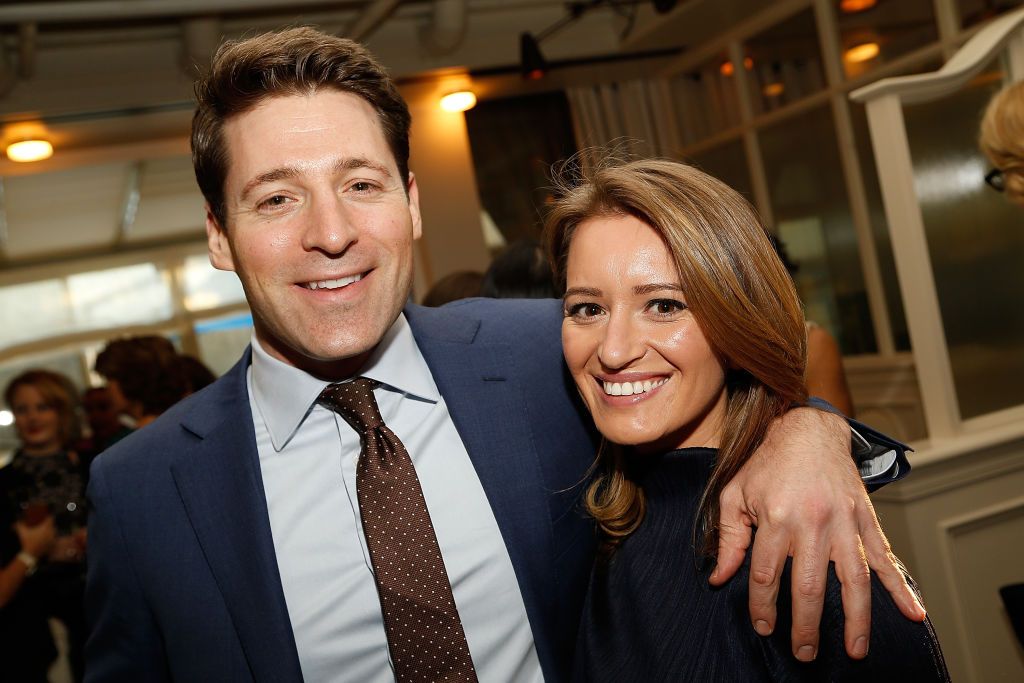 The pair showed off their funny side with Dokoupil, who co-hosts "CBS This Morning," writing that he believed the cramps were a result of the takeout only to realize that Tur had gotten into the car without him. 
Dokoupil recounted that at the hospital, his MSNBC anchor wife told the first person they encountered that she was in labor and needed an epidural. However, he rubbed on her back, reminding her that she didn't want an epidural days ago.
He joked about Tur pushing his hand away and telling him that she wasn't in labor when she didn't want an epidural. Regardless, the CBS anchor persisted and was advised by a senior nurse to stop if he wanted to go back in one piece.
Baby Eloise joins big brother Teddy ― born in April 2019 ― and Dokoupil's two older children.
Finally, after about a day of labor, little Eloise entered the world at 11:35 pm, bringing joy to her parents and her older brother Teddy. The lovely couple opened up about the emotional moment, writing:
"Eloise was here. She weighs 6 pounds, has strawberry blonde hair, and is rarely quiet. She fits right in. Big brother Teddy loves her already…."
Our @CBSThisMorning family just got bigger!

Congrats @TonyDokoupil & @KatyTurNBC on welcoming your adorable baby girl into the world.

We can't wait to meet Eloise Judy Bear Dokoupil. 😍 pic.twitter.com/cK9mlRDQ8d

— CBS This Morning (@CBSThisMorning) May 17, 2021
Tur and Dokoupil concluded the statement, noting that they were thrilled about having a "full and crazy house" in summer. News of Tur's second pregnancy first surfaced in January. 
At the time, a source confirmed that the couple of three years were trying to expand their family and thrilled to find out that Tur conceived late summer 2020. In a January 25 post, the 37-year-old revealed she was having a girl.
While anchoring a segment, Tur shared the great news while showcasing a lovely family photo. Baby Eloise joins big brother Teddy ― born in April 2019 ― and Dokoupil's two older children from his previous marriage.
Amid the pandemic, Tur and Dokoupil made headlines for their impressive coverage of the COVID-19 crisis from their basement in their New York City home while the world was on lockdown. 
While taking care of their 1-year-old son, the couple set up makeshift studios in the basement, anchoring their individual shows and sometimes serving as each other's anchor assistant.
Little Eloise is the latest of celebrity babies to bless the earth. Earlier this month, singer Ellie Goulding and her husband Casper Jopling welcomed their first child. The duo shared a statement to celebrate the milestone.