Simple Recipe to Make Cream Cheese-Filled Banana Bread
Love the comfort and familiarity of banana bread, but are you starting to find it a little boring? Try out this cream cheese-filled version. 
Banana bread became a lockdown staple over the last year for many households. In fact, it became one of the most search items on the internet for Americans in April 2020. 
Versions of banana bread have been out there for years. Chocolate chip banana bread, or with nuts or delicious frostings and toppings. But how about a cream cheese filled-recipe?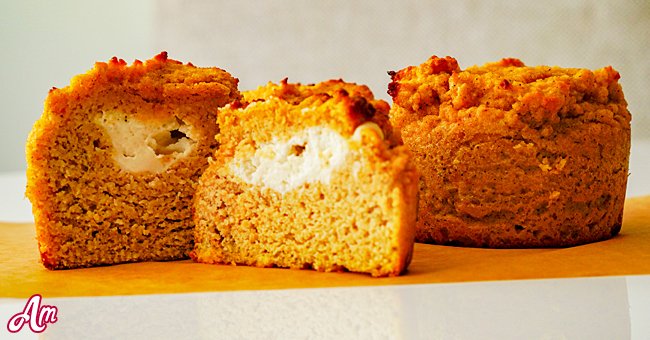 This recipe from Simple Most takes a normal, comforting, tasty recipe and totally flips it on its head by adding a gorgeous and gooey cream cheese center. 
First, prepare the banana bread as normal. Mix together 1 egg, 1/4 cup granulated sugar, 1/4 cup canola oil, 1/4 cup plain Greek yogurt, 2 teaspoons vanilla extract in a large bowl. 
Then smash 2 very ripe large bananas and add them to the mix. Then add 1 cup all-purpose flour, 1/2 teaspoon baking powder, and 1/2 teaspoon baking soda. Fold with a wooden spoon until just combined. 
The cream cheese filling is made by whisking together 1 large egg, 4 ounces softened brick-style cream cheese, 1/4 cup granulated sugar, 3 tablespoons of all-purpose flour.
The trick of this banana bread is all in layering before baking. First, pour in 2/3 of the banana bread mixture into a greased 9-by-5-inch baking tin. Make sure to level the mixture by knocking the tin onto a flat surface.
Then evenly pour the cream cheese mixture over the banana bread batter. Use a spatula to get the mixture into the corners and the sides of the tin. Finally, pour the remaining batter into the dish. 
Lightly smooth out the top layer of banana bread batter, but be careful not to disturb the cream cheese layer. Bake at 350 degrees Fahrenheit for between 45- 50 minutes, or until the bread is domed and golden brown. 
If you feel the top is getting burnt, but the batter is still raw, cover the tin with a sheet of foil to protect the top from the oven's heat. When finished, allow the bread to cool for 15 minutes before serving. 
To serve, cut into slices and serve with your favorite beverage. A cup of hot coffee or your favorite tea. On a warmer day, why not serve the banana bread with an iced coffee or a fruity iced tea.
Of course, not everyone can indulge in this is decanted baked treat, but there are always alternatives for those who are gluten-free or trying to reduce their carb intake.