Prince Harry & Meghan Markle Celebrate 3rd Wedding Anniversary – How They Honored Princess Diana in Their Wedding
When Prince Harry and Meghan Markle said their vows, only Meghan's proud mother could be there to watch the ceremony. However, the happy couple did not simply forget Harry's late mom and instead incorporated some very special touches to honor throughout their big day.
On May 19, 2018, Prince Harry and former actress, Meghan Markle got married. The ceremony was watched worldwide.
Fans of the royal family spotted everything from the details of her dress to her simple yet gorgeous makeup. However, their eyes also spotted some heartwarming tributes to the late Princess Diana, Harry's mother, throughout the day.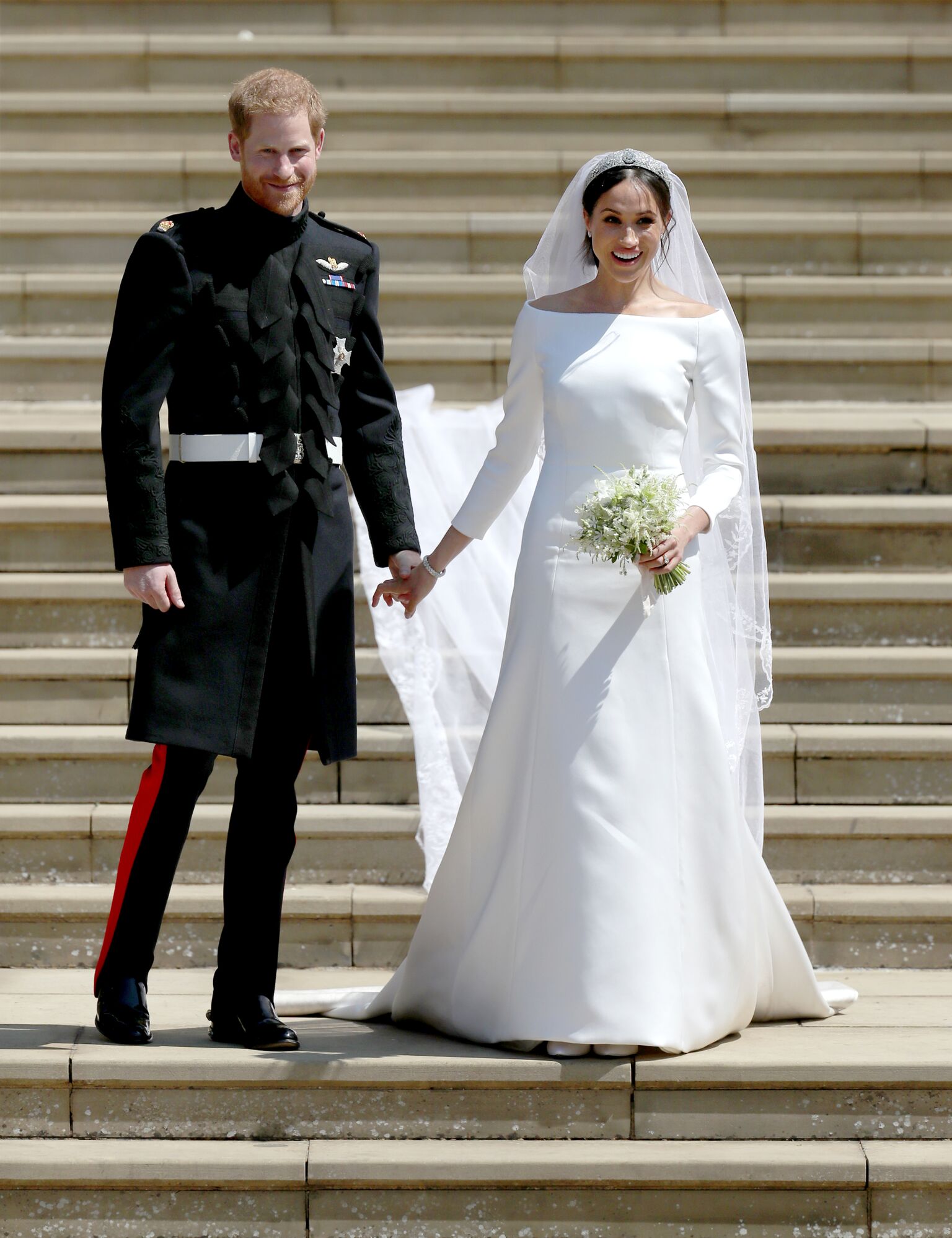 1. Meghan's Bouquet included Princess Di's Favorite Flowers 
One of the sweetest nods to Princess Diana was Meghan's royal bouquet. The stunning arrangement included Diana's favorite flower, forget-me-nots.
The most heartwarming part was that Prince Harry reportedly handpicked the tiny blooms from the private garden at Kensington Palace before the wedding. florist, Philippa Craddock then incorporated the flowers into Meghan's bouquet.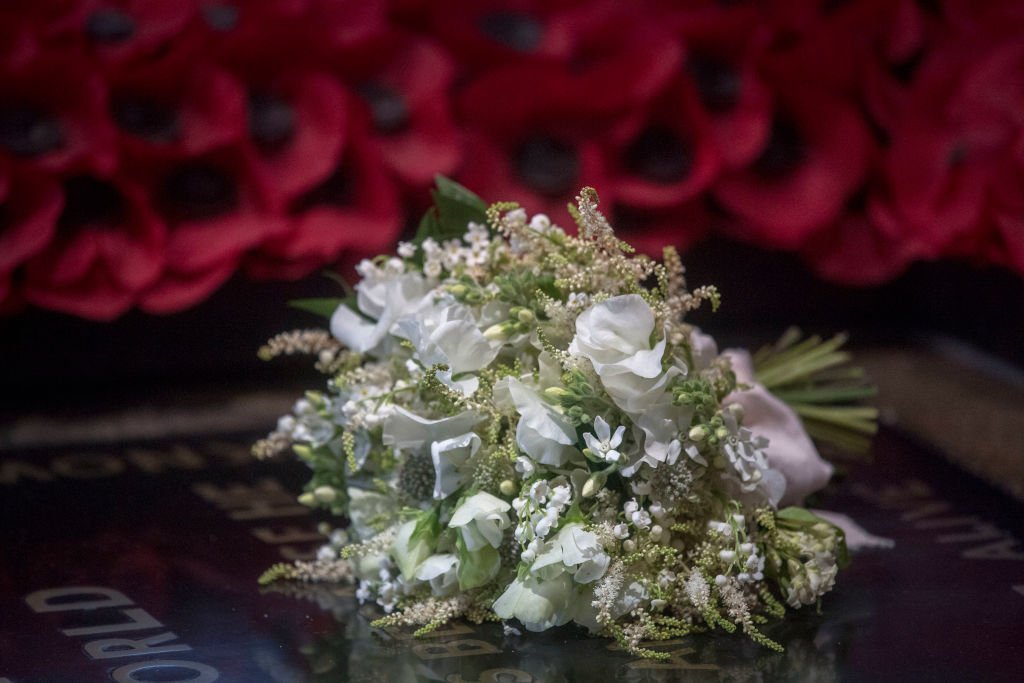 2. Meghan Wore Princess Diana's Aquamarine Ring
On their wedding day, Prince Harry surprised his bride with not one but two rings. He first presented her with her wedding band.
It was a traditional royal wedding ring made from Welsh gold. Meghan wears the ring on her ring finger at all times.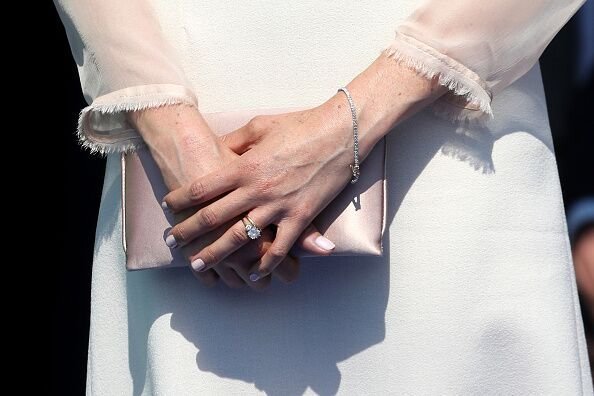 The second ring the prince gifted his wife was his mother's famous aquamarine cocktail ring. Meghan wore the stunning ring to the reception after the ceremony.
It matched perfectly with the blue, vintage Jaguar that they used on the day. The aquamarine ring is part of a set from Diana's personal collection.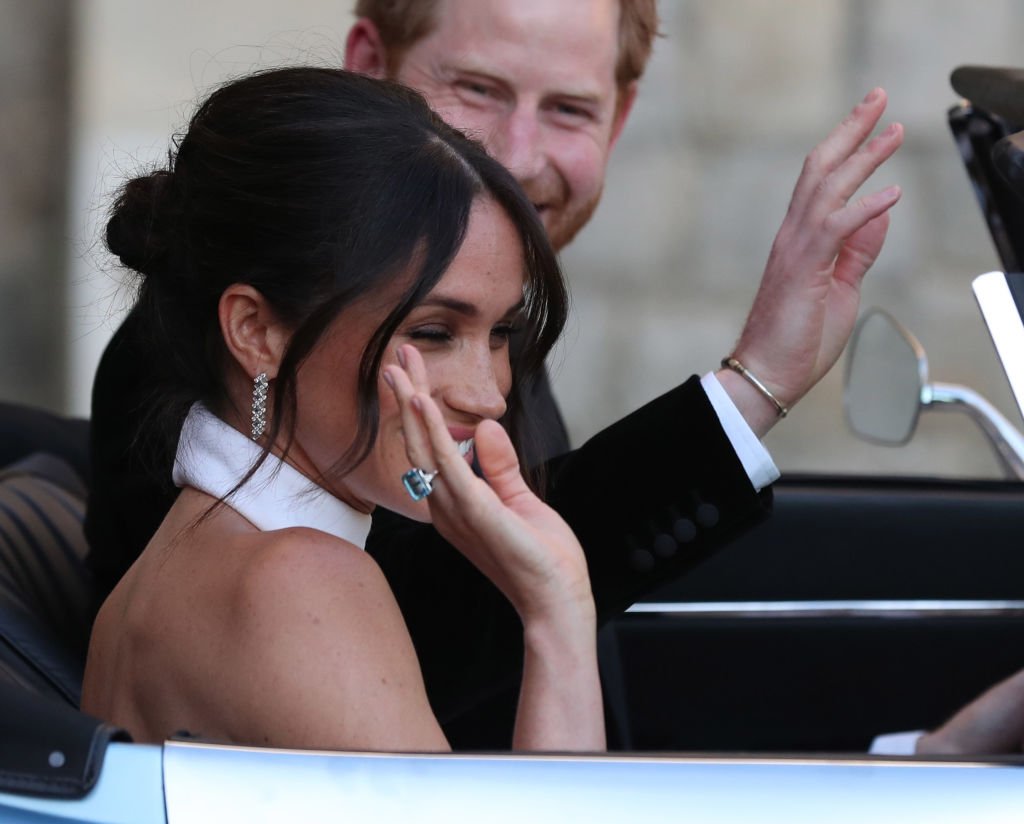 The ring also has a matching bracelet. The bracelet reportedly consists of the same stone surrounded by pearls. However, it is unclear if Meghan received the whole set or just the ring.
3. Meghan's Long Veil Was Similar to Diana's Train
Meghan's simple yet timeless wedding dress design included an extremely long veil that echoed the design of her late mother-in-law's iconic train. Diana's train had been 25 feet in length.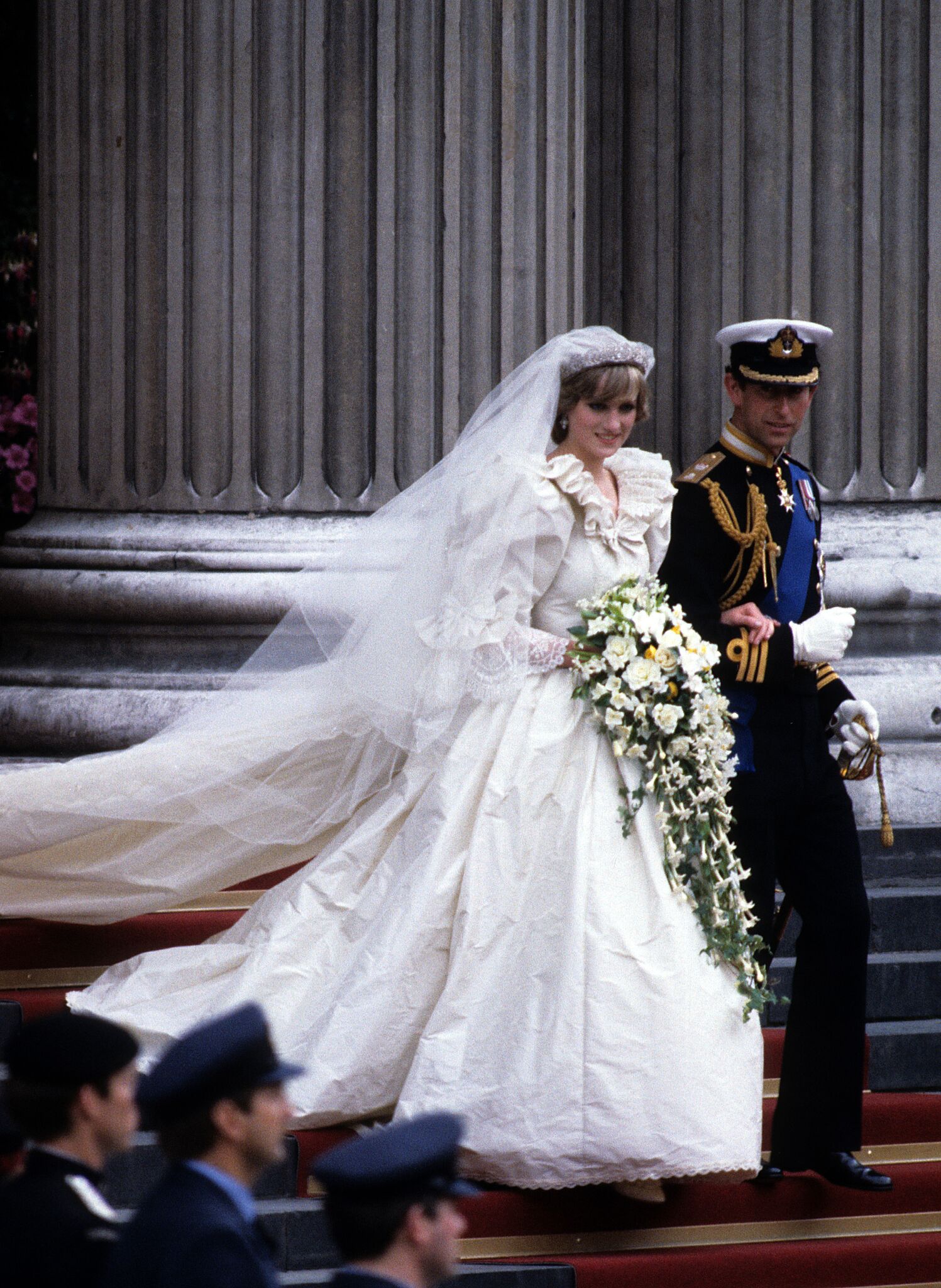 Diana's veil was a total of 459 feet of extra fabric. Meghan also opted for a long veil that was an impressive 16.5 feet.
Her veil reminded also featured some of Diana's embroidery and was decorated with the signature flowers of the 53 countries in the British Commonwealth.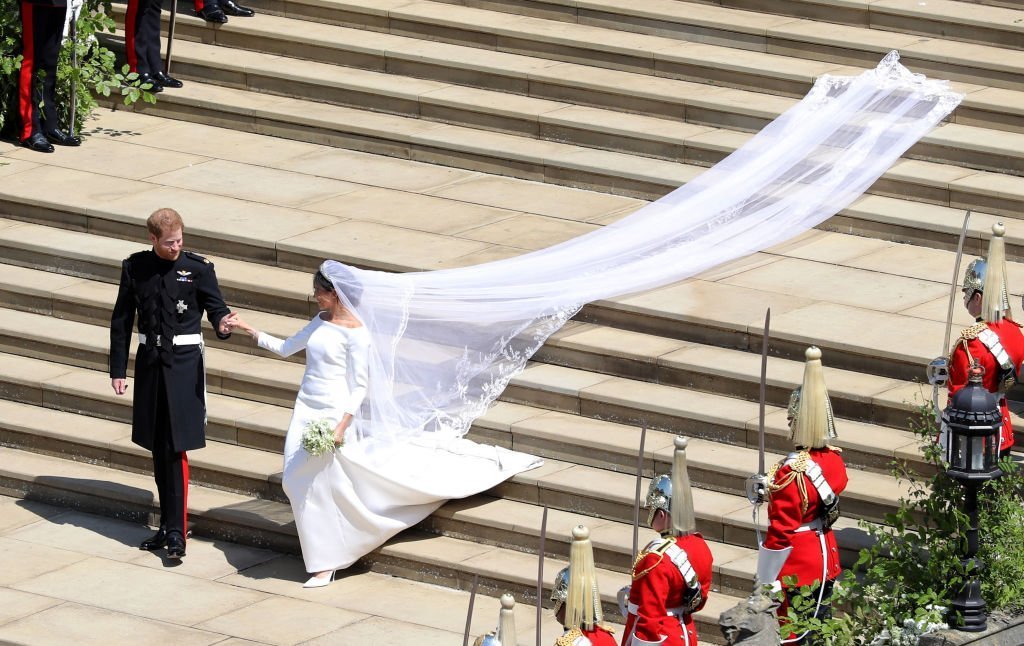 The embroidery on the veil also consisted of blades of wheat which symbolize love and charity. Many assumed the wheat was a nod to Diana's personality.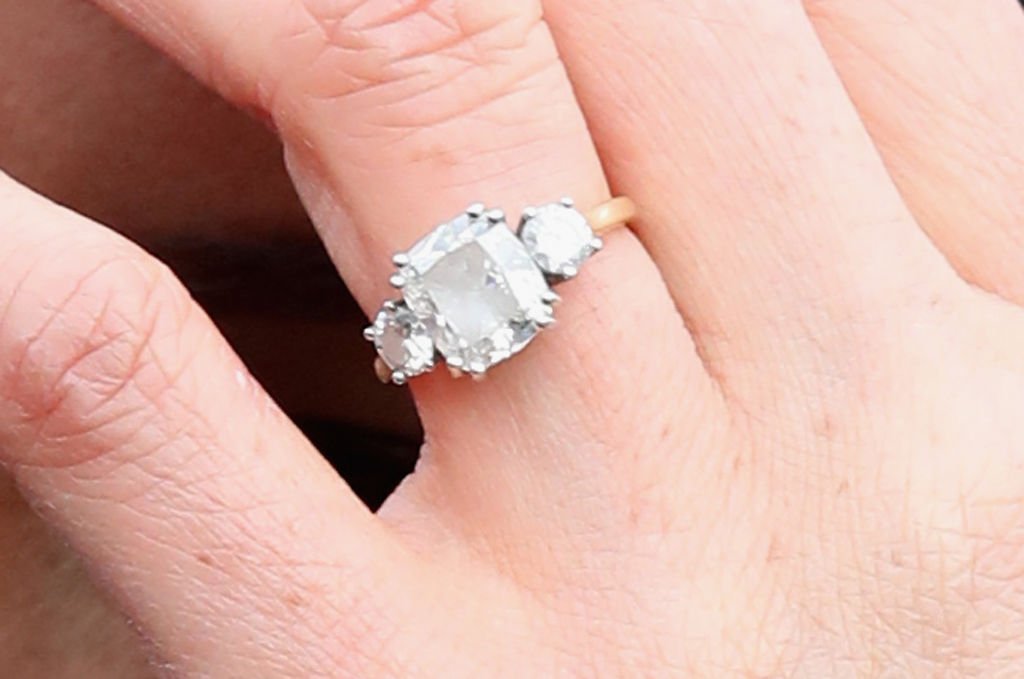 4. Meghan's Engagement Ring Has Two Of Diana's Diamonds
Even before their wedding day, Meghan and Harry have kept Lady Diana close to their hearts. Meghan's engagement ring was designed by Harry himself.
It features a diamond from Botswana symbolizing tone of their first trips together as a couple.  The stone is then flanked by two smaller diamonds which are reportedly from his mother's personal collection.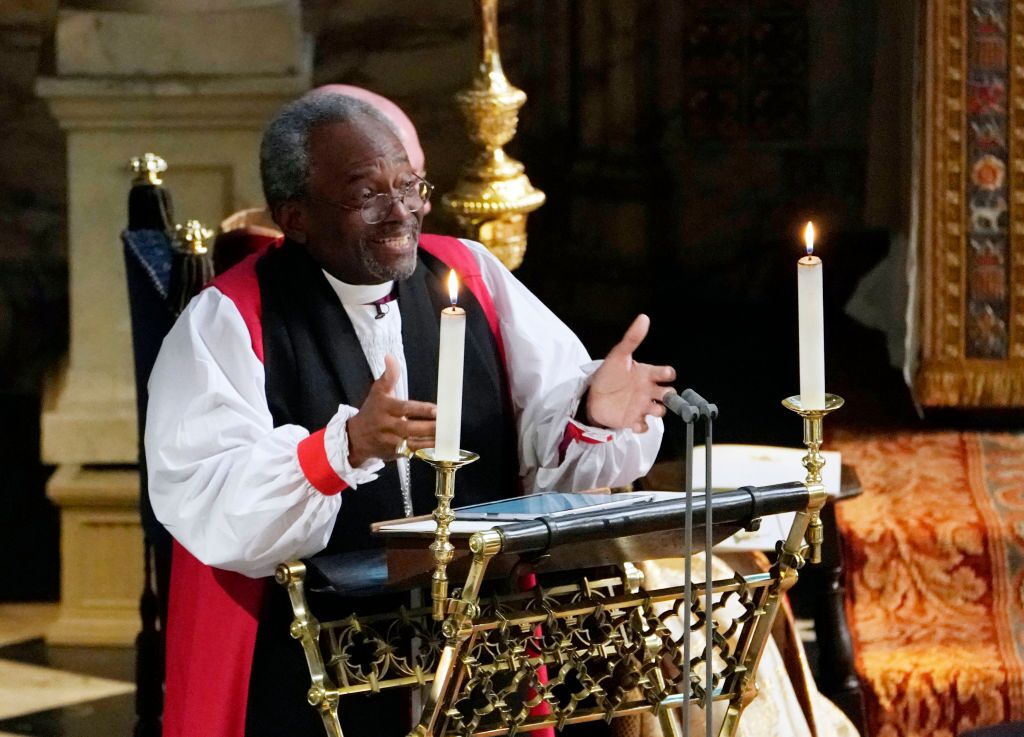 5. The Ceremony Included the Hymn "Guide Me, O Thy Great Redeemer,"
Harry and Meghan decided to have the hymn "Guide Me, O Thy Great Redeemer" sung at their wedding ceremony. The hymn was played at Diana's funeral and Prince Harry even teared up during the performance.
He had been only 12 years old when his mother passed away. He had marched behind the casket with his brother, William, his father Charles, his grandfather Philip, and his maternal uncle Charles Spencer.
They also had Diana's close friend, Sir Elton John perform "Your Song," "Tiny Dancer," "I'm Still Standing," and "Circle of Life," at their reception.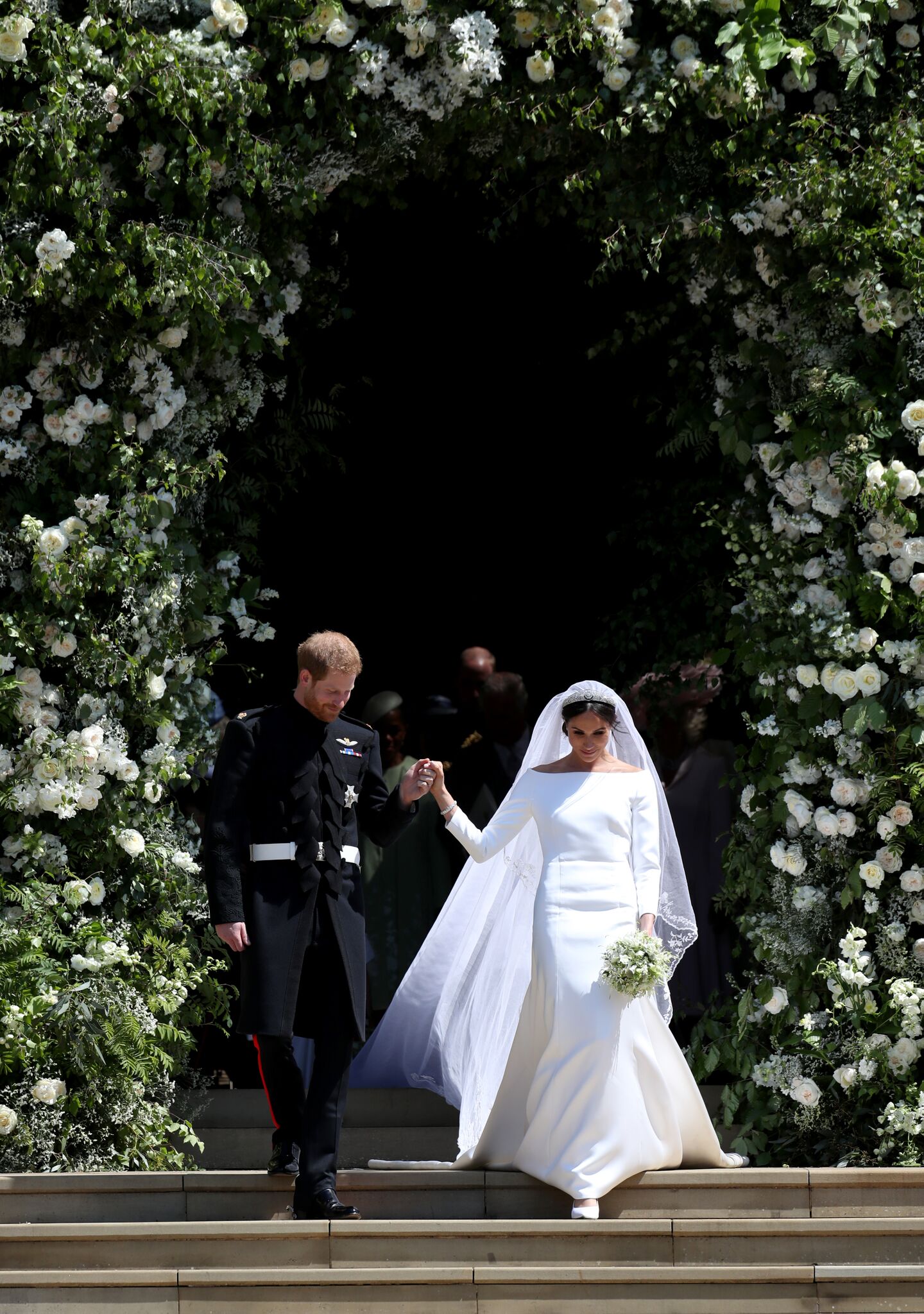 6. They Used Diana's Beloved White Garden Roses
The gorgeous flower arches at the entryway of St. George's Chapel and the flower crowns worn by the bridesmaids consisted of white garden roses that were a symbol associated with Diana.
"Helping to celebrate the memory of the late Princess on the wedding day."
On the 20th anniversary of her passing, her sons, William and Harry, planted a garden at Kensington Palace. They called it "The White Garden" and filled it with Diana's favorite flowers, including white garden roses.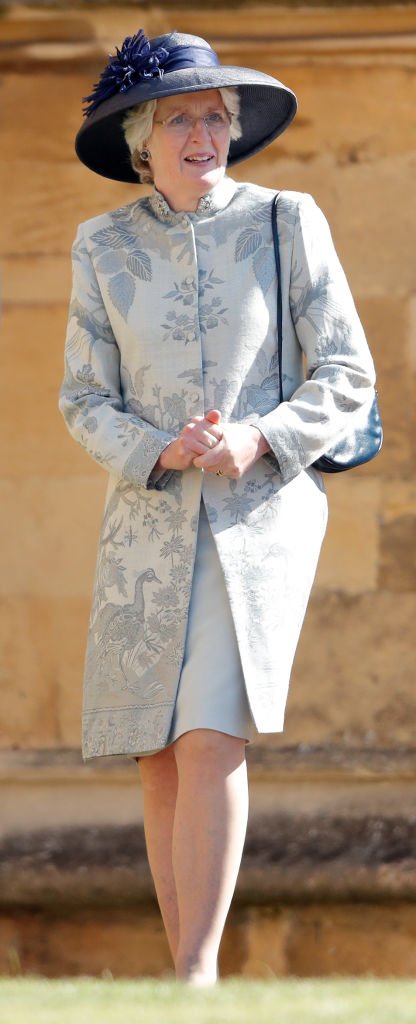 7. Diana's Sister Spoke at the Ceremony
All three of Diana's siblings, Lady Jane Fellowes, Lady Sarah McCorquodale, and Charles, 9th Earl Spencer, attended the wedding. Lady Jane had the honor of giving a reading during the ceremony.
Kensington Palace revealed, "Prince Harry and Ms. Markle both feel honored that Lady Jane will be representing her family and helping to celebrate the memory of the late Princess on the wedding day."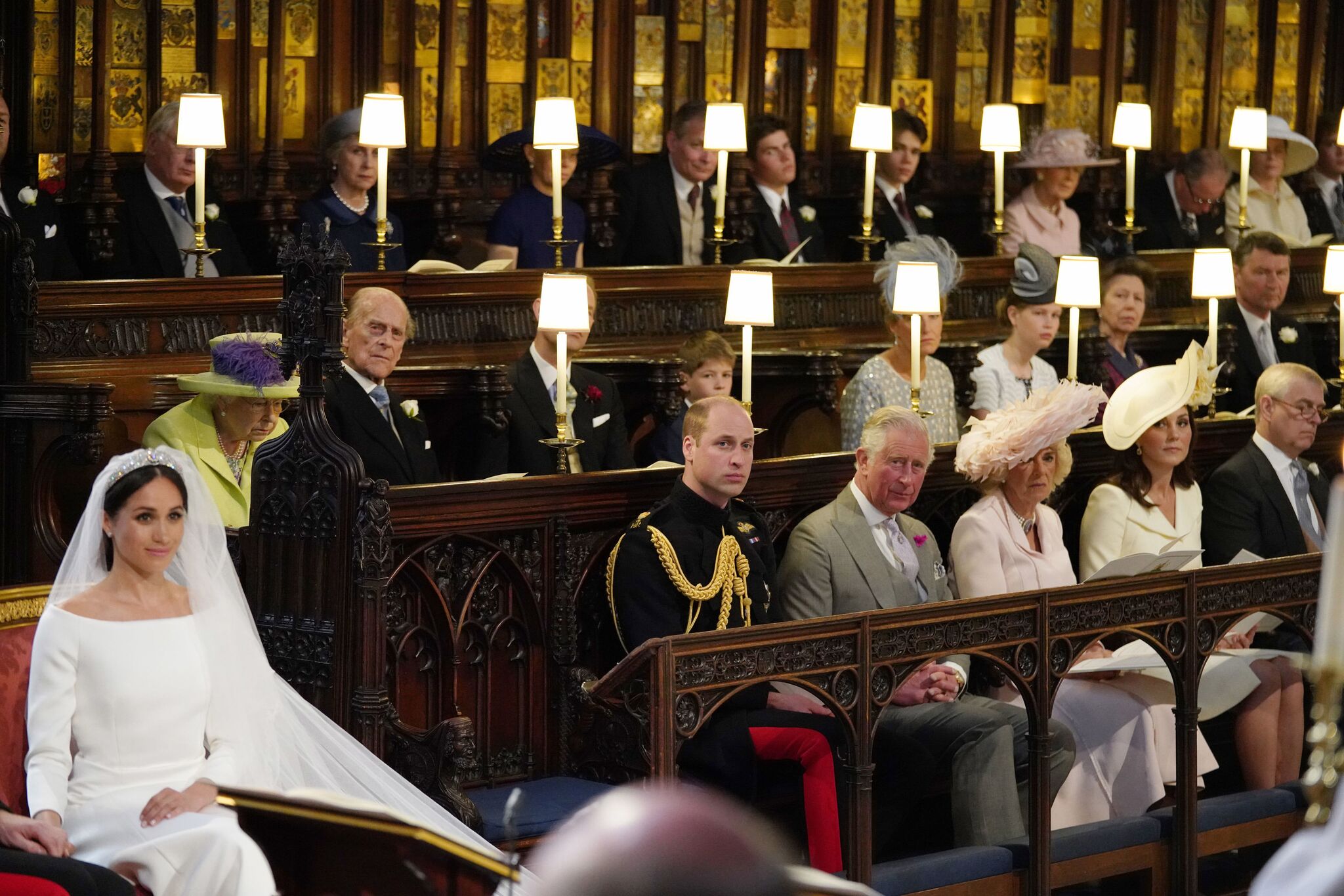 8. They Left Her A Seat Next To William 
Many fans spotted an empty seat next to Prince William in the first row during the ceremony.  Kensington Palace has not released a statement to confirm or deny whether the seat was left open but fans speculate it was reserved as a gesture to Princess Diana.
However, it is possible that the seat was left open due to Royal etiquette rules. No one is to sit in front of the reigning monarch and Queen Elizabeth sat in the second row as she prefers it when at St. George's Chapel.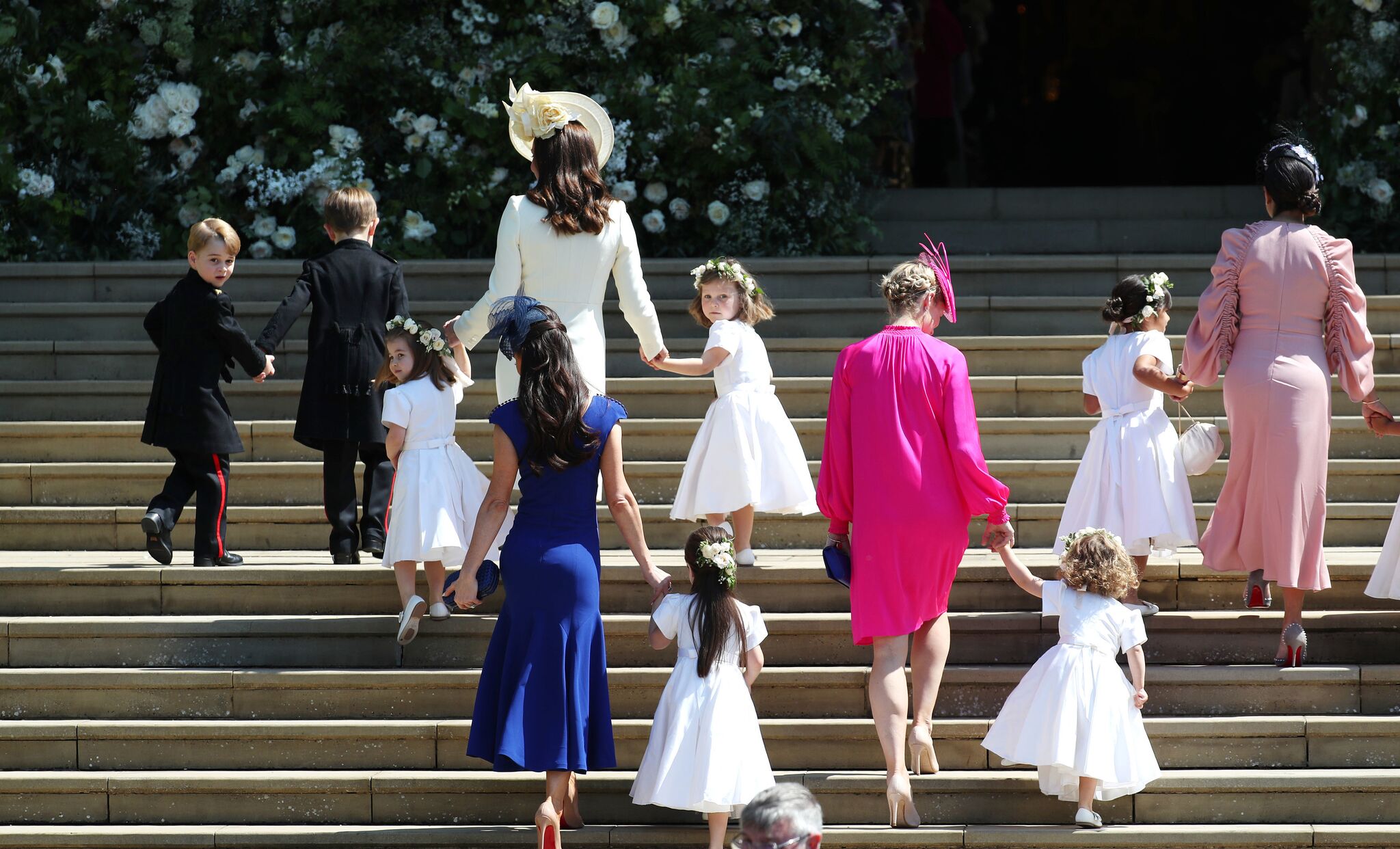 Needless to say, the day was filled with romance. It appears that Prince Harry took his mother's advice to heart especially when she said: 
"If you find someone you love in life, you must hang on to it and look after it, and if you were lucky enough to find someone who loved you, then one must protect it."