Tom Kaulitz Is Heidi Klum's Spouse Who Is 16 Years Younger and a Former Teen Idol
Tokio Hotel star Tom Kaulitz has been married to Heidi Klum since 2019. Today, the pair are still hopelessly in love. Take a look at their beautiful romance!
Former Victoria's Secret Angel Heidi Klum is currently married to musician Tom Kaulitz. Together, these two make for a lovely couple.
Although Klum is 16 years older than her beau, this has had little effect on the duo's love for each other. Who is Kaulitz? How did their love begin? Read on for all the details!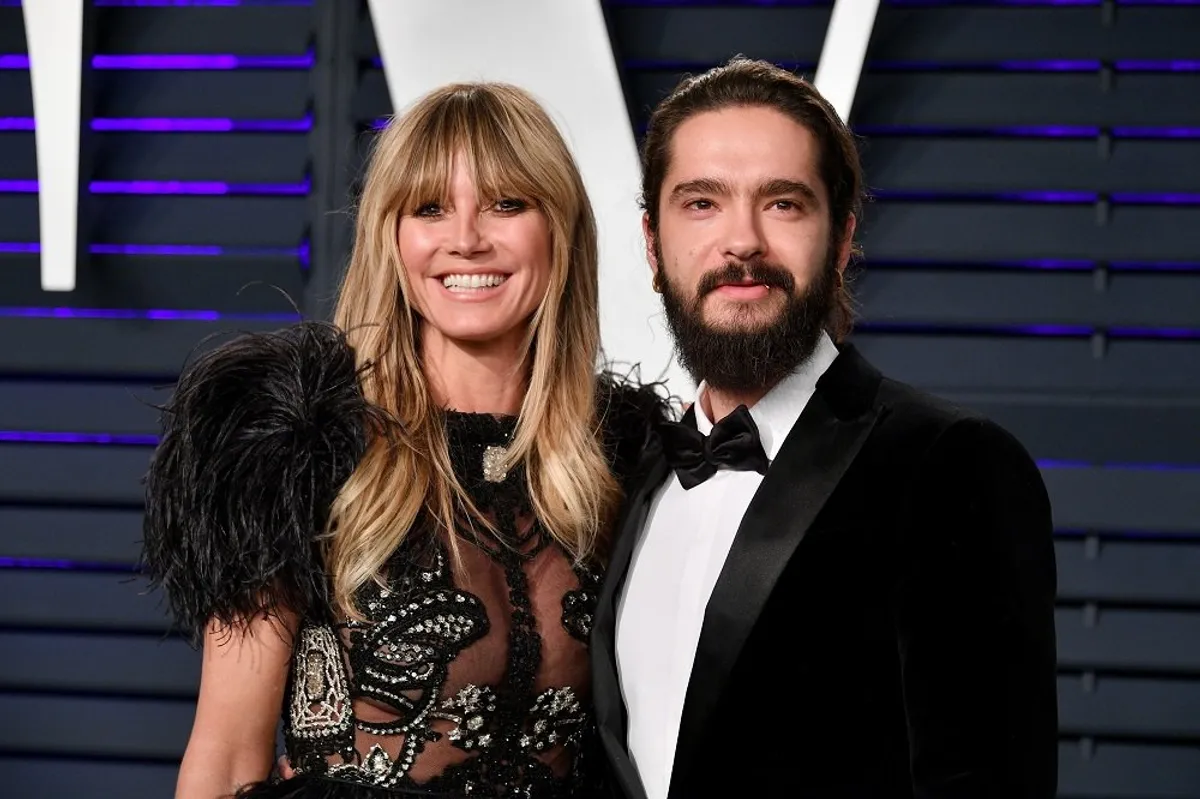 KAULITZ'S SUCCESSFUL MUSIC CAREER
Long before Kaulitz met his current wife, he was successful in his own right. Kaulitz is a founding member of Tokio Hotel. He started the popular boy band alongside his twin brother, Bill, drummer Gustav Schafer and bass player Georg Listing in 2001.
At the time, the boys were only teenagers, but they have developed an unwavering bond and connection with each other over time.
Today, the group is considered one of the most successful in Germany, having credit to four No. 1 singles and three No. 1 albums. In addition, the group has sold over 10 million CDs worldwide.
Tokio Hotel's latest album, "Dream Machine," was released in 2017; however, the band's most memorable project in recent times was from 2020.
Amid the COVID-19 pandemic last year, Tokio Hotel released a remake of their hit song "Monsoon" to celebrate its 15th anniversary in October.
The music video was undeniably remarkable with a special appearance from Klum's dress which Bill wore. According to him, it was fun wearing the outfit for the clip.
But while Klum is seemingly now very involved with helping her husband's career get to the next level, there was a time the model knew very little of Kaulitz's works.
Klum and Seal warmed the hearts of many with their beautiful love, but unfortunately, it all soon came to an end.
In February 2020, Klum confessed she was not familiar with her husband's songs before they started dating. However, once their romance began, the model made sure to do some catching up, and now? She is one of their biggest fans!
KAULITZ AND KLUM'S LOVE STORY
Klum reportedly met her future husband in 2018 through a mutual friend on "Germany's Next Top Model." A source close to the couple described the duo's earliest days as fun and easy, adding that they fell into a rhythm quickly.
A few months later, Kaulitz and Klum made their romance public shortly before appearing together at a party by jewelry designer Lorraine Schwartz in March.
By September, it became evident that the model was head over heels in love. Speaking to US Weekly, she described Kaulitz as the sweetest and most loving person ever.
With how in love the couple seemed, it came as no surprise when in December 2018, Kaulitz went down on one knee and asked Klum to marry him. She said yes.
In August 2019, Kaulitz and Klum tied the knot in a star-studded ceremony held in Capri, Italy. Since then, the couple has been showing off their love for each other!
Two months after their wedding, Klum could not stop gushing about her husband, whom she described as amazing and "a real partner."
Earlier this month, Klum opened up about her and Kaulitz's marriage, admitting that she feels she has finally found her match. For the model, the third time's really the charm.
THEIR FORMER PARTNERS
Kaulitz and Klum might have found happily-ever-after with each other, but this is not the first relationship or marriage for either of them.
Kaulitz was formerly linked to German model Ria Sommerfield whom he dated from 2011 to 2016 and was married to for a little over a year.
Klum, on the other hand, has been involved with several high-profile celebrities. Before Kaulitz, the model was previously married twice.
In 1997, Klum married fashion stylist Ric Pipino. For a few years, they were Hollywood's favorite couple, but sadly, their romance was not meant to last. After five years of marriage, the couple divorced in 2002.
Klum's second and most known marriage was to singer Seal, whom she married in May 2005. Together, the couple welcomed three kids. The model is also mother to daughter Leni, whom she shares with Flavio Briatore.
Throughout their marriage, Klum and Seal warmed the hearts of many with their beautiful love, but unfortunately, it all soon came to an end.
In January 2012, the duo announced their separation. By April, Klum filed for divorce, but it was not until October 2014 that their divorce proceedings were finalized.
With Kaulitz, Klum has undoubtedly found her much-deserved happiness. Together, the couple looks forward to creating more beautiful memories.