Jennifer Aniston Opens up about Her Ex-husband Brad Pitt – Here's What She Had to Say
Jennifer Aniston opened up about her ex-husband Brad Pitt in a recent interview. The actress gushed about Pitt being one of her favorite guests on the hit show "Friends." 
It's been more than a decade since Jennifer Aniston and Brad Pitt went their separate ways, but the iconic actress remains fond of her ex-husband. Aniston recently opened up about the "Fight Club" actor.
Ahead of the premiere of "Friends: The Reunion" tomorrow, Aniston sat down with her female castmates, Lisa Kudrow and Courteney Cox, as they reminisced about their time on the original hit show.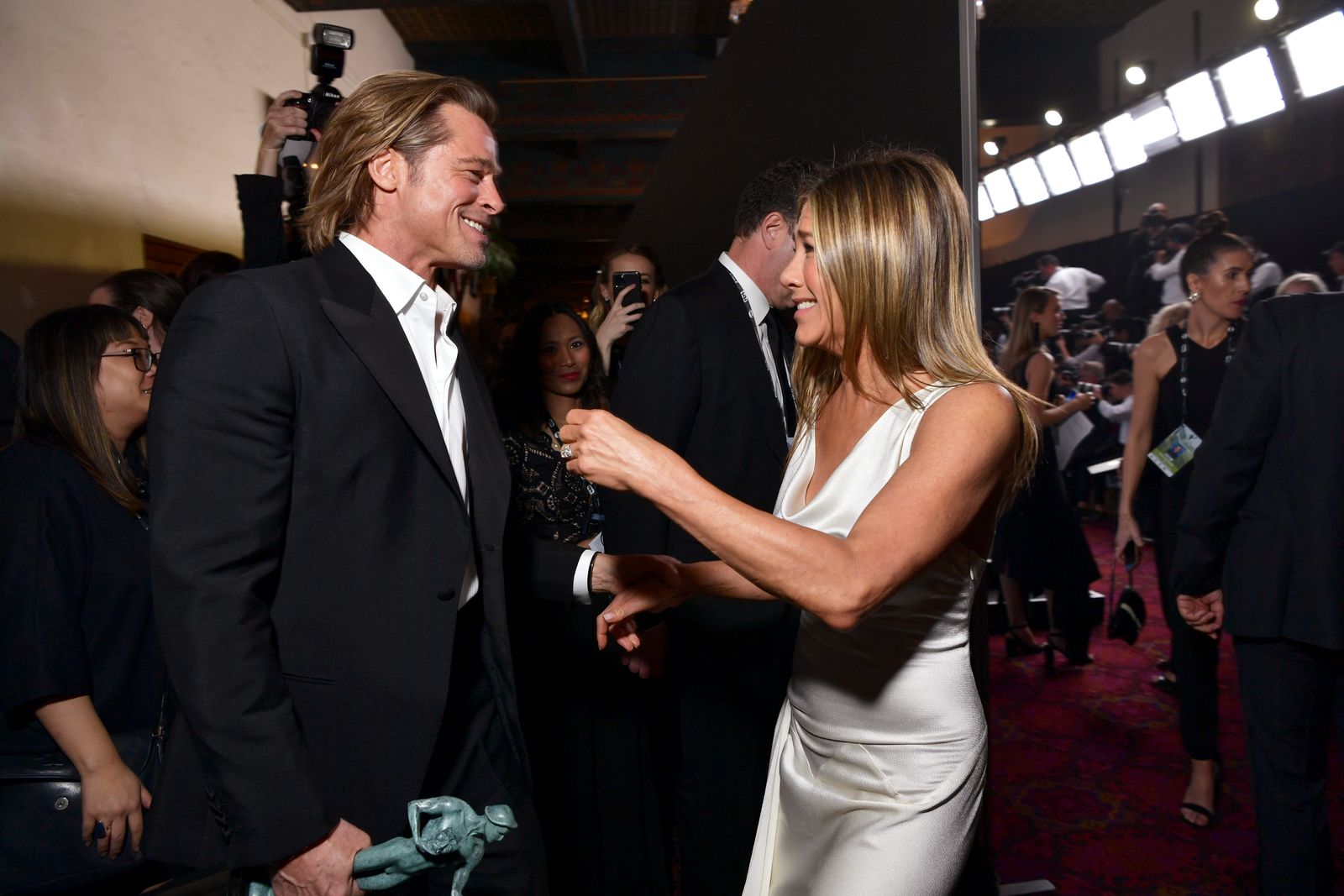 'WONDERFUL' BRAD PITT
While discussing with Kit Hoover of Access Hollywood, the ladies were asked to name their favorite guest on the sitcom after the guys ― Matt LeBlanc, Matthew Perry, and David Schwimmer ― had selected Sean Penn as their favorite. 
As the women began calling out names like Paul Rudd, Tom Selleck, Reese Witherspoon, Ben Stiller, and Alec Baldwin, Aniston chipped in her ex-lover's name, saying, "Mr. Pitt was wonderful."
#JenniferAniston says #BradPitt was her favorite #Friends guest star 🌟 https://t.co/QQcH9isyzP

— Z100 New York (@Z100NewYork) May 26, 2021
Kudrow agreed with her sentiment, calling him "fantastic." Pitt made a guest appearance on the NBC sitcom during a season 8 episode titled "The One with the Rumor." His character hated Aniston's character Rachel Green.
Aniston and Pitt separated in January 2005 with their divorce finalized months later.
At the time, Pitt and Aniston were married, and he reportedly earned an Emmy nomination for his stellar performance. In the early 2000s', Aniston and Pitt dominated Hollywood as one of the quintessential couples.
ANISTON AND PITT'S RELATIONSHIP TIMELINE
The duo reportedly first met in 1994 through their managers, who were close friends. At the time, the "Fury" actor was in a relationship with Gwyneth Paltrow. Four years later, Aniston and Pitt went on their first date.
Jennifer Aniston says Brad Pitt was one of her favorite 'Friends' guest stars https://t.co/zeZL7fz2qY pic.twitter.com/TQqRC799BK

— Yahoo Entertainment (@YahooEnt) May 25, 2021
The ex-lovers became public in 1999 when they made their red carpet debut at the Emmy Awards. Later that year, they announced their engagement at a Sting concert, and by July 2000, they tied the knot.
Aniston and Pitt walked down the aisle in a lavish ceremony in Malibu with 200 guests. In 2004, rumors surfaced of Pitt being in an affair with his "Mr & Mrs. Smith" co-star, Angelina Jolie ― who he eventually married in 2014.
Jennifer Aniston just mentioned her ex husband Brad Pitt in a brand new interview and you have to see what she said about him! https://t.co/7PobqVO5P7

— JustJared.com (@JustJared) May 25, 2021
FRIENDS THROUGH IT ALL
Aniston and Pitt separated in January 2005 with their divorce finalized months later. The former lovebirds have since been married to other people and divorced ― Aniston wed Justin Theroux in 2015, but they split in 2018.
Pitt and Jolie called it quits in 2016 and are currently in the midst of a nasty divorce. Through the years, Pitt and Aniston remained amicable. In January 2020, the pair shared a sweet moment backstage at the 2020 SAG Awards.
THEROUX SPEAKS
Aniston's confession about Pitt comes after her second ex-husband Theroux opened up about their split in an interview. The famous producer shut down rumors that their decision to live on opposite coasts was the reason for their divorce.