Jonnie West Is Happily Married to Golfer Michelle Wie West — Get to Know Jerry West's Son
Los Angeles Lakers legend Jerry West has five children. One of them is Jonnie West, who followed in his dad's footsteps and is currently working for the Golden State Warriors.
If you're a basketball fan, you probably know that Jerry West played for the Los Angeles Lakers between 1960 and 1974. He was so successful that he established an NBA record by shooting 840 free throws. 
Apart from that, he averaged 31 points per game throughout his career and is known as "The Logo" because his silhouette was incorporated into the NBA logo.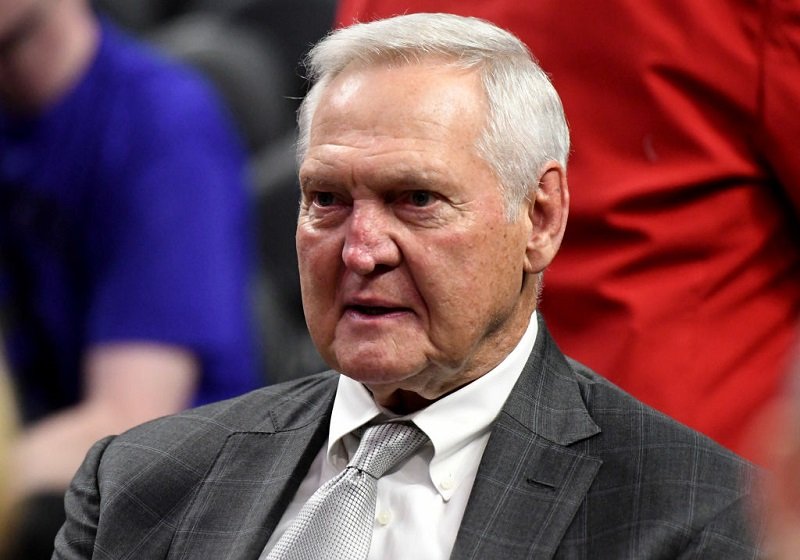 JONNIE WEST'S BASKETBALL CAREER
Jerry has five children, including Jonnie West. Jonnie studied sports management at West Virginia University and played for four seasons for the college's basketball team. 
He earned his bachelor's degree, got an MBA in business administration, and worked for former sports agent Arn Tellem at Wasserman Media Group in 2012. 
Things started getting better for Jonnie in 2012 when he became the director of basketball operations and advance scout for the Golden State Warriors' G-League team in Santa Cruz.
Following the 2012-13 season, the Warriors named him associate general manager for the Santa Cruz Warriors of the NBA Development League. He was in charge of all basketball operations activities for the D-League's team. 
In 2015, Jonnie West became the Warriors' director of player programs. All his hard work paid off in 2018 when he was promoted to director of the team's basketball operations.
According to Warriors' general manager Bob Myers, Jonnie recognized from an early age that players, coaches, and everyone involved in the team are just people. With that in mind, he's been able to communicate with everybody effectively. 
EMBRACING HIS LAST NAME
It is important to point out that Jerry West took a consultant job with the Los Angeles Clippers in June 2017, but instead of following him, Jonnie decided to stay with the Warriors as he knew he was in a great position. 
Jonnie is also known for golfing with Curry, Klay Thompson, and former Warrior Andre Iguodala.
Draymond, Steph and Andre at the wedding of Jonnie West and Michelle Wie over the weekend.
[📸 @KGStoney] pic.twitter.com/g07XY0Lri3

— TheWarriorsTalk (@TheWarriorsTalk) August 12, 2019
Jonnie admitted he's always tried to do things "not being [Jerry's] son," but that's impossible. After a while, he learned the best he could do was embrace it and use it to his advantage. He added:
"I've learned so much from him, not only because he's my dad but because I spent so much time around him."
Meet Jonnie West: son of an NBA legend, the caddie in Stephen Curry's dream come true, rising Warriors executivehttps://t.co/hmlB3rkZDV pic.twitter.com/HWDsMnkC73

— Marcus Thompson (@ThompsonScribe) August 5, 2017
RELATIONSHIP WITH STEPHEN CURRY
In August 2017, Golden State Warriors superstar Stephen Curry switched sports and participated in the Ellie Mae Classic at TPC Stonebrae. 
Unfortunately, Curry didn't make the cut, but he earned the respect of many professional golfers and people who criticized him for even trying. He did all of that with Jonnie West as his caddie.
Apart from fulfilling his duties for the Warriors, Jonnie is also known for golfing with Curry, Klay Thompson, and former Warrior Andre Iguodala.
Michelle Wie is officially off the market!

She got engaged over the weekend to Jonnie West, son of legendary NBA player Jerry West.

(📷: @TheMichelleWie) pic.twitter.com/BtvfHmT9gu

— Golf Digest (@GolfDigest) March 11, 2019
JONNIE WEST'S WIFE
Speaking of golf, professional golfer Michelle Wie and Jonnie West announced their engagement in March 2019. He got down on one knee on the Lyon Street Steps in San Francisco two months after going public with their relationship. 
That August, Wie and West tied the knot in a private Beverly Hills house surrounded by about 150 guests, including Curry, Jerry West, Wie's long-time coach David Leadbetter, and other professional golfers. 
In January 2020, Wie shared with her social media followers that she and her husband were expecting their first child together, a girl. Makenna Kamalei Yoona West joined the family in June 2020. 
Before giving birth, Jonnie West's wife was seriously considering retiring due to a series of injuries. After Makenna was born, Michelle Wie West decided to come back to "lead by example." Her fans would love to see her on the course again!