Check Out Lil Nas X Wearing a Louis Vuitton Plaid Skirt and Suit Jacket during a Recent Show Guesting
Lil Nas X took a deep swing from the world of hip-hop into the fashion realm during his appearance on Jimmy Fallon's show. The star gave fans a glimpse of the epic outfit on social media.
Ahead of his appearance on "The Tonight Show Starring Jimmy Fallon," rapper Lil Nas X gave fans the heads up. The icon shared a photo of himself on set, looking stylish in a top-of-the-line Scottish-themed ensemble.
He stormed the stage in a  Louis Vuitton plaid skirt and a white suit jacket, pairing the bold ensemble with black lace-up ankle boots.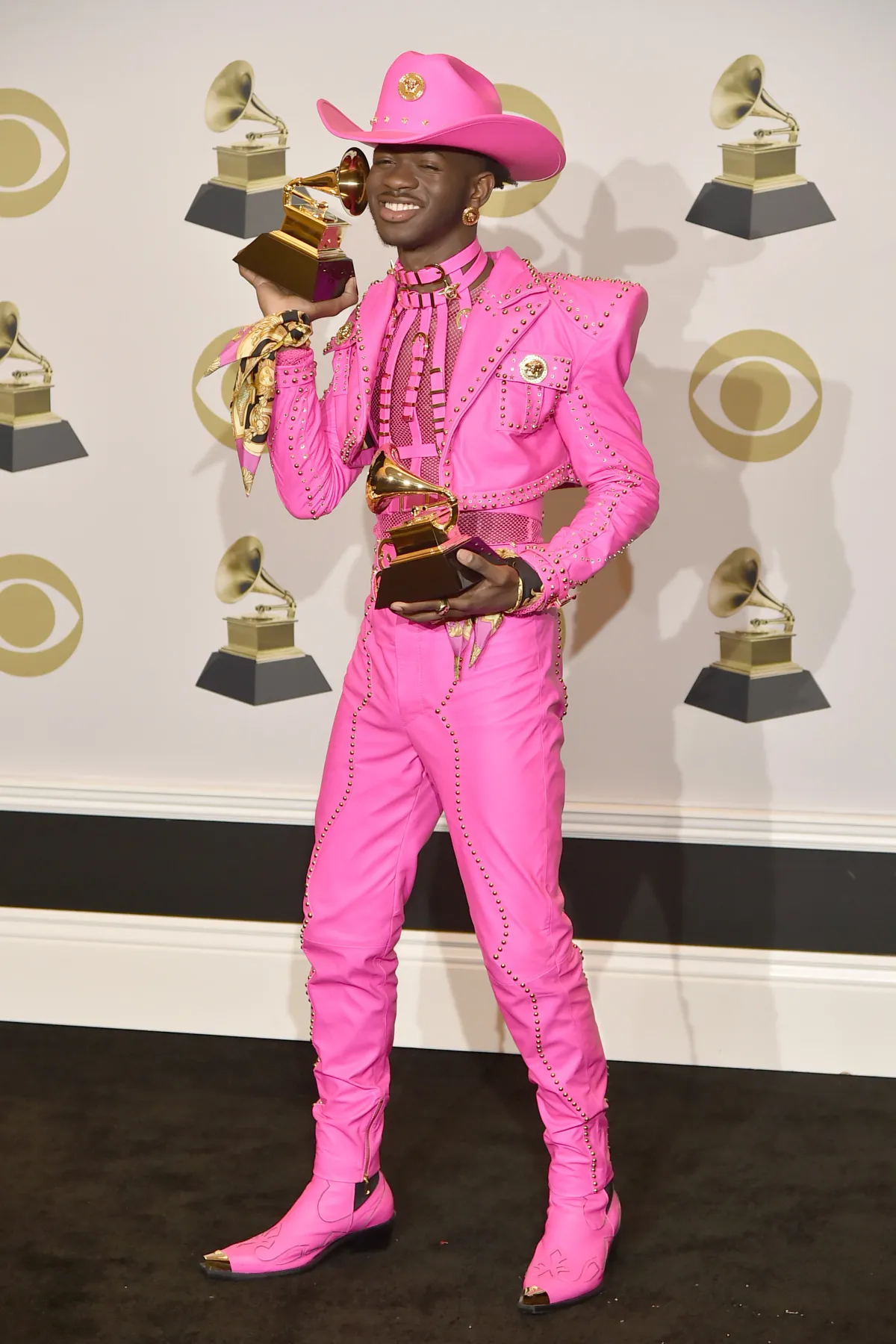 The 22-year-old made his appearance more dramatic with his silver chain, a pair of earrings, and a nose ring. He also adorned his wrist with a classy silver wristwatch and had a series of rings gracing his fingers.
Via caption, the singer-songwriter announced his appearance on the show, urging fans to tune in to the live session if they wished. He wrote:
"I will be on the tonight show with Jimmy Fallon to talk about stuff and things. Watch it or don't idc it's your choice. You should watch it though lol… or don't. but yeah."
Fans tuned in to his attempt at a humorous indecisive caption, offering similarly indecisive replies. Others gave him the nod of approval for pulling off the Scottish look seamlessly.
He finally proved naysayers wrong for believing he could not make it as a self-proclaimed queer guy in the world of hip-hop.
The television personality also shared pictures from the show on Twitter, attributing his outfit choice to his recent wardrobe malfunction. He admitted he would never trust pants again.
Lil Nas X recently made headlines when his pants ripped open down the crotch while performing on "Saturday Night Live." The unlikely accident occurred as he pole-danced to his track, "Call Me By Your Name."
The star discussed the moment with Jimmy Fallon during his Monday night appearance on "The Tonight Show." He also admitted how the embarrassing situation prevented him from completing the entire dance routine.
In a previous interview, the star opened up about his swift rise to fame, from his first hit to becoming a chart-topper on Billboard's Hot 100.
To him, those achievements meant he finally proved naysayers wrong for believing he could not make it as a self-proclaimed queer guy in the world of hip-hop. Not only did he succeed, but his first song about gay romance sealed his name among music legends.
As most may recall, Lil Nas X went public with his gay status in 2019, on the last day of pride month. During his big reveal, the rapper referenced his song, "c7osure" as a confirmation of his sexuality.
The icon came out via a tweet, making it an official confirmation he identified as a member of the LGBTQ community, in case the lyrics of his song weren't clear enough.
Although the TV personality knew the news could cost him some fans, he preferred being himself than living a lie, a commendable quality of a true legend.