10 Times Kate Middleton Channeled the One and Only Princess Diana with Look-Alike Outfits
For over a decade, people have been comparing Duchess Kate Middleton and Princess Diana's lives, upbringings, looks, weddings, and even how they pose. 
Duchess Kate has honored Princess Diana several times during her time as a Royal. In December 2019, for example, she wore Diana's favorite tiara to the annual Diplomatic Corps reception at Buckingham Palace. 
As you probably know, it was neither the first nor the last time Kate put on something to pay tribute to her late mother-in-law. Read on to see ten times the Duchess of Cambridge channeled Lady Di with similar outfits.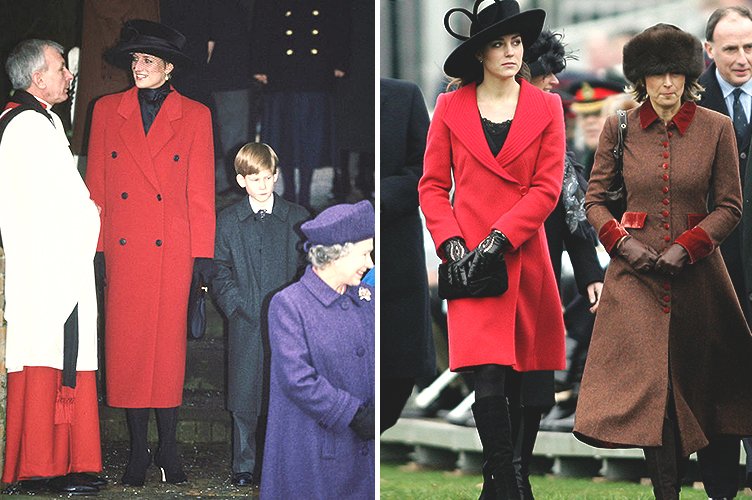 RED COAT, BLACK PANTS
On Christmas 1993, Princess Diana put on a black high-neck shirt and matching tights, shoes, hat, and gloves. She covered everything with an oversized bright red coat with black buttons. 
Thirteen years later, Duchess Kate paid tribute to the late Princess by wearing knee-high boots, black tights, and a black shirt. To protect herself from the cold of winter, Kate opted for black gloves and a more modern red coat.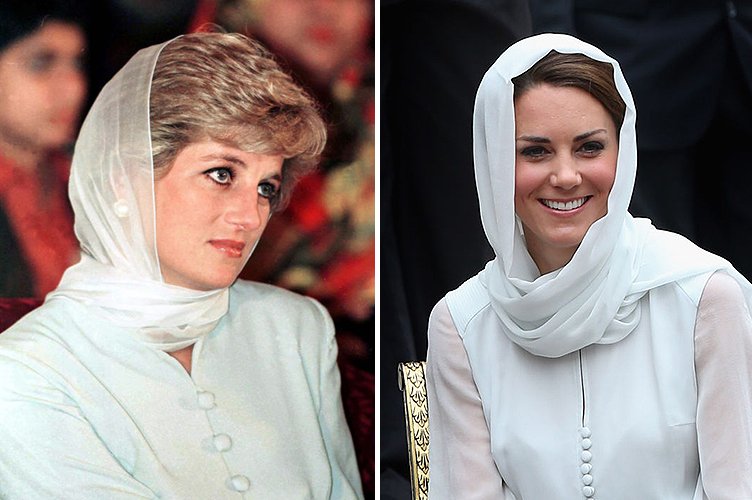 HEADSCARF AND MATCHING OUTFIT
For a visit to the Shaukat Khanum Memorial Hospital in Lahore, Pakistan, in June 1996, Princess Diana wore a baby-blue pantsuit and matching shoes and headscarf. Instead of the pantsuit, Kate put on a dress in the same color and included the headscarf.
In 2017, Kate made headlines after it was reported that her sister, Pippa Middleton, gave her a necklace with a gold disc with "George Alexander Louis" inscribed on it. Coincidentally (or not), Lady Di had a similar necklace – a gift from Princes Charles – with "William" written.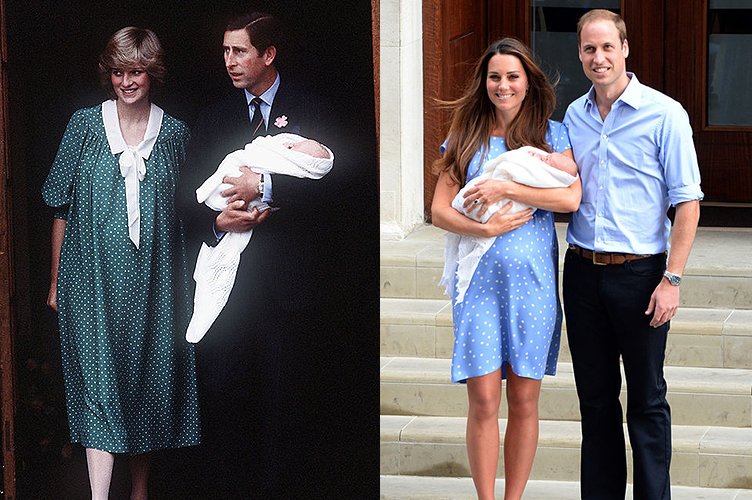 POLKA-DOT DRESS
For the birth of Prince William and Kate's first son, the Duchess posed in front of St. Mary's Hospital in London next to her husband in a blue polka-dot dress and short white heels.
More than three decades before, Diana chose a green polka-dot dress, white tights, and red shoes while holding Prince William as a baby in front of the same hospital. While Kate's dress was blue and shorter, the similarities are evident.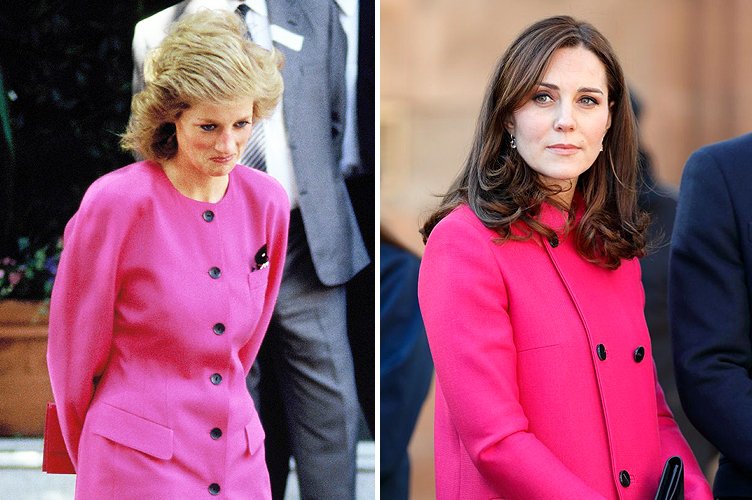 PINK BLAZER
In June 1990, Princess Diana put on one of her boldest looks during a visit to Westminster, London. She opted for a hot-pink skirt and a matching blazer that featured a row of black buttons.
On the other hand, Kate Middleton chose a very similar ensemble while visiting the Stephen Lawrence Centre in London in March 2015. Her one-piece jacket was slightly longer and had two rows of black buttons.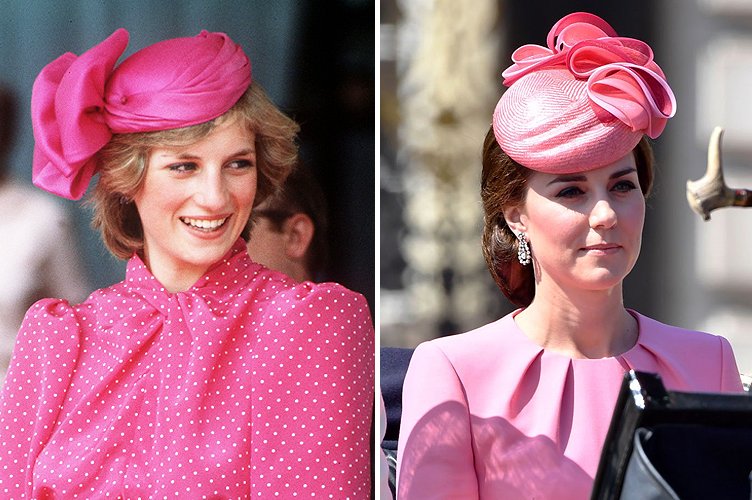 PINK DRESS AND HAT
Princess Diana and Duchess Kate wore pink, long-sleeved dresses and similar hats in April 1983 and June 2017, respectively. In Kate's case, she ditched the polka-dot pattern. 
It is important to point out that Kate will always have a part of Diana with her as Prince William proposed to the Duchess of Cambridge with his mother's engagement ring – a 12-carat oval Ceylon sapphire.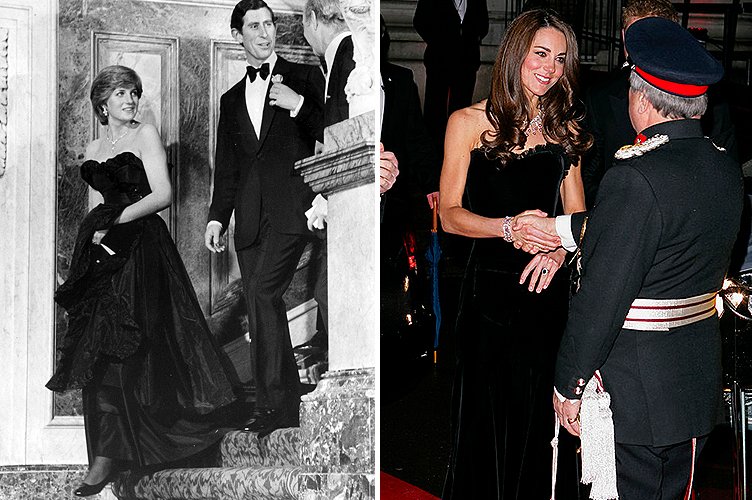 BLACK STRAPLESS GOWN
March 9, 1981, was a big day for Princess Diana as she made her first public appearance with Prince Charles at Goldsmiths' Hall in London. For the special event, she wore a black strapless gown and astonishing diamond jewelry. 
Prince William's wife paid tribute to Diana during the A Night of Heroes event on December 19, 2011, by putting on a very similar outfit, neckline and jewelry included.
That was not the only formal outfit the Duchess of Cambridge recreated.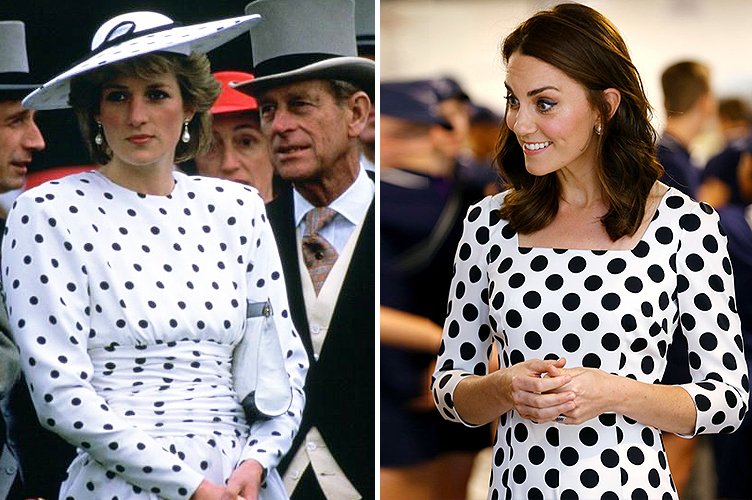 WHITE POLKA-DOT DRESS
For Derby Day in June 1986, Princess Diana chose a white polka dot dress, white tights, and an oversized white hat with black details. Kate Middleton proved she could pay tribute to her late mother-in-law while also making fashion her own.
While Kate also opted for a white polka-dot dress, hers had three-quarter-length sleeves and a different neckline. Apart from that, she ditched the hat and tights and still looked beautiful.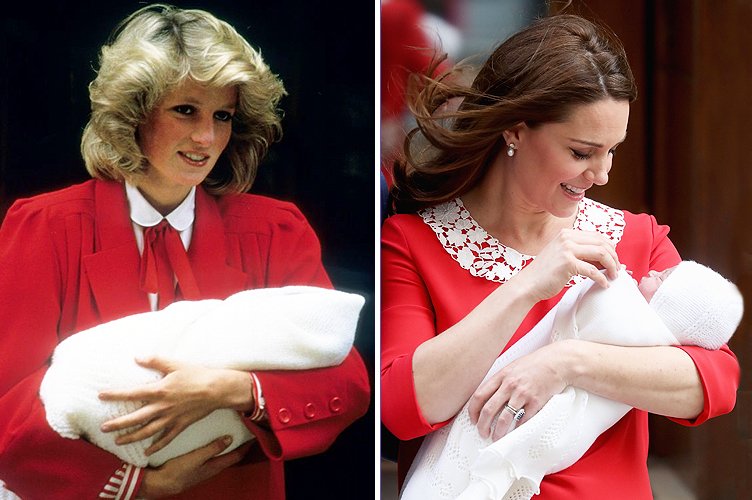 RED DRESS, WHITE COLLAR
Prince Louis' birth was the perfect excuse for Kate to honor Princess Diana again. After Prince Harry was born, Diana posed in front of St. Mary's Hospital in a red dress with a white collar.
Duchess Kate wore a very similar outfit. Her dress, though, was a bit shorter and had mid-length sleeves, but she still looked just like her late mother-in-law.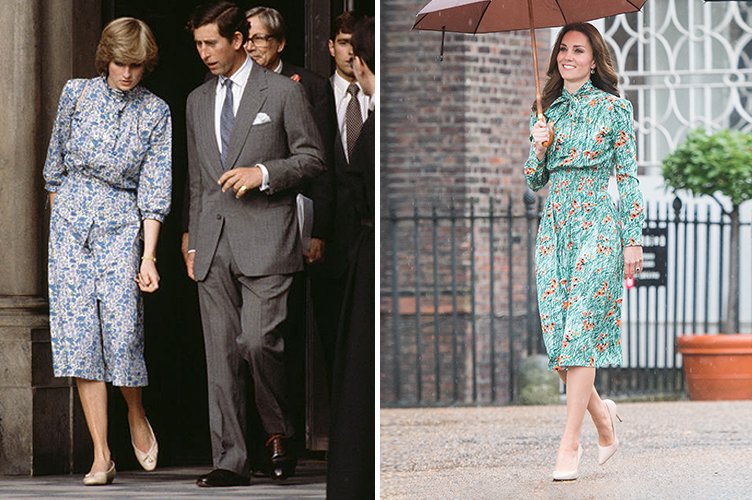 FLORAL DRESS
Kate Middleton and Lady Diana wore dresses with floral patterns and high necks that made them both look radiant. Diana's was predominantly blue, while Kate's had some orange.
For the 2019 BAFTA Awards, Kate honored Princess Diana by wearing a flowing white dress that featured a one-shoulder neckline – very similar to the one Lady Di wore while visiting Rio de Janeiro, Brazil, in 1991.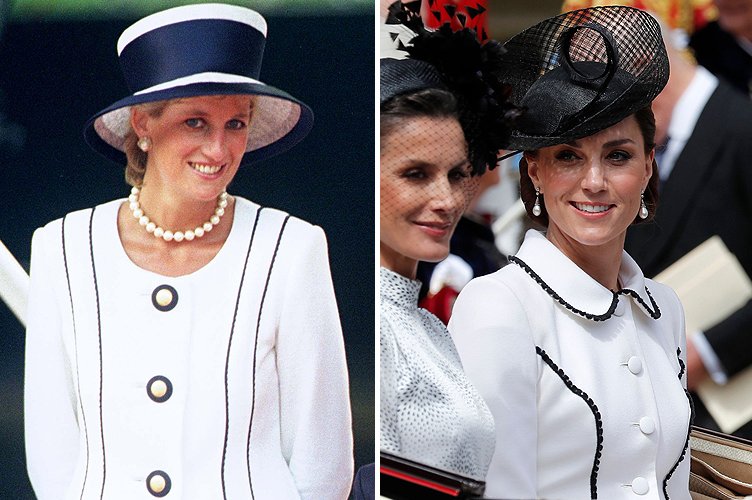 WHITE OUTFIT, BLACK HEELS
That was not the only formal outfit the Duchess of Cambridge recreated. During the Order of the Garter Service in Windsor, she opted for a white long-sleeved dress with black stitching. 
In August 1995, Diana chose a white blazer with black stitching and a matching skirt. All these similarities prove that Kate Middleton respects and acknowledges her mother-in-law's legacy.