17-Year-Old Girl Bravely Pushes a Bear off a Wall to Save Her Dogs in a California Backyard
A 17-year-old girl saved her dog's life after she pushed a mother bear off of a wall in the backyard of her California home. 
A
video
 has gone viral of 17-year-old Hailey saving her dog from a bear. The teenager's mother shared it on social media, and it was then picked up by various news outlets, including ABC 7. 
The video shows a mother bear and her two cubs walking along a wall in Hailey's backyard. The family's several dogs, including Hailey's mom's service dog, run out from the home and bark and jump towards the big bear.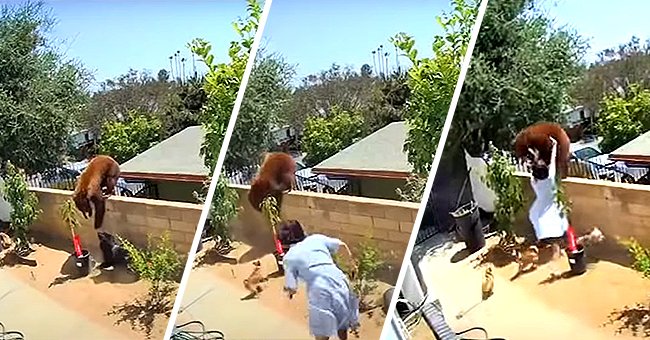 The bear reacted to the animals and started to crawl and growl at them. Then, just as it looks as if the bear has grabbed one of the family's smaller dogs, Hailey jumps into action. 
The video captured Hailey's heroic moves as she runs towards the bear and gives it a mighty push. The bear is propelled off the wall, and Hailey quickly rounds up the family pooches and gets them inside. 
ABC 7 reported that neither Hailey nor the dogs sustained any serious injuries. One of the dogs had a few scratches but was fine. The teen noted that the bears are a normal occurrence during the summer in the mountainous area in which she lives. 
As bears come out of hibernation and become more active as the weather heats up, more attacks are likely. Over the years, there have been a few teenagers who have managed to fight off a bear. 
While bear repellent is a common defense strategy for a bear attack, a teenager in Southern California used a very unusual weapon.
In 2019 a 17-year-old teenager told wildlife officers that he was attacked by a bear in a remote area 30 miles south of Ennis. He was able to escape by spraying the bear with bear repellent.
The young man said he heard a bear approach him, and as he saw the animal, it charged at him. The bear pinned him against a tree then pinned his face against the ground. 
The boy was able to reach back into his backpack and grab bear repellent. He sprayed it at the animal, who immediately let him go, and he was able to escape without any serious injuries. 
While bear repellent is a common defense strategy for a bear attack, a teenager in Southern California used a very unusual weapon to defend herself from a bear. The weapon was a laptop. 
The teen had fallen asleep in a backyard chair in June 2020. She woke up to the noise of a bear who immediately started to attack her. As a result, the teenager sustained injuries to her arms and legs. Fortunately, her injuries were not life-threatening. 
As the bear started to bite her, the young woman grabbed the closest thing to her to defend herself, which was her laptop. She hit it, and while it was stunned, she was able to escape into the house.