See Toya Johnson's 3-Year-Old Daughter Reign Try to Hold Zonnique's Baby Hunter in Her Arms
Toya Johnson's toddler daughter recently melted many hearts after a short video clip of her attempting to hold Zonnique's baby in her tiny arms surfaced on social media.
Toya Johnson's 3-year-old daughter Reign got many netizens in their feelings recently when footage that documented her holding Zonnique Pullins' child in her little arms surfaced online. 
In the video, Reign could be seen barely holding on to Pullins' cute daughter, Hunter Zoelle James, as she stood outdoors in a small gathering of people.
Ever the protective mother, Pullins helped the adorable toddler out by using her hands to cradle her baby from beneath, just in case Reign lost her grip, which would most likely not have happened since the tiny tot had her arms tightly wrapped around the newborn. 
Reign enjoyed the activity, perhaps a little too much because she seemed horrified when Pullins made to take over handling Hunter. 
Her face reflected how she felt, and the proud mother aptly captioned the situation when she wrote, "Reign said this her baby." 
Pullins welcomed her daughter Hunter last December with her boyfriend, Bandhunta Izzy. Shortly after they welcomed Hunter, she shared a shot that captured her posing next to the newborn.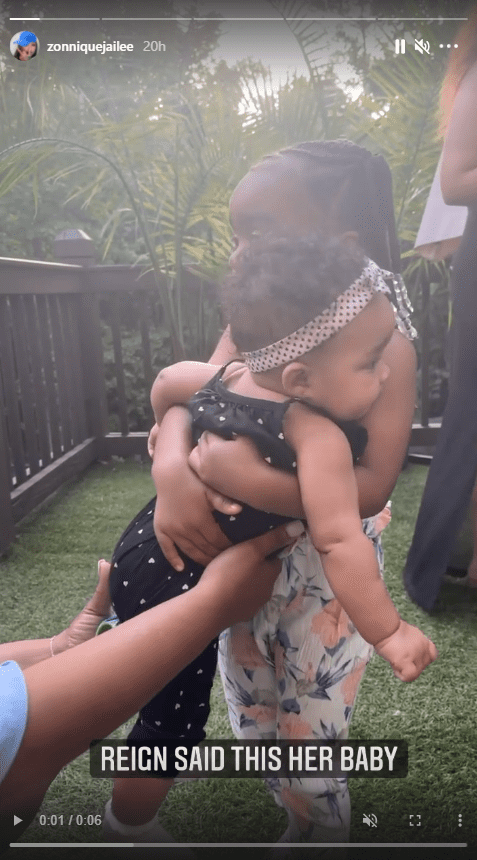 In her caption, Pullins asked her fans if her child had any resemblance to her. Her fans flocked to the comment section to give an answer and the majority agreed that Hunter is a carbon copy of Tameka Harris's daughter Heiress. 
She clapped back with a post that contained many colorful words. 
Hunter is Pullins' first child, but Izzy was already a father before the tot came along. On the other hand, Pullins' friend, Johnson, has two kids. Reign is her second daughter, with the first being Reginae Carter whom she shares with her former lover Lil Wayne.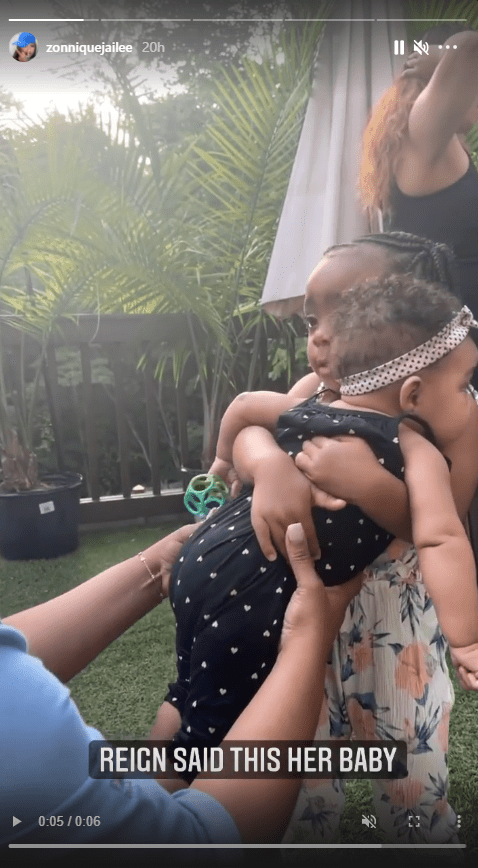 Since she was born, Reign has endeared herself to many hearts, especially her mother's. Johnson is extremely fond of her and their bond deepened during the COVID-19 pandemic that saw everyone stuck indoors for the better part of 2020. 
It's little wonder that the beautiful woman lost her cool when some netizens started to leave nasty comments under her baby's photos. Apparently, they thought the toddler "ugly" and had no problems letting Johnson know. 
She clapped back with a post that contained many colorful words that let them know she would not condone any negativity where her daughter is concerned. No doubt they will think twice about repeating the grievous offense the next time they are tempted to.