'90 Day Fiancé's Loren Brovarnik Shows off Her Huge Baby Bump While on Vacation
Loren Brovarnik, the fan-favourite in the third season of the U.S. TV show "90 Day Fiancé" is proudly showing off her huge baby bump while on vacation with her husband Alexei Brovarnik. 
Loren and Alexei originally met during a Birthright Israel trip, when she was a visitor and Alexei was the medic of her group. They hit it off instantly and their love story, struggling at first but later watched by millions, started then and there.
The couple apparently decided not to wait too long after the birth of their first child in April 2020, a boy they chose to name Shai. Now Loren is in her second trimester and according to their gender reveal party, they're having another boy!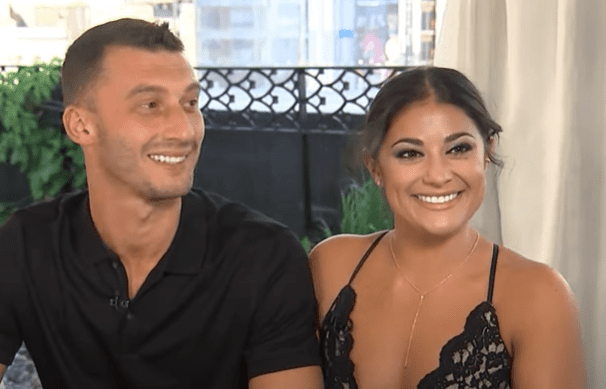 After becoming one of the most loved contestants on the show, Loren has quickly adjusted to her celebrity status and uses social media, especially Instagram to give her 1.2 million followers updates from her family's everyday life.
Obviously, most of her posts are about her still-baby-boy Shai, but between them and sponsored stuff here and there, she sneaks in her already sizable and still growing baby bump and shows off with her amazing pregnancy glow.
The latest one in an ongoing series of posts is from a vacation she's on with her husband Alexei Brovarnik. While the baby Shai is not seen in the photo, the use of the date night hashtag implies they wanted a bit of alone time to enjoy.
The lovely couple obviously look very happy and relaxed, and Loren's smile definitely warms people's hearts. It is really hard to believe that she was accused of being a mean girl by some of the show's fans on the internet.
Life is not always as amazing as it looks on social media posts of course, especially for reality show celebrities. Unfortunately being one of the most loved couples on the show does not protect them from the trolling of people.
Alexei Brovarnik remembers the whole experience as overwhelming and getting very real very quickly.
While right now they are reaping the benefits of starring in three different TV shows (two being spinoffs of the original), things weren't as fancy in the beginning for the lovely couple according to an exclusive interview with The List.
During the interview, Loren Brovarnik goes into a good amount of detail about how she had to be convinced by her roommate at the time to apply for the TV show because it was relatively new (just 2 seasons in) saying:
"At the time, we were watching the show and she was like, 'You should write to them.' And I was like, 'Okay.' She's like, 'I mean, you have nothing to lose.' I wrote to them, yeah."
So after the unexpected application and tons of interviews and Loren pestering Alexei to watch the show to get familiar with the concept, they got in and became fan favorites very quickly via their relatability through the TV screen.
Alexei Brovarnik remembers the whole experience as overwhelming and getting very real very quickly, adding that he had a hard time believing everything that's going on around him but then having a moment of clarity down the road somewhere.
Loren Brovarnik looks back on their cultural differences and finds funny moments like Alexei's mom giving her a knife with potatoes instead of a peeler or Alexei's surprise when finding out that salads in the US are made with just greens.
No matter what the journey up to this point was or how hard things were along the way, it is quite evident that the Brovarniks are very happy where they are with their baby boy Shai and his baby brother on his way to join the family.