Inside Jeffrey Hayden and Eva Marie Saint's Family — They Were Married for 65 Years until His Death
Late director Jeffrey Hayden and actress Eva Marie Saint proved that love can stand the test of time even in Hollywood as they were married for over six decades. Their love story was one of a kind.
Hayden was born in New York in October 1926 and attended the University of North Carolina, Chapel Hill. Right after graduating, he began working at NBC. 
He directed the network's first color specials, "Lady in the Dark" and "The Chocolate Soldier." Hayden also joined ABC as an associate director, proving that his talents were very sought-after.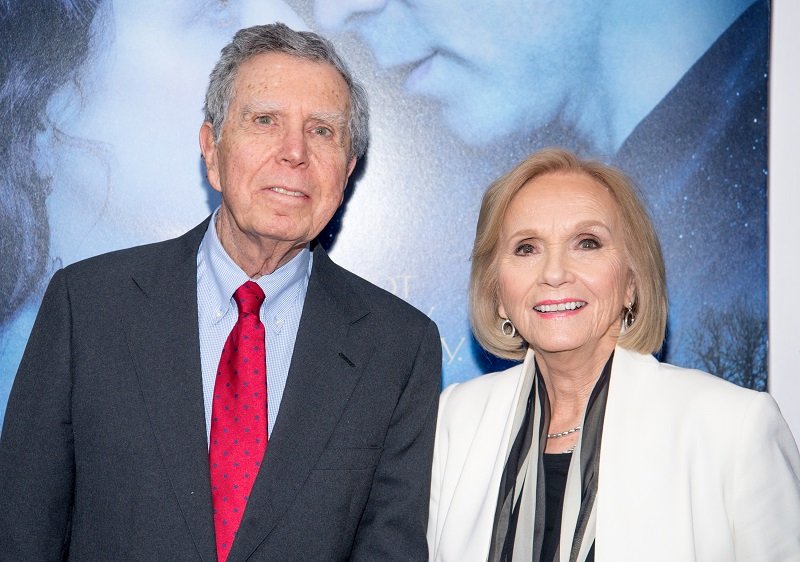 JEFFREY HAYDEN'S CAREER
In 1954, Hayden's career skyrocketed after producer Fred Coe asked him to join the staff of the Philco Television Playhouse. With them, Hayden directed live TV dramas with Walter Matthau, James Dean, Paul Newman, and other stars.
His job with Philco was so successful that he attracted the attention of different Hollywood studios. In no time, Hayden was already directing episodes of "The Donna Reed Show," "77 Sunset Strip," and "Peyton Place." 
While Hayden never won an award, he worked on some of the most popular TV series in the 70s and 80s, including "Mannix," "The Incredible Hulk," and "Knight Rider."
MARRYING EVA MARIE SAINT
Most love stories in Hollywood are pretty similar: the couple meets while working on a project together, falls in love, gets married, and parts ways within three to five years. Jeffrey Hayden and Eva Marie Saint's was different, though.
Two years older than Hayden, Saint met him on the subway in New York City in 1949. He asked her out for lunch, and she accepted. She considered he was the "most interesting" man she'd ever met, and they tied the knot in October 1951. 
Even in 1981, their marriage of 30 years was already an oddity in Hollywood. Saint once tried to explain the longevity of their relationship by saying they did everything together. 
Saint, who revealed she would have never dated an actor because they have needs that do not reflect in the other person, also said they both wanted to have a family.
Wishing happy birthday to Oscar-winning actress Eva Marie Saint! pic.twitter.com/HNaoXX6U1U

— New Beverly Cinema (@newbeverly) July 4, 2020
Eva Marie Saint's husband admitted he used to have a "stock response" for when he was asked that question on TV: "it's because we have an active sex life." It made interviewers quickly change the subject.
[Saint] knew she would never be a "superstar," but her family was always her priority.
Enjoy the elegant charms of Oscar-winning leading lady, Eva Marie Saint, today during #SummerUnderTheStars. pic.twitter.com/Y23Z8hRCRR

— TCM (@tcm) August 29, 2020
He then discovered a study that established that an active sex life actually led to long marriages, so he considered his answer "too serious" and stopped saying it.
The couple had two children, Darrell, born two days after Saint won her Academy Award for "On the Waterfront," and Laurette Hayden, who briefly worked as a producer. 
Eva Marie Saint and Marlon Brando in ON THE WATERFRONT ('54). Both of them won Oscars for their performances in this film. #SummerUnderTheStars pic.twitter.com/80e6iRTIa4

— TCM (@tcm) August 29, 2020
SUPPORTING HER CAREER
It is important to point out that Jeffrey Hayden was very supportive of his wife's career. When she got the script for Alfred Hitchcock's "North by Northwest," she was unimpressed. 
However, her husband saw the potential and asked her to reread the script in a quiet place. He took care of their children, and she gave it a second chance. Saint accepted the role, and now, "North by Northwest" is one of the greatest American movies of all time. 
Cary Grant and Eva Marie Saint star in NORTH BY NORTHWEST ('59). #SummerUnderTheStars #TCMEssentials pic.twitter.com/r0ua2JnPmp

— TCM (@tcm) August 30, 2020
While Saint was a very successful actress, she decided to slow down her career after welcoming her two children. By doing so, she knew she would never be a "superstar," but her family was always her priority. 
Unfortunately, Jeffrey Hayden passed away on Christmas Eve 2016 at his Los Angeles home. He spent a year getting treatment for cancer but sadly lost the battle at 90 years old. Eva Marie Sanit was by her spouse's side when he died.