Pit Bull Puppy Who Was Found with Stab Wounds Lives a New Life after Being Adopted by a Virginia Man
A pit bull puppy got the chance for a second life when a Virginia man saved her after she was stabbed multiple times in May. 
A pit bull named Smoke has a new lease on life after she was stabbed several times by her previous owners on May 18, 2021. Smoke has since recovered and found a forever home with the man who saved her. 
Brad Chambers saved the sweet pup who ran under his car in Portsmouth, Virginia, after being attacked. Chamber found her under his car and went into action to save her.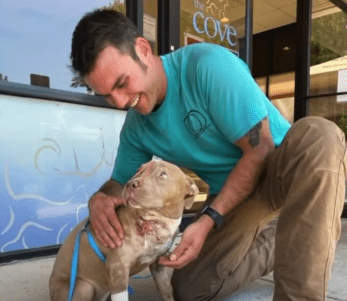 The former police officer saved her life with a trauma kit he had inside his car. The poor dog sustained serious injuries to her throat and had to undergo surgery to close the deep wounds. 
Chambers explained the extent of Smokey's wounds to KWTX 10. He said that the wounds were so deep it had damaged her trachea. In addition, it caused air to escape from her trachea into the cavity around her heart.
Virginia Man Adopts 'the Most Loving' Pit Bull Puppy He Saved After She Was Stabbed 7 Times​ https://t.co/PEuJcRjyly

— People (@people) June 2, 2021
After attempting to secure her wounds, Chambers took the injured pit bull mix to the animal hospital in Suffolk. Eventually, Smoke had to undergo surgery to repair the damage at North Carolina State's College of Veterinary Medicine.
In New Jersey, a rescue German Shepherd is being credited for saving her owner's life. 
Chamber was able to cover the $15,000 vet bill from fundraising. But, of course, the money was worth saving Smoke's life. The new pet owner shared that the dog is recovering well from her surgeries. 
The dad dog revealed that Smoke had a very loving personality, is full of energy, and is very loyal. He explained that she needed a home that would appreciate her and benefit from all of her love. 
When her previous owners, who are facing charges for the violent incident, forfeited her, Chambers jumped at the opportunity to adopt the puppy he rescued. 
Chambers is looking forward to having Smoke for the next few stages of his life and being able to make wonderful memories with her and his family. Likewise, Smoke is looking forward to giving back as she is on her way to becoming a therapy dog.
It is so heartwarming to hear of people helping and rescuing wounded or abandoned dogs. But what about a dog who saved its owner's life? In New Jersey, a rescue German Shepherd is being credited for saving her owner's life. 
Video shows man's tearful reunion with dog who saved his life during stroke https://t.co/nfnCzJ5jyw via @ABC7NY

— Mary Redden (@MaryRedden1) February 10, 2021
Sadie, the German Shepherd, seemed to know exactly what to do when her owner, Brian Myers, 59, collapse from a stroke in his bedroom. The dog went to lay by him and licked his face until he responded. 
Myers used Sadie as a counterweight to get himself off of the floor. Sadie then helped Myers walk down his stairs to his cousin, who could get Myers medical attention. The owner made a full recovery, and the two were reunited after his stay at a rehabilitation center.