'Outdaughtered's Danielle Busby Shares Photos of the Quints Enjoying Vacation at a Waterpark
Adam and Danielle Busby of the TV show "OutDaughtered" fame shared multiple photos of their vacation. They showed off how much fun their quintuplets were having in Splashway Waterpark at Victoria, Texas.
Adam and Danielle Busby took some well-deserved vacation time, taking advantage of the weather being above 70 degrees. Looking at their pictures on social media, it is not hard to see the happiness in all the little ladies' faces.
Enjoying the waterpark and their vacation to its fullest, the large family not just spent time at slides and water toys. Adam's pictures also show their girls learning how to make s'mores on a campfire and helping each other put out burning ones.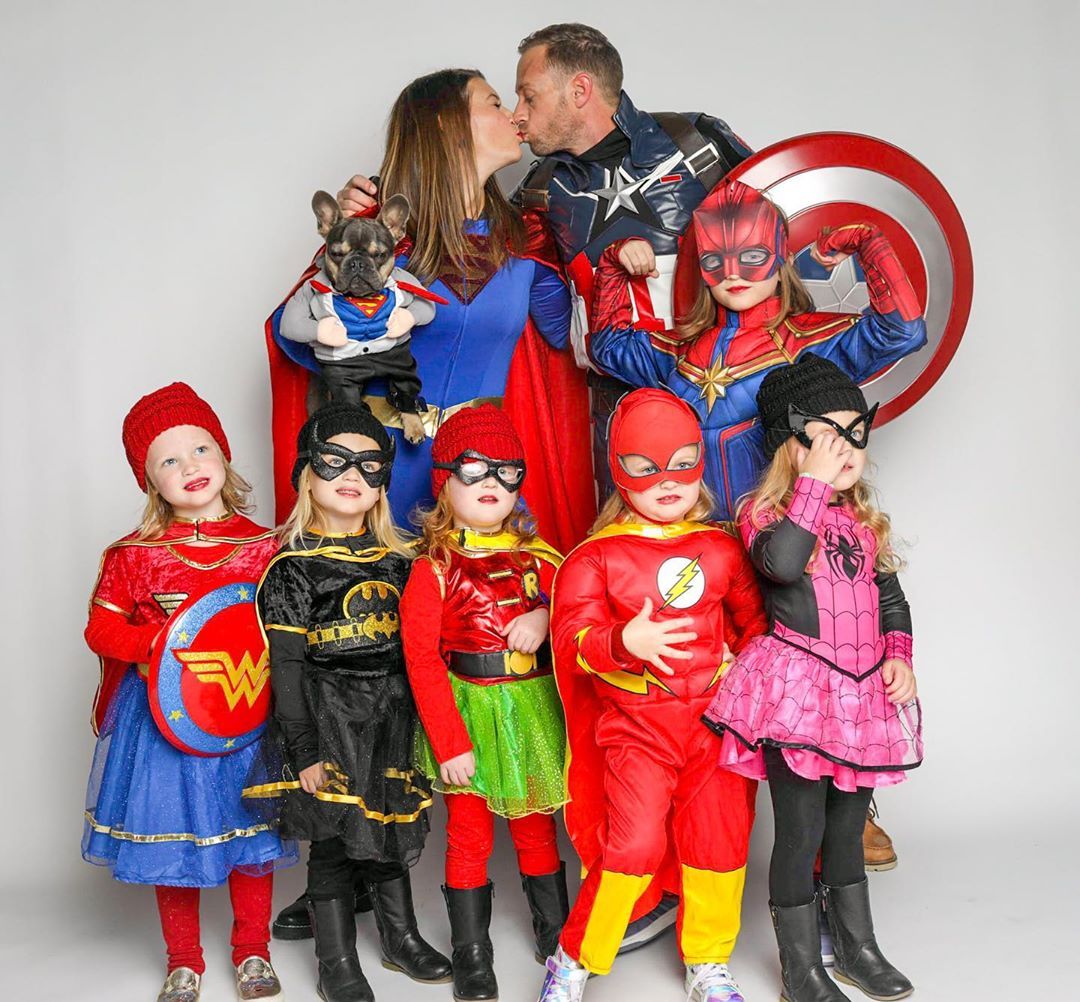 It definitely is not an easy job to take care of kids. The Busby family have their hands full with six girls, and five of them came all at once. This kind of vacation looks a bit out of their financial range, but it is highly likely that TLC is helping them.
The channel's help is not surprising, since their hard work is very well-documented. Aside from the show, Adam has his Youtube channel "It's A Buzz Story" and followers should definitely expect more of this vacation there. On Instagram he commented:
"Sisters always have each other's back! Loving this time with family camping out at @splashway."
The Busby family's girls got famous for being the only US all-girl quintuplet in the country's history so far. This got them a TV deal with TLC and allowed them to have their own reality show, which helped the family to display the hardships of multiple births.
"OutDaugtered" debuted in 2016, a little over a year after the quintuplets' birth. The delay happened since they were all premature, and had health problems since birth. The show is still going strong, finishing its 8th season just this past April.
The [Busby family's] jackpot happened to come after an infertility treatment and pregnancies via intrauterine insemination.
This year has a special upcoming event for the family. In July, Adam and Danielle will celebrate their 15th wedding anniversary. It definitely is not an easy feat for single-kid parents, and sure is a milestone for a family of eight!
The Busbys openly share their secrets and give advice on how to keep a marriage going for so long. According to an interview with People Magazine, their trick is keeping date nights going no matter what. Danielle says:
"We really find the most reconnecting time when we can step away from all the distractions at home. And so get a babysitter — those things we have to do."
It is also well known via the series that all the little ladies have their own personalities, from the shopper girl Ava to goofy Olivia, or from cute Hazel to fearless Riley, who had the back of her head stapled after a bathroom dance gone wrong.
Having kids is definitely an amazing feeling, but the full-time running around would tire out even the strongest person in time. Busby family definitely looks like they found the fun aspect of it, and they're using it to keep their spirits up constantly.
Multiple births are quite rare around the world. In fact, any multiple births over triplets are almost impossible mathematically. The Busby family's jackpot happens to come after infertility treatment and pregnancies via intrauterine insemination.
Proven by all the funny and cute stories they share, Adam and Danielle Busby's story looks like it will continue for a good amount of time. With the quintuplets growing up, the teenage years will be a whole different wild ride for them.