Callie Rivers Is Doc Rivers' Daughter and Seth Curry's Wife — Inside the Basketball Family
Philadelphia 76ers player Seth Curry is married to Callie Rivers, a member of one of the most famous families in the NBA. She explained in a video how Seth popped the question.
Even though Stephen Curry is the main star of the Currys, Seth is close behind. After graduating from Charlotte Christian School in 2008, he began college at Liberty University and averaged 20.2 points per game. 
He then was transferred to Duke University and played with their basketball team for three seasons. At Duke, Seth played with his current brother-in-law Austin Rivers.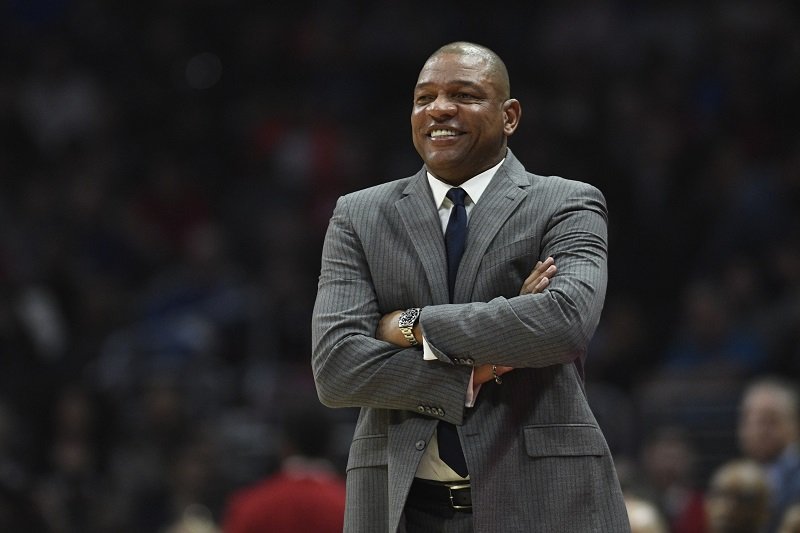 BIG NBA FAMILY
The Rivers and the Currys are two of the most famous families in NBA history, especially because their patriarchs, Doc Rivers, and Dell Curry, were professional players, too.
In May 2018, the families' dynamic significantly changed as former professional volleyball player Callie Rivers and Seth Curry welcomed Carter, their daughter. 
Born in September 1989, Callie is Doc and Kristen Rivers' only daughter. Her three brothers played college basketball, but the only one who made it to the NBA was Austin. 
On Valentine's Day 2019, a few months before Carter's first birthday, Callie and Seth got engaged. She shared some details of the proposal during an interview with Jada Pinkett-Smith's "Red Table Talk." 
PROPOSAL AND WEDDING
In a previous appearance on the talk show, a person asked Callie what she wanted to be called in terms of her relationship with Seth, and she said, "girlfriend."
Seth brought that up during the proposal and told Callie he wanted her to say she was his fiancée. He then praised her skills as a mother and popped the question, but she didn't answer because she was crying. 
When [your] team's coach is also your father-in-law, the word "pressure" takes on a new meaning.
Seth insisted on an answer to the question, and she accepted. When the couple returned to their hotel, the Currys and the Rivers were there to celebrate. About their relationship, Austin said: 
"Seth has found a good girl. My family got a good guy. There is so much familiarity. It is a very easy fit."
On September 14, 2019, Callie Rivers and Seth Curry tied the knot. Even though Stephen Curry and his team defeated Seth's Portland Trail Blazers in the 2019 NBA Western Conference Finals just months before, Stephen was his brother's best man. 
Riley and Ryan Curry, Seth's nieces, were the flowers girls. They also brought Carter down the aisle in what was probably one of the ceremony's highlights, held in Malibu, California.
THRASH TALK OR PERSONAL BAGGAGE?
Before getting romantically involved with Seth Curry, Callie Rivers and Paul George, another NBA player, were an item. However, he reportedly cheated on her with a stripper named Daniela Rajic. 
It is important to point out that George and Rajic are engaged and share two children. Things got heated in 2020 during one of Seth's Dallas Mavericks games versus George's Los Angeles Clippers.
After scoring two points and drawing a foul from George, Seth pointed at the Clippers star and insulted him. The Mavericks won that game 135-133 in overtime.
FATHER-IN-LAW AND COACH
Callie Rivers' husband made headlines in late 2020 after being traded from Dallas to Philadelphia 76ers. Joining a new team certainly brings a lot of pressure, but when that team's coach is also your father-in-law, the word "pressure" takes on a new meaning.
Fortunately, Doc has been thrilled about his daughter's relationship with Seth. He once described the NBA player as a gentleman, adding that Seth asked for Callie's hand.
Seth Curry has been essential in Doc Rivers' team. In fact, the 76ers won the series 4-1 versus Washington Wizards and will face the Atlanta Hawks in the Eastern Conference Semifinals. What a talented family!