Madonna's Grown-up Daughter Lourdes Leon Looks like Her Famous Mom's Twin in New Selfie
Madonna's oldest daughter, Lourdes Leon, looks just like her famous mom in a new selfie the singer posted over the weekend. 
Madonna shared a gorgeous selfie with her oldest daughter, 24-year-old Lourdes Leon, on June 5, 2021. The photo showed off just how similar they looked.
Madonna appeared very cool in the close-up selfie in a pair of futuristic black sunglasses and a pretty butterfly scarf, while her daughter was beautiful next to her mother in a green tank top.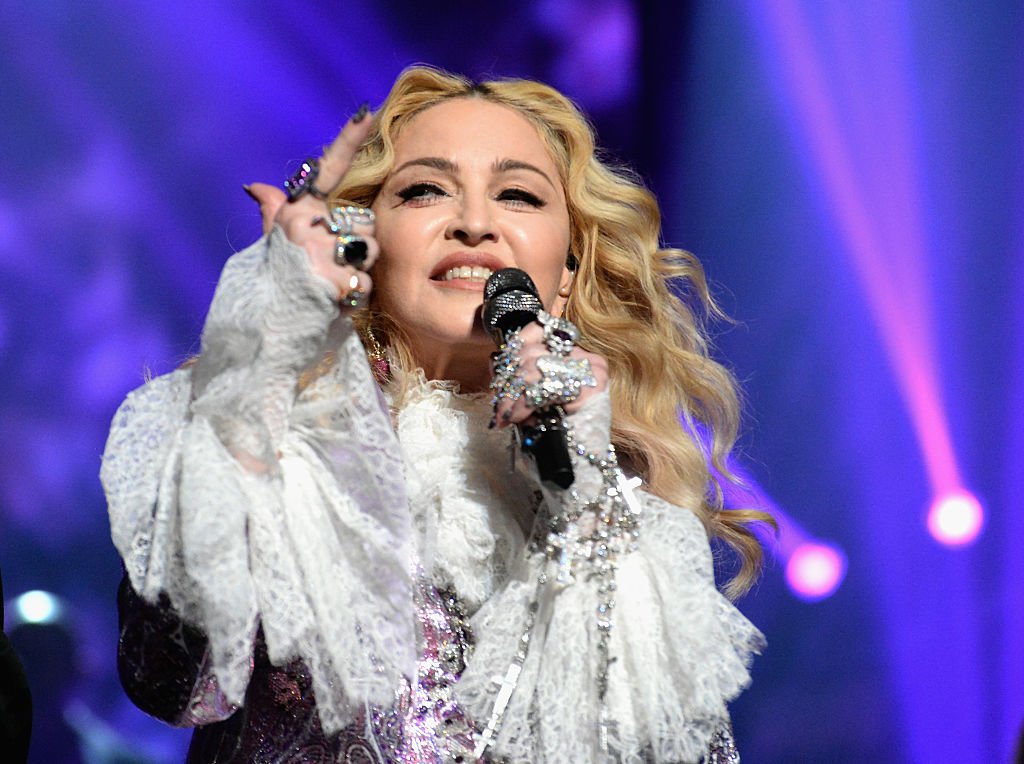 It looked as if Lourdes did not have any makeup on in the photo besides her lip color, which was a gorgeous dusty pink. She and Madonna matched with the pretty pink-toned lipstick.
Fans were quick to comment on the photo, acknowledging how similar they looked to each other, while others just complimented the women on their beauty. Madonna captioned the pouty selfie:
"Mambo and Mariposa 🦋 #lola 💙💙💙💙"
Madonna has shared photos with her daughter, who she shares with her ex, fitness trainer Carlos Leon. In April, she shared a gorgeous photo of them posing together. 
In the photo, Lourdes looked tall and elegant in a green mini dress, next to her mother who was dressed in a white sleeveless dress and a pink and purple flower crown. The two are very close as Madonna described her daughter as a piece of her heart in the caption. 
Most recently, [Lourdes] became the face of Marc Jacobs for the brands' Spring 2021 collection.
Not only does Lourdes share her mother's gorgeous looks, but she is talented too. Madonna once gushed about her daughter's skills and noted that she is a brilliant dancer, actress, and piano player. 
However, Lourdes lacks something, as Madonna explained that unlike herself, her daughter lacked drive. Of course, she acknowledged that they grew up differently, and that might have impacted her daughter's personality:
"She grew up with money, and I didn't. So everything is going to be different. But what can I do? I can't fixate on it. I just have to do my best."
Despite her mother's comments, Lourdes has been busy with her own career, including a few modeling gigs with the likes of Miu Miu and Stella McCartney. She also walked the runway for Gypsy Sport's New York Fashion Week show.
Most recently, she became the face of Marc Jacobs for the brands' Spring 2021 collection. In addition, the model is stepping up her public persona as she just joined Instagram in January of this year. 
Madonna welcomed her oldest daughter in 1996. However, she and Lourdes' father split up a few months later. Carlos and Lourdes have a close relationship and the parents have stayed good friends. 
Lourdes has four other siblings. Rocco, 20, is her brother her mother welcomed with Guy Ritchie. David Banda who's 15, was adopted by Madonna and Ritchie. Lourdes also has a sister, Mercy, 15, and twin siblings Ester and Stella, 8, who the songstress adopted too.