Harry & Meghan's Newborn Daughter Already Has a Special Bond with Her Cousin Princess Charlotte
The Sussex's newborn daughter hasn't even met her cousins yet, but she already has a special bond with one of them. Little Lilibet and Princess Charlotte have a few things in common.
On June 4, 2021, little Lilibet "Lili" Diana Mountbatten-Windsor was born to Prince Harry and his wife, Duchess Meghan. The little royal was welcomed at 11:40 a.m. weighing 7 lbs 11 oz.
She was born at Santa Barbara Cottage Hospital. Chances are her Royal Family members, who live in the UK, haven't met her yet, but she's already got a special bond with one of her female cousins.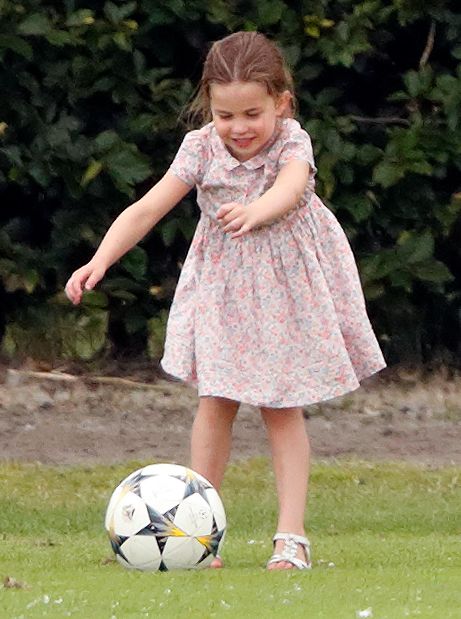 Lilibet's first name was actually a tribute to her great-grandmother, Queen Elizabeth II. Her second name was also chosen to honor her late grandmother, Harry's mother, Princess Diana.
Princess Charlotte, 6, Harry's older brother's daughter, also happens to share the same tributes linked to her names. Her full name is Charlotte Elizabeth Diana, which honors both the Queen and the People's Princess.
Even though Lilibet wasn't named "Elizabeth," her name is actually the Royal Family's nickname for the Queen. The nickname stuck to the monarch when she was a child struggling to pronounce her full name.
She's since used it throughout her life, and she's even signed the name on the letter placed on Prince Philip's, her late husband, coffin. Andrew Roberts, an NBC News British historian, gave more insight on the name.
The first letter Princess Elizabeth, 'Lilibet' to her family, ever sent to her grandmother, Queen Mary #Queenat90 pic.twitter.com/ElqORaWHEs

— The Royal Family (@RoyalFamily) April 19, 2016
He revealed that the Queen was called "Lilibet" by her grandparents, parents, and late husband. The moniker is generally used privately by the monarch, but it found its way into the public space through a series.
Netflix's "The Crown," a series based on the Queen's life, used the nickname in dialogue. Sally Bedell Smith also references it several times in the 2012 biography "Elizabeth the Queen: The Life of a Modern Monarch."
In 2016, the Royal Family's official Twitter account shared a photo of a letter written by a young Princess Elizabeth to her grandmother, Queen Mary. The note was simply signed "Lilibet."
The name Elizabeth is actually biblical and means "God is my oath" in Hebrew. Lilibet will most probably use the shortened version of her name, "Lili," instead of her full one.
People magazine said it had sentimental meaning for Meghan as it was her childhood nickname given to her by her mother, Doria Ragland. Besides her link to little Lilibet, Charlotte has something in common with her mother.
Last month, Princess Charlotte celebrated her birthday by wearing Rachel Riley's floral print dress with puff sleeves. It ended up selling out quickly, just like her mother, Duchess Kate's dresses.