Wendy Williams' Ex Kevin Hunter Faces Backlash from Fans for His Family Appreciation Post
Wendy Williams' former husband Kevin Hunter faced backlash from critics after he shared a family appreciation writeup alongside a selfie on his Instagram page.
Kevin Hunter is the man who managed talk show guru Wendy Williams for more than a decade. The former couple was married for more than twenty years before ending things.
It has only been a few months after their divorce was finalized, and each party is living different lives. However, Hunter's recent post stirred reactions from fans who disapproved of his words and linked it to the talk show host.
Williams' ex-husband dropped a snap of himself sitting in a car. He decked dark sunshades on a white round neck top with a pair of shining gold chains.
He maintained a cool demeanor, and a closer look at the photo showed his arm tattoo. He expressed his thoughts via the caption which read:
"Nothing more important than FAMILY!!! GODSPEED & GRATEFUL."
It did not take long before some fans reacted to the caption. They criticized Hunter for writing such a caption, considering that the divorce proceedings with his ex-wife only recently ended.
A fan explained that Hunter's words would affect his "sensitive" ex-lover, addinghe should have been more thoughtful and considerate even though he has moved on from the divorce.
The media mogul said she was aware of Hunter's serial cheating since the beginning of their relationship.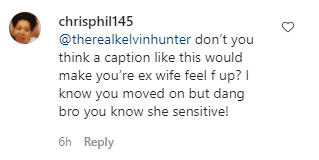 One critic maintained that the former manager is in the business of enjoying Williams' money and must have abandoned the second family he made after leaving his wife.
It did not end there. A fan stated that the caption was a blatant lie as he never respected his first family enough to protect the marriage. To support the comment, one of the commenters quipped:
"If that was true you would still be with Wendy."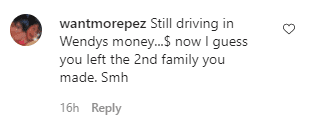 Many internet users may be criticizing Hunter for his errors, but Williams assured them that she was done by initiating divorce in 2019 after enduring his infidelity for years.
Nowadays, the talk show host wants the world to know the actual issues she faced and has consented to interviews to discuss what went on in her marriage.
The media mogul said she was aware of Hunter's serial cheating since the beginning of their relationship but chose to make things work until the last straw came with him fathering a daughter with his mistress.
Williams has also taken things a step further by revealing every detail of her life through her documentary, "Wendy Williams: What A Mess!" In the production, the 56-year-old TV personality who appears perfect onscreen talked about her struggles.
She will be revealing her struggles with weight and an eating disorder, the several miscarriages she faced before welcoming her only child Kevin Hunter Jr., drug addiction, and love for plastic surgery, among other things.