HGTV Star Erin Napier Hails Husband Ben for His Help with the Baby as She Recovers from Surgery
Erin Napier uploads a cute photo on Instagram and showers her husband with praises for always being there, and all he does for them, saying they were lucky to have him in their corner
HGTV's star Erin Napier, 35, went on her Instagram page to express how grateful she was to her husband, Ben Napier, a co-star on HGTV for his continued support after the birth of their second daughter, Mae.
Erin says her husband is always up to something, from scooping her up from the sofa, taking their first daughter Helen swimming, or fixing her a bottle, and has been a great support to her as she is still recovering from surgery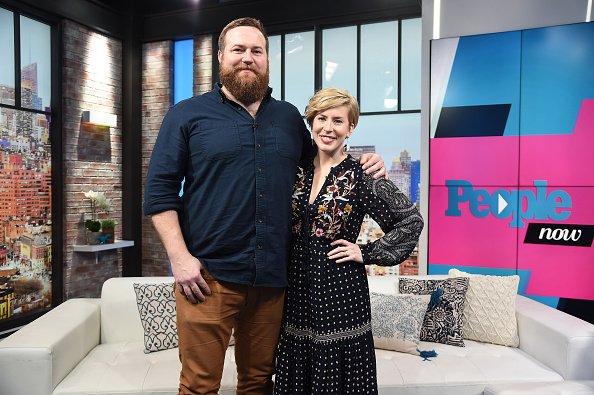 Erin says she always kisses her husband whenever he is close and encouraged people with spouses to always remember to thank their loved ones for their support and effort, and mean it. 
The couple welcomed their little girl on May, 28. She weighed 7 pounds 1 ounce at birth and was 19.5 inches tall at birth. They are already parents to Helen, who is three. In an interview with People magazine, they said;
"While we are excited to have another daughter to love, we are more excited to see the bond she and Helen will have, they're already so in love with each other!"
They added that while they were eager to have another baby. They wanted more than anything to see the bond that Helen would create with her sister. This is after witnessing the bond between her father and uncle.
She says that she watched her dad and his brother at her grandmother's graveside and felt that they shared such a strong bond, despite being different from each other. Siblings keep the stores of a family alive. And they wanted that for Helen.
[S]ecrets exposed to viewers were that some renovation decisions are made prior to the arrival of the crew at the house.
Erin was feeling elated after her friends threw her a surprise baby shower. The baby shower consisted of a diaper shower and a weeknight dinner, which is an ongoing tradition between her and her friends.
Even amidst the celebration, the star did not forget to say a little prayer and send love to those struggling with the long and difficult journey of waiting for their own babies. She spoke to Us Weekly and said;
"Even in our celebrating, I'm thinking of the would-be parents waiting for their own babies. For many, it can be such a long and difficult journey and I pray for strength for you if that's where you are."
Erin and her husband's hit show "Home Town" has gained a lot of popularity over the years, but many people have questioned their authenticity and wondered if they were too good to be true. 
Some of these shows' behind-the-scenes secrets have been exposed by people that have either had their homes renovated. Some have even come out to say that some of these shows had been sued for funds misappropriation
Some participants have claimed that some of the homes featured were not for sale. Others have said that they over-dramatize the participants' reactions, and even move on to the next house before the previous one is complete.
Some other secrets exposed to viewers were that some renovation decisions are made prior to the arrival of the crew at the house, and even some participants being unable to keep their homes due to taxes.