Billie Jean King's Dramatic Outing — She Was Still Married to Larry King When It Happened
Former tennis player Billie Jean King, one of the greatest female tennis players in history, was outed as a lesbian in 1981. At the time, she was married to late TV personality, Larry King.
Billie Jean and tennis fans alike were shocked when Marilyn Barnett, a former hairdresser who was left paraplegic after a fall, filed a lawsuit in April 1981 requesting a part of Billie Jean's assets. 
In Barnett's suit, she claimed she and the tennis star had been romantically involved since May 1972 and were together for about seven years.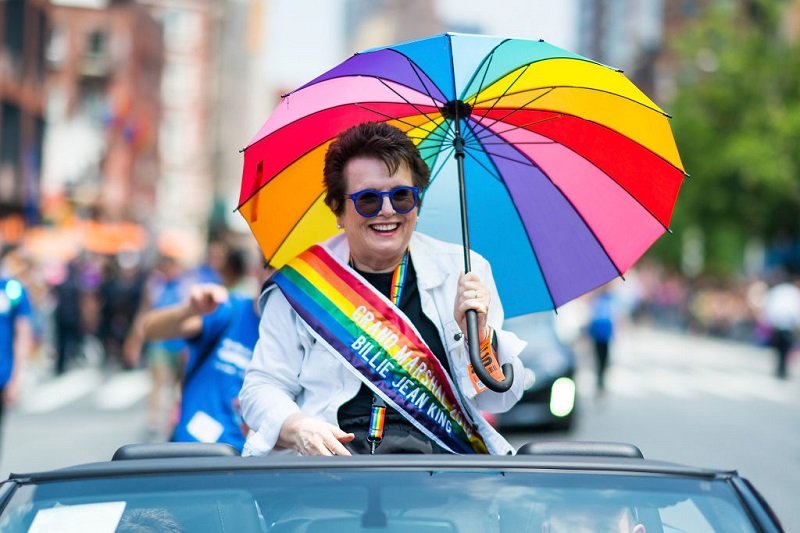 Around the same time, Billie Jean King vs. Bobby Riggs happened in what was labeled as the "Battle of the Sexes." That match was taken to the big screen in 2017 with Emma Stone and Steve Carrell as the main stars. 
Coming back to the lawsuit, Barnett reportedly lived with Billie Jean and gave up on her career as a hairdresser to help her be mainly focused on her tennis career.
A proud day in this sport 🎾

Congrats @BillieJeanKing, @naomiosaka and @RafaelNadal on your @LaureusSport Awards honors🏆 pic.twitter.com/ERzfOwnRIW

— wta (@WTA) May 6, 2021
During their seven years together, Barnett was Billie Jean's "secretary, confidante, companion, cook and cleaning person." Everything ended in 1979 when Billie Jean ordered Barnett to leave her Malibu home. 
Barnett pointed out that the tennis star promised her a house and financial help for the rest of her life. While Barnett didn't specify how much money she wanted, she was expecting half of Billie Jean's earnings during their seven years together.
Happy #PrideMonth!

I have been a proud member of the #LGBTQ community for more than four decades.

So much progress has been made, but the work must continue.#pride pic.twitter.com/OVSIEPYwDt

— Billie Jean King (@BillieJeanKing) June 1, 2021
Apart from that, Barnett requested part-ownership of a Malibu beach home reportedly worth over $500,000. Billie Jean King's husband, media personality Larry King, was named as a defendant.
Former President Barack Obama gave her the National Medal of Freedom in 2009.
Shortly after Barnett's lawsuit made headlines, Billie Jean described the allegations as "untrue and unfounded." She admitted Barnett worked as her secretary, but she fired her because she decided to reduce some of her business activities to focus on tennis.
The weekend is almost here!

This photo was taken @Wimbledon on June 26, 1962.

I was 18 years old, and had defeated the No. 1 seed, Margaret Smith, 1-6, 6-3, 7-5.

📷: @alamy #FlashbackFriday pic.twitter.com/wWjHydErHy

— Billie Jean King (@BillieJeanKing) May 21, 2021
Billie Jean King's outing was "horrible" for her. Her lawyer and PR told her she shouldn't admit the truth, but she refused to deny her sexual orientation as telling the truth was important.
The tennis legend regrets not coming out earlier, but she only began feeling comfortable about it when she was 51 years old and after a lot of therapy.
Today is International Day against Homophobia, Transphobia & Biphobia to celebrate the LGBTQIA+ community, & to raise awareness to stop discrimination.

The freedom to live authentically is vital. Each person is an influencer & can fight for equality. 🏳️‍🌈#IDAHOBIT #IDAHOBIT2021 pic.twitter.com/n9yFJSxDpj

— Billie Jean King (@BillieJeanKing) May 17, 2021
Much of her issues came from the shame people – including her parents – associated with being gay in the 70s. According to the former athlete, it was a "big deal" back then. 
Nowadays, Billie Jean King is a feminist and lesbian icon, and former President Barack Obama gave her the National Medal of Freedom in 2009 for her women's advocacy and LGBT initiatives.