Homeless Massachusetts Teen Imani Fonfield, Who Led George Floyd Protests, Gets into Harvard
During a student-led protest last year, Imani Fonfield made headlines as she headed the event. At the time, she was homeless, but she's since gotten accepted into a prestigious university.
Last summer, Imani Fonfield, 18, led the George Floyd protest march in Newton. She was the class speaker at the Newton South High School and was the closest thing her school had to a valedictorian.
When the world first met Imani, she led a die-in for Floyd at the Newton Town Hall. During her recent high school graduation speech, the teenager opened up about her upbringing and the protest.

At last Thursday's graduation, she confessed to her classmates that last summer was filled with emotion, passion, and a raw realization about society. Imani spoke passionately about leadership and the role it plays.
Her mother, Gladys Fonfield, revealed how her daughter had always been a passionate person from when she was a newborn child. Gladys said her daughter thrived upon birth.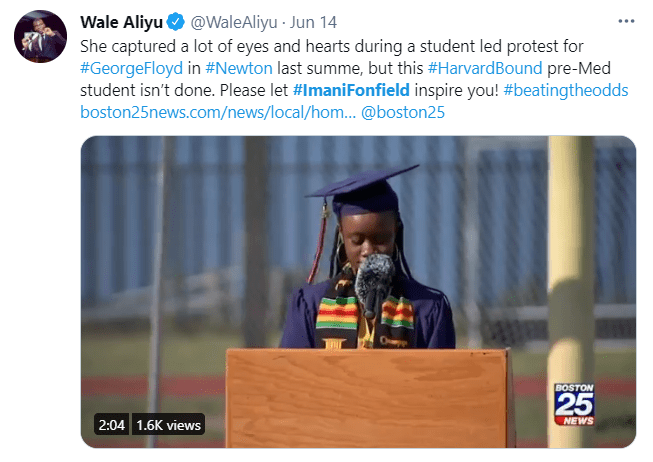 She confessed that her daughter was born prematurely but had self-determination as a child who helped take care of her mother. However, the teenager's life was not without trials.
During her speech, she revealed that she didn't have a home. Before she started kindergarten, Imani and her mother were already homeless because of the effects of generations of domestic violence.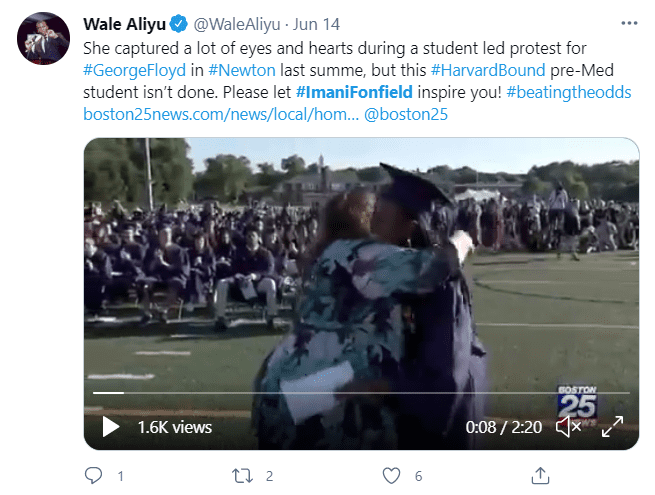 Her upbringing strengthened her drive instead of it deflating it. The teenager's grandmother's life was taken due to domestic violence leading them to end up homeless; however, Imani had a different path.
They [community college students] would sleep on sleeping in cars or friends' couches.
She's been accepted to Harvard University. The school wasn't the only one that wanted her as Yale, Northeastern, BU, UMass Amherst, and UConn all gave her acceptance letters.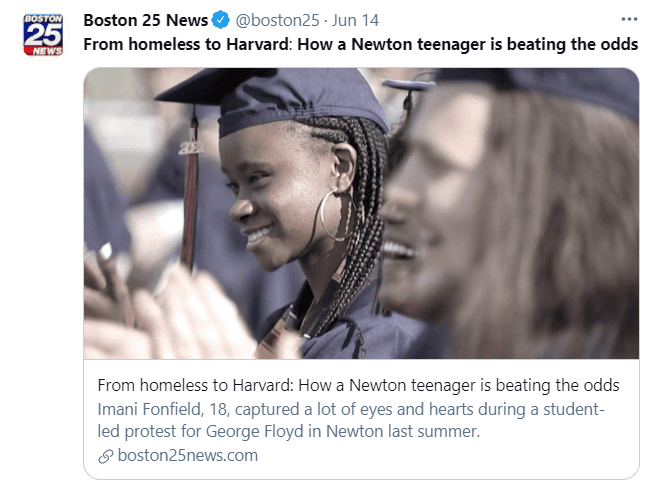 The Massachusetts teenager has managed to break the mold in so many ways regarding her family background. She said getting into Harvard was an emotional experience, with her adding:
"It felt very liberating for me and my family. I am a first-generation college student."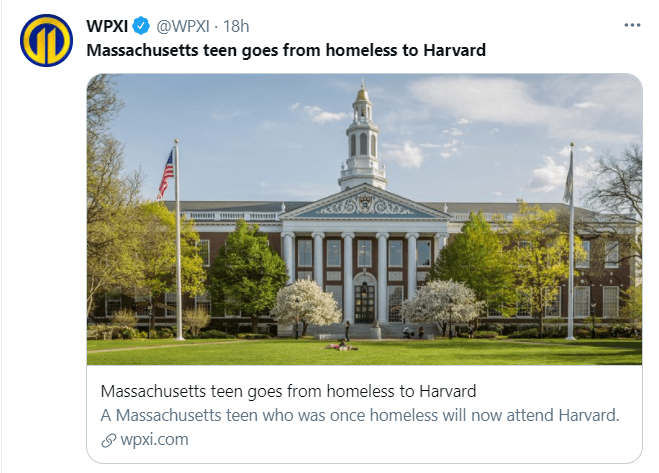 And as she said goodbye to high school, she decided to take someone with her. Imani didn't leave high school on her own, though; she will be taking along a Kente cloth that she decorated with her sister, Joi.
She wore the cloth on her graduation day so they could graduate together after Joi died in seventh grade from an asthma attack. Imani chose Havard because her older sister wanted her to attend there.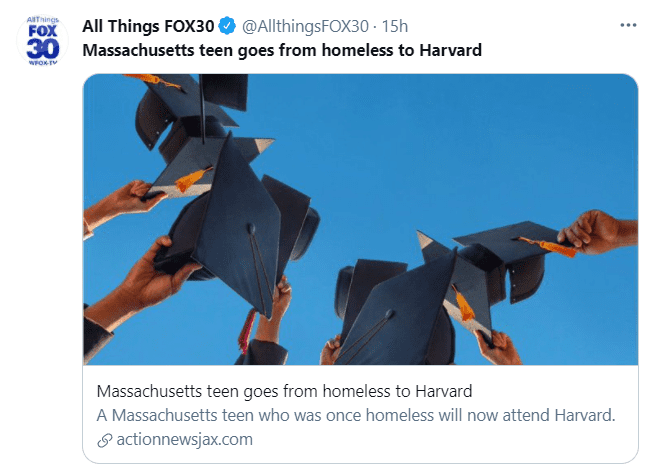 This month it was reported that an Oregan homeless woman died while unknowingly rich with nearly $900,000 of inherited funds. Cathy Boone's late mother's estate tried contacting her about the inheritance but failed.
Speaking about homelessness, a February 2020 "New York Times" article revealed that some community college students were actually homeless. They would sleep on sleeping in cars or friends' couches.