Omarion's Ex Apryl Jones Turns up the Heat Showing off Enviable Curves in a Snake-Print Bikini
American reality television star Apryl Jones held her fans spellbound after sharing a sexy video on her Instagram page showing off her curves while coming out of a swimming pool. 
"Love & Hip Hop" star Apryl Jones reminded everyone of her beauty in a recent post she made on her Instagram page. The 34-year-old shared a video of herself enjoying some good time inside the pool. 
In the clip, Jones enjoyed one final dip in the pool before coming out slowly. As she emerged, her gorgeous curves and sexy figure were eye-catching in the lovely snake print two-piece swimsuit she wore.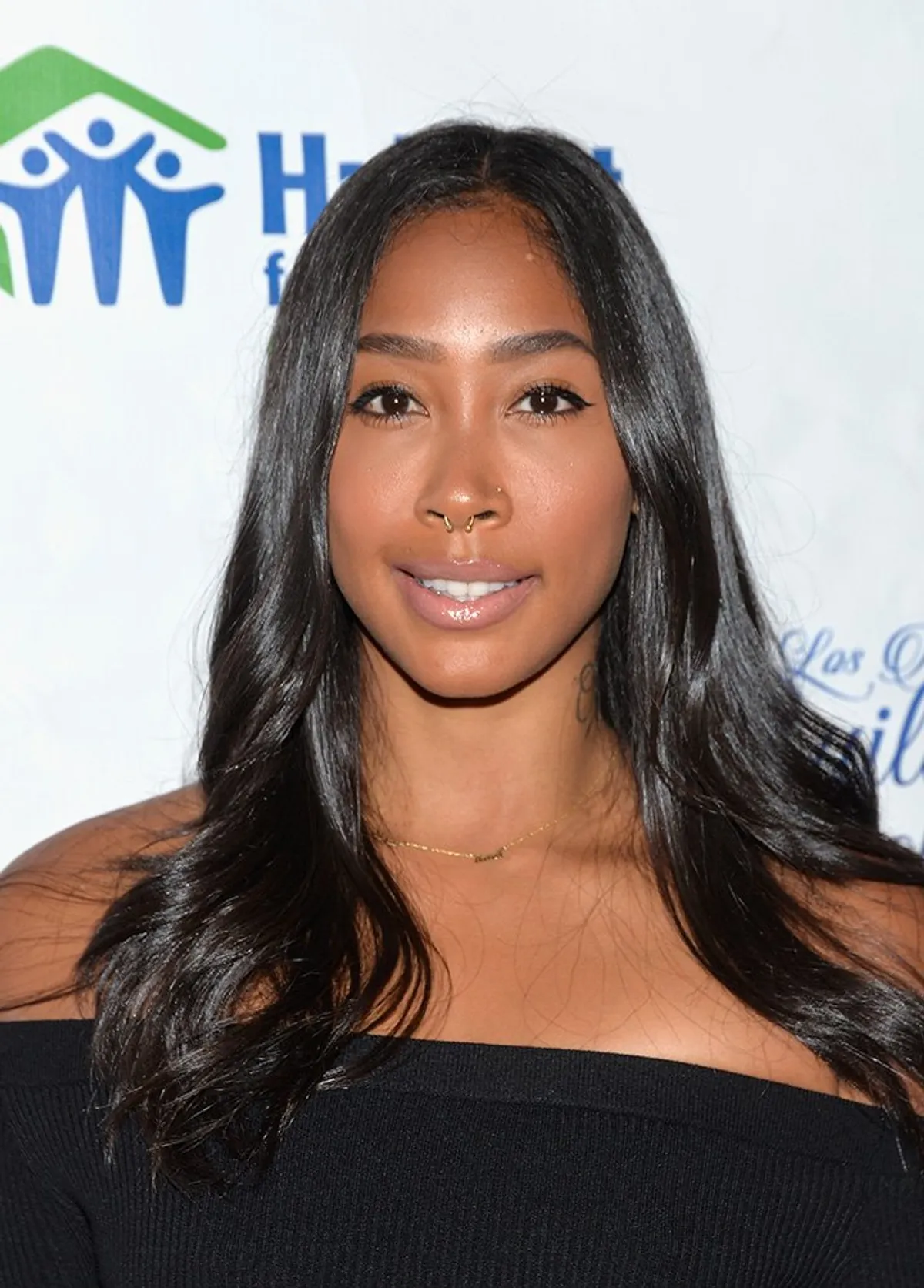 She held the pool's stairs with both hands and flapped her long black hair sideways to rid it of water. The video, which had Snoop Dogg's hit song, "Beautiful," playing in the background, ended with Jones giving the camera a sexy stare. 
In the post's caption, Jones said she had no complaints and that life is good. She also said the snake print suit she wore was one of her favorites before waving her fans goodbye. 
Unsurprisingly, many of her friends and fans commented on the post and complimented her gorgeous beauty. One of those to comment was her "Love & Hip Hop" co-star, Adiz "Bambi" Benson, who typed three heart-eyes emojis. 
Jones replied to most of the comments she got on her post. When one of her fans expressed admiration for her resilience, the reality television star showed gratitude and pledged to continue living her life.
Jones later broke down in tears and expressed her exhaustion over the men in her life.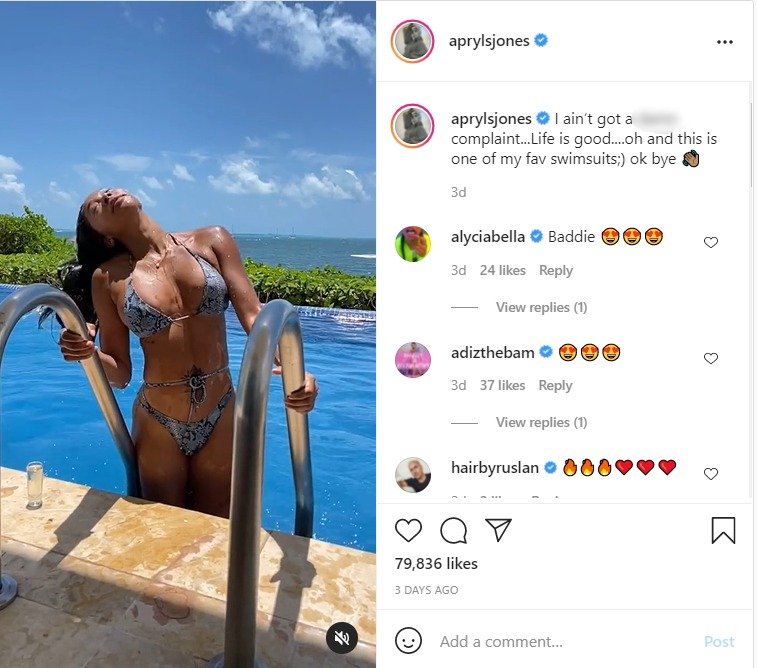 Fans are not new to seeing Jones displaying her sexy figure in her posts. In November 2017, she heated things up after sharing a side-by-side picture of her body transformation following childbirth. 
In the post's caption, she revealed how she struggled with her body image following childbirth and how it sent her soul searching. She wrote: 
"It took a lot of internal healing in order to motivate myself to get up, get at it and strive to be all that I could become emotionally, mentally, spiritually and physically…." 
Jones shares two kids with her ex-boyfriend, Omarion: six-year-old son Megaa Omari Grandberry and their five-year-old daughter A'mei Kazuko Grandberry. 
Her relationship with the singer did not go the long haul. She courted further controversy after dating his B2K bandmate Dreux "Fizz" Frédéric, a relationship that did not last too. 
In February, Jones found herself in the news following her comments about her relationship with Omarion and their time on "Love & Hip Hop: Hollywood." 
She said her situation with him on the show was completely controlled and that she did not want to do reality television in the first place. She further explained that Omarion's team wanted to get rid of the rumors of his sexuality and felt the show was a good way to do that. 
Hence, they needed the show to let people know he was in a relationship with a woman and had kids with her. She said she did it because she loved him but was not really herself. 
Meanwhile, Jones and Fizz reunited in a reunion episode of "Love & Hip Hop," "Family Reunion: Love and Hip Hop Edition." However, it did not end positively as she got upset about his refusal for them to have closure. 
The exes engaged in a physical altercation and had to be separated by security. Jones later broke down in tears and expressed her exhaustion over the men in her life.