Getty Images freepik.com
'Soul Food' Star Michael Beach's Wife Elisha Wilson Once Went Viral For a 'Mom Duties' Pic – Meet Her
Famous actor Michael Beach is currently married to a woman who once went viral for breastfeeding their kid while sitting on a toilet— meet her.
Some people are lucky enough to meet their soulmate on their first attempt at marriage. However, others, like "Soul Food" actor Michael Beach, have to try again.
Beach's first attempt at marriage provided him with four children but their mother, Tracey Beach, was not his soul mate. In fact, after their union ended, the talented actor vowed never to do it again.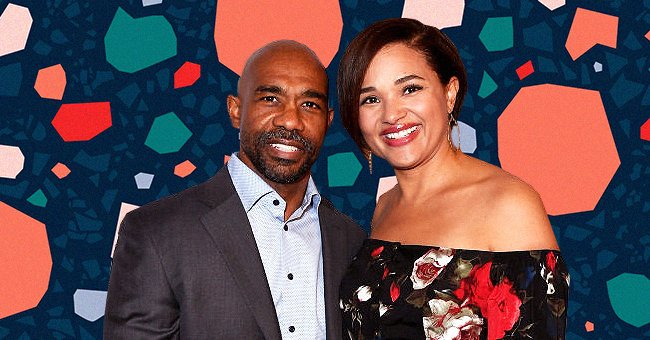 Michael Beach and Elisha Wilson at The BAFTA Los Angeles Tea Party on January 5, 2019 | Photo: Getty Images
That all changed when his current wife, Elisha Wilson, managed to change his mind. It was not an easy feat, but she pulled it off, and they have been together ever since.
HER ORIGINS
According to an Instagram post she shared in the past, Wilson describes herself as a southern belle born and bred in Birmingham, AL.
She allegedly left her home at age 17, just two weeks after her high school graduation, to train as a ballet dancer at the Dance Theater of Harlem. Her mother frowned upon the move, but it was the "best decision" she ever made as far as she is concerned.
HER CAREER
Right now, nothing is more important to Wilson than the children she shares with her husband. They have a total of eight kids, four of which Beach had with his former wife.
When Wilson met the man who would be her husband, neither of them knew it.
Aside from her full-time job as a mother, she fills a lot of roles, including content creator, writer, dance educator, certified strategic planner, nonprofit director of development, and grant writer.
HER ALLEGED GAFFE
Wilson is famous for having bold opinions about many things, but in 2015, she had to listen to others share their own concerning a picture she shared on Instagram.
The shot featured her pants down as she was seated on a toilet with her child standing directly in front of her, suckling her breast. It attracted mixed reactions from netizens and quickly went viral on social media.
Some criticized her for the act, with many adamant about how unsanitary it was to breastfeed a child in the toilet, while others praised her for being brutally honest about the struggles of motherhood.
HER SOULMATE
When Wilson met the man who would be her husband, neither of them knew it. A friend introduced them, but they had seen each other as simply having fun before things became serious.
Beach had been very certain their relationship would go nowhere; however, his feelings slowly changed. It began when she moved into his apartment in New York because it was closer to her workplace.
He would return to New York from LA to spend time with her and his kids, and like that, they built a solid rapport. At some point, she followed him to LA and decided she wanted something more with him.
He wasn't very enthusiastic about that, and they broke up for a couple of months before getting back together to work on their relationship. It didn't happen immediately, but when it did, they knew there was no going back.
Now they are married, and their love has solidified into something stronger that it is expected to last till death separates them.
Please fill in your e-mail so we can share with you our top stories!