Steph Curry's Wife Ayesha & Daughter Ryan Pose in New Photos during Their Candid Mom-Daughter Talk
Steph Curry's wife, Ayesha Curry, looked spectacular as she shared pictures of herself and her daughter looking casual as they had a candid mom-daughter talk.
When it comes to raising kids, there is no clear-cut road on how to handle things, but sometimes, having a heart-to-heart talk is the best way to get around things.
Chef and businesswoman Ayesha Curry recently took to Instagram to share pictures of herself and her eldest daughter, Riley, basking in the sun and enjoying a candid conversation.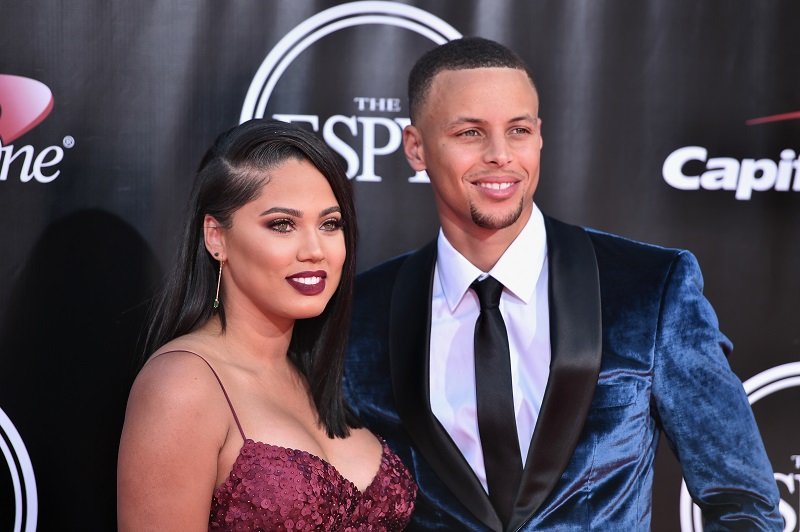 The first image in the series of pictures showed Riley cuddled up between her mother's thighs. Her body was positioned in such a way that she could look up to her mom, who cradled her face.
While Ayesha had on ash-colored trousers with a sleeveless cream-colored top, Riley looked adorable in her purple dress that reached her mid-thigh. In the caption, Ayesha explained:
"Me trying to explain to baby girl that daddy and I adventure together because we cant get enough of each other 😆😆[...]."
She continued by saying the decisions made them better parents while strengthening every aspect of her marriage to Steph. Finally, she said she was grateful to their family for holding it down while they were away, as it was a blessing beyond measure. 
She was able to figure out the direction for her life when things became too much. 
The next image showed Ayesha smiling at the camera while Riley had her head beneath the crock of her mom's arm. Her kinky black hair looked adorable sitting atop her head while Ayesha's hair fell to the side of her face. 
For the next picture, the mom-of-three posed with her hands in her pocket and a grin plastered across her face. She had a white purse hanging down the side of her arm.
The last image was a replica of the previous one, except this time she was looking down and used one hand to tuck her hair behind her ear. 
The comments section was awash with love for Ayesha and her daughter. The post had over 293,000 likes and thousands of comments talking about how adorable Ayesha was with her kids. 
Last year, the mompreneur shared that she and Steph took Riley on a 7-mile Black Lives Matter protest. She said the reason was to expose her to the issues early enough and not sugarcoat the things that were happening and concerned her. 
She explained that the experience was a valuable one as their daughter began to ask questions that challenged and caused them to read and open up more about the current happenings in the country. 
Aside from raising their children, Steph and Ayesha, through their foundation, have helped revamp and establish safe playgrounds for children in different parts of the country. These efforts come from their belief that every child must have a safe place to play. 
Ayesha and Steph are also parents to another daughter, Ryan, and a son, Canon. Ryan is five and has been described as a bundle of energy bouncing around the house. Canon, on the other hand, loves to play and hang around with his sisters. 
As to starting a family at a young age, Ayesha expressed she had a lot of decisions to make for herself and her family. Although it got a bit too much at some point, with the help of her mother and mother-in-law, she was able to figure out the direction for her life when things became too much.