Eve Flashes Her Sweet Smile & Looks Blooming in a Ruffled Pink Midi Dress & Hat in Pics
Eve is best known for her singles such as "Gangsta Lovin" and "Who's That Girl." However, she recently shared a picture of herself dressed pretty in pink, proving that her style is just as good as her tunes. 
Rapper Eve shared a snapshot of herself and radio presenter Yasmin Evans. She donned a pink ruffled midi dress and a hat while smiling sweetly for the lens.
Eve was picturesque in her light ensemble. It sported batwing sleeves and brightly bloomed against the dark glass of the BBC sound studio.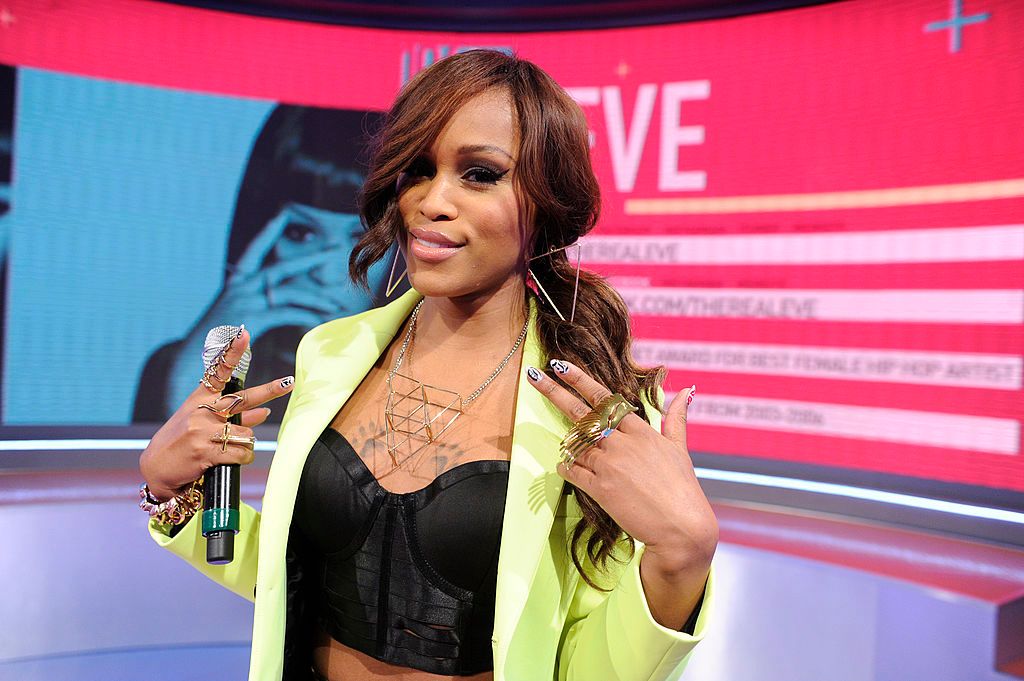 A pink rope clinched at her waist, which showed off her tiny midsection as the dress's short skirt flaunted her thighs. The music artist wrote in the caption: 
"Soooo fun co-hosting with my girl @yasminevans live in an acutal studio, together!!! I had the best time."
Her ensemble embodied a modern Edwardian style. The high-cut neckline cleverly clashed with a golden chain choker and delicate necklet. 
The lyrical poet wore shimmering bangles that matched her neck adornments. Her autumn brown hat sat on her luscious hair that fell under her shoulders. 
Although she is...married to a white man, Eve claims that race barely crosses her mind.
Fans loved the post, remarking on how idyllic Eve looked. Radio presenter Evans also commented, sending the rapper a purple heart, laughing, and Scorpio star sign emoji. 
The rapper has opened up about her relationship with her husband and businessman Maximillion Cooper. Originally, she thought they wouldn't last long.  
This doubt, she affirmed, was because Cooper is the father of four teenage girls. However, when she met them, she found they got along easily. 
Although she is an African-American woman who is married to a white man, Eve claimed that race barely crosses her mind. However, any conversations around race have been authentic and beautiful. 
These dialogues don't only involve her and Cooper. Her stepchildren also partake in talking about difficult issues surrounding these topics. 
Due to them being from England, she said, they are unfamiliar with America's problems regarding race. However, Eve doesn't mind, stating the exchanges have been gratifying.
The rapper recently made a big decision to spend more time and grow her family with her husband. After being a co-host on "The Talk" since 2017, she decided to say her official goodbyes. 
Beyond the show, the artist continues to release music, recently putting out her latest album "Reload." In 2002, she won a Grammy for the song "Let Me Blow Your Mind" featuring Gwen Stefani.