Woman Goes Viral After Learning a Dance by Following the Prompts of a Virtual Assistant
Turns out Alexa can be of more use than just telling the time or adding items to your grocery list. Seanann Logue's mom used the virtual assistant to learn how to twerk. Scroll to see the hilarious outcome. 
Seanann Logue posted a video of her mom trying to learn how to twerk by following Alexa, a virtual assistant's instructions, and the hilarious video sent her into a viral spiral. 
The funny video showed Logue's mom standing in the kitchen with her hands on her knees as she tried to figure out the moves, resulting in the woman moving her body awkwardly and uncomfortably that had everyone crying with laughter.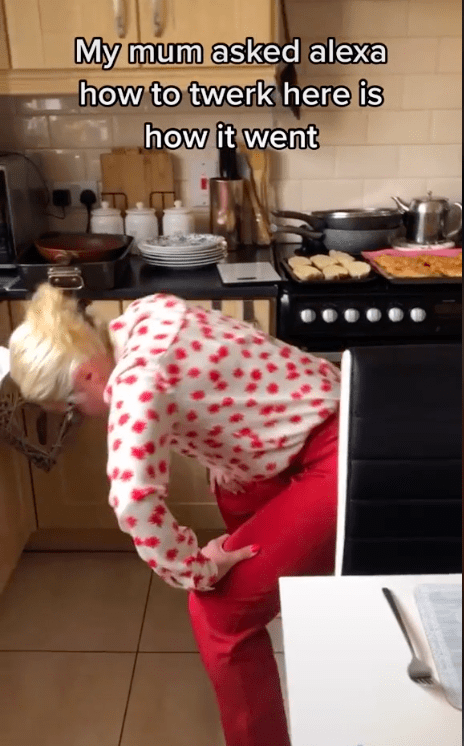 BEST VIDEO
The video, which Logue captioned, "My mom asked alexa how to twerk, and this is how it went," ended up reeling in more than 2.8 million views on TikTok, skyrocketing the user and her mom into social media fame. 
Logue's laughter in the background of the video as she filmed her mom, paired with the funny moves and grunts and shouts of frustration, made for a hilarious video that everyone wanted to see more of. 
GOOD FEEDBACK
This video placed Logue on the TikTok map as users continued to comment that they wanted to see more of the funny content from the creator and her mother. One comment read: 
"I'm thinking you need to make a whole series of your mum trying to learn dance moves from Alexa's instructions."
20,000 people have hit the follow button on Logue's page, subscribing to the funny dancing content that she put out with her mom at center stage. 
 TWERK TO THE RESCUE
Another social media user captured a unique moment whilst twerking for the camera. A Brazillian nurse, Angela Goncalves, was dancing to music and filming her moves when an intruder entered her yard and came into her home. 
The video showed the man walking into the house, and initially, Goncalves is surprised, but when he tries to grab her, she fights back and chases him out of her house, kicking and hitting him all the way. 
Bad Ass Brazilian Nurse Fights Off Intruder Who Broke Into Her House While She Was Filming Herself Twerking https://t.co/KOmZoQNiRc pic.twitter.com/piAls31hQ8

— Barstool Sports (@barstoolsports) February 24, 2021
FIGHTING INSTINCT
The nurse shared that her fighting instinct kicked in when she realized the man presented a threat to her and her eleven-year-old daughter who was at home with her. 
Goncalves chased the man out of her house and down the street until she was sure they were out of danger. She later informed the authorities about the incident to ensure that the intruder was tracked down. 
Angela Goncalves, a Brazilian nurse fought against a man for rudely interrupting her twerking session. She was recording herself twerking for an Instagram videohttps://t.co/fr0QCIFg6U

— SheThePeople (@SheThePeople) February 25, 2021
While Goncalves used twerking to her benefit, three women who were filmed dancing on top of a police cruiser are now the center of a Chicago Police Department investigation. 
The video spread through social media like a bush fire which eventually led to the authorities being alerted about the incident. It is not known when or where the footage was recorded.