Simone Biles' Boyfriend Jonathan Owens 'Can't Wait' to See Her in Olympic Trials as She Posts New Photo
The most honored gymnast in history, Simone Biles withered in Miami in a radically sexy crop top and denim shorts on a romantic break with her boyfriend Jonathan Owens. She turned up the heat on Instagram by showing off multiple fiery looks.
The 24-year-old gymnast, Simone Biles, was recently on a vacation with her boyfriend, Jonathan Owens, in Miami. Biles had been partying by the pool in her ultra-cool outfits and showing off the pictures on Instagram. She donned a crop top and denim shorts at her luxurious Nikki beach resort.
The gold medalist posed in a set of frayed Daisy Dukes with a brown tank top that exhibited her abs. She accessorized the outfit with chain necklaces, gold hoop earrings, a wide leather watch, and rings. To complete the look, she put on round sunglasses and covered her waist-length, highlighted braids with a yellow-black-white patterned scarf.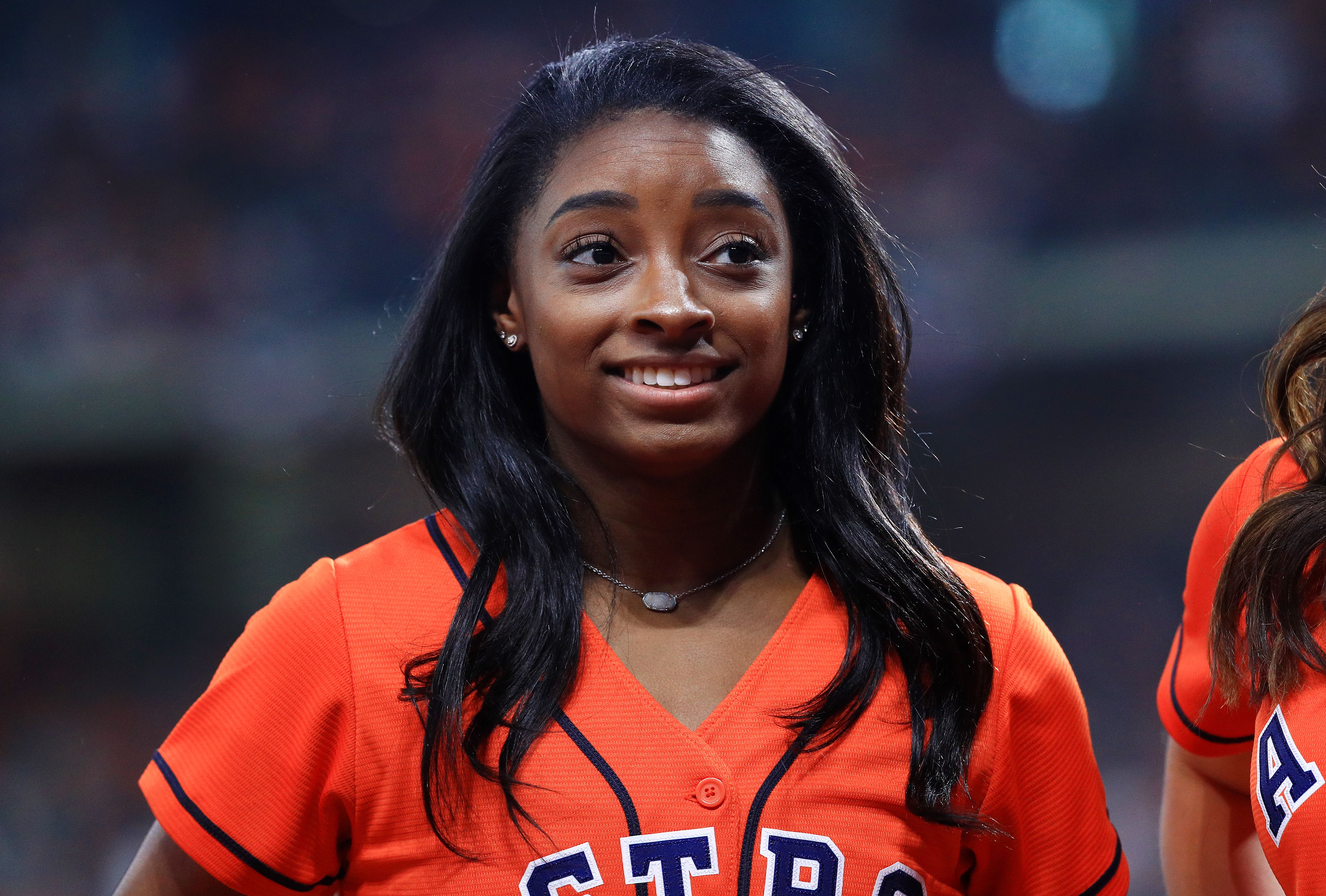 Biles and Jonathan kept on sharing some PDAs on Instagram during their getaway. The pair had officially announced their relationship on Instagram in August 2020. Ever since they have been all about PDA on their Instagram accounts.
She posted another classic picture on Instagram with her beau, where they were seen sharing a cozy moment. Her arms were wrapped around his neck as she was on his top. The NFL player clutched her leg with one hand and held a drink in the other. The caption said:
 "writing this from Florida with love"
In September, Simone posted a video with Owens on Instagram, where they were cozying up on their date night looking adorable. She also shared a mirror selfie before grabbing dinner, in which they were twinning in the same outfits.
This week, Biles traveled to St. Loius, as will be competing in her second Olympic Trials. She posted a picture of herself on Instagram and shared the news about the competition in the caption. Owens expressed in the comment section that he was waiting to watch her perform.
However, the judges didn't seem impressed by Biles's attempt.

Five years after her blow-up in the 2016 Olympics, the gymnastics superstar is still going beyond her limits. She unveiled the double pike vault that no other woman would even try to attempt. Biles attempted the Yurchenko double pike in the U.S. classic competition.
Even Natalia Yurchenko, a former Russian gymnast, and the vault's namesake never tried it in competition. The four-time Olympic gold medal winner, Simone Biles made the vault look simple. With her attempt at the vault, she has set the bar too high. One of her coaches, Cecile Landi said:
"I think she's opened the eyes to everybody that this can be done."
.@Simone_Biles successfully completed a Yurchenko double pike in vault at last night's #USClassic.

She is the first woman in HISTORY to perform the move in competition. @OnHerTurf pic.twitter.com/j07ZweTA0f

— #TokyoOlympics (@NBCOlympics) May 23, 2021
The Yurchenko double pike is deemed so dangerous and challenging, that no woman has ever tried to attempt it. It is not likely that any woman across the globe is training herself to attempt the vault. In the past, the vault has been attempted only by men.
The double pike needs a gymnast to complete a round-off-back-handspring within the vaulting table and then perform two entire backward rotations with their legs extended in front, persisting the land. The scarier part is if a gymnast executes a short landing, they can injure their ankles.
When she landed, the entire crowd at Indiana Convention Centre went insane. However, the judges didn't seem impressed by Biles's attempt. Despite the difficulty of the vault, Biles got a score of 6.6 only, which is close to her other vaults' score.
Biles was disappointed with the score because she had been training herself for months and didn't get the score her performance deserved. She was furious and suggested the score was unfair to her. She explained that if she gets another chance, she will perform the vault again because she can.