Single Man Becomes an Adoptive Dad to 3 Boys While in His 20 after Being Raised in Foster Care
A single young man, Barry Farmer, while in his 20s, did an unthinkable thing that most of his peers back then would have deemed absolutely crazy: he adopted three boys, with one being 16 years at the time of adoption. 
Barry Farmer, who is currently 34 years old, could never have thought that back when he was in his 20s, he would be a father to three boys before he turned 30. The boys, Jaxon, Xavier, and Jeremiah, came and changed the narrative.
Like a story in a fiction novel, the father coincidentally bumped onto an ad listing that was requesting interested parents to apply. He quickly applied, owing to his history as a single child. As a young, single male, he knew the cards were stacked against him.
Much to his surprise, he was given the license and just a year later, he got his first placement with a 16-year-old boy. It is not as easy for a 21-year old to be the father to a 16-year old but in a beautiful turn of events, he lived with him for 6 months.
After that, the father then got a call from the agency asking him if he could take up a 7-year-old. Though skeptical, he adopted the boy Xavier and another one, Jeremiah later on. He later realized that raising the boy was not as complicated as he thought, they just need love. In a reminiscent post, he said:
"Over the years and through the years... gosh time flies."
Their bond has become so unbreakable with the father, who immigrated from Uganda.
On his social media, the father has been very vocal about adoption and more specifically, transracial adoption. This has been informed by the fact that all his children are white yet he is an African American.
Jaxon who is now 19 years old, has his father so proud of the man that he has grown up to be. On his Instagram, Farmer posted a picture of his oldest child and urged his followers to support the young man as well.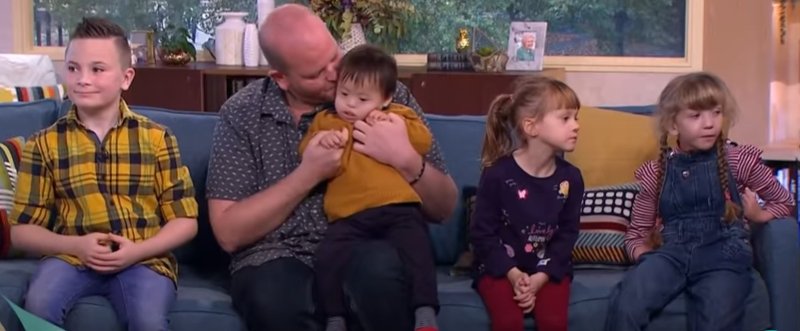 This is not the only single parent who decided to adopt multiple children at a young age. A single man from Huddersfield, Ben Carpenter, has so far adopted
six children with special needs
as he attempts to help vulnerable children in society.
The man's children have varying special needs including his eldest Jack, with autism, Ruby with complex needs, Lilly who is deaf, Joseph with down's syndrome, and the youngest, Louis who is blind with Cerebral palsy.
He lost one of his sons, Teddy, in 2019 and had to take a break from adoption to mourn him. It is after this period that he decided to adopt the 2-year-old Louis. 
Another single man, Tony Mutabazi, also adopted a 13-year-old boy after he was abandoned by his adoptive parents when he was just 11 years old. Their bond has become so unbreakable with the father, who immigrated from Uganda. On social media, he posted:
"Father's Day! To me, it's a reminder of the most rewarding yet difficult job."
The story of  Danny Stewart who adopted an infant who had been dumped at a substation in New York also broke the internet back then. Together with his partner, Peter Mercurio, the duo adopted their son that they have raised for more than 20 years now.
There are many stories of adoption that have broken the internet but often when it involves the unlikeliest of partnerships, it even warms the hearts of many more inspiring them to take up the challenge as well. 
Many of the followers of these individuals have expressed delight in how much they have had to sacrifice for the sake of their adoptive children, even when they are single, young or broke.