Simone Biles Is All Smiles as She Declares Day 1 of Her Olympic Trials a 'Success'
As the first woman to secure almost ten U.S Champion titles, it comes as no surprise that day 1 of the Olympic trials was nothing more than an astounding "success" for Simone Biles.
Iconic gymnast Simone Biles shared an Instagram post of herself beaming with pride. In the description, she declared day 1 of her Olympic trials a "success."
The tenacious athlete appeared strong and confident in both of the photos she included in the post. Biles wore a red and blue leotard to represent the United States of America (U.S.A).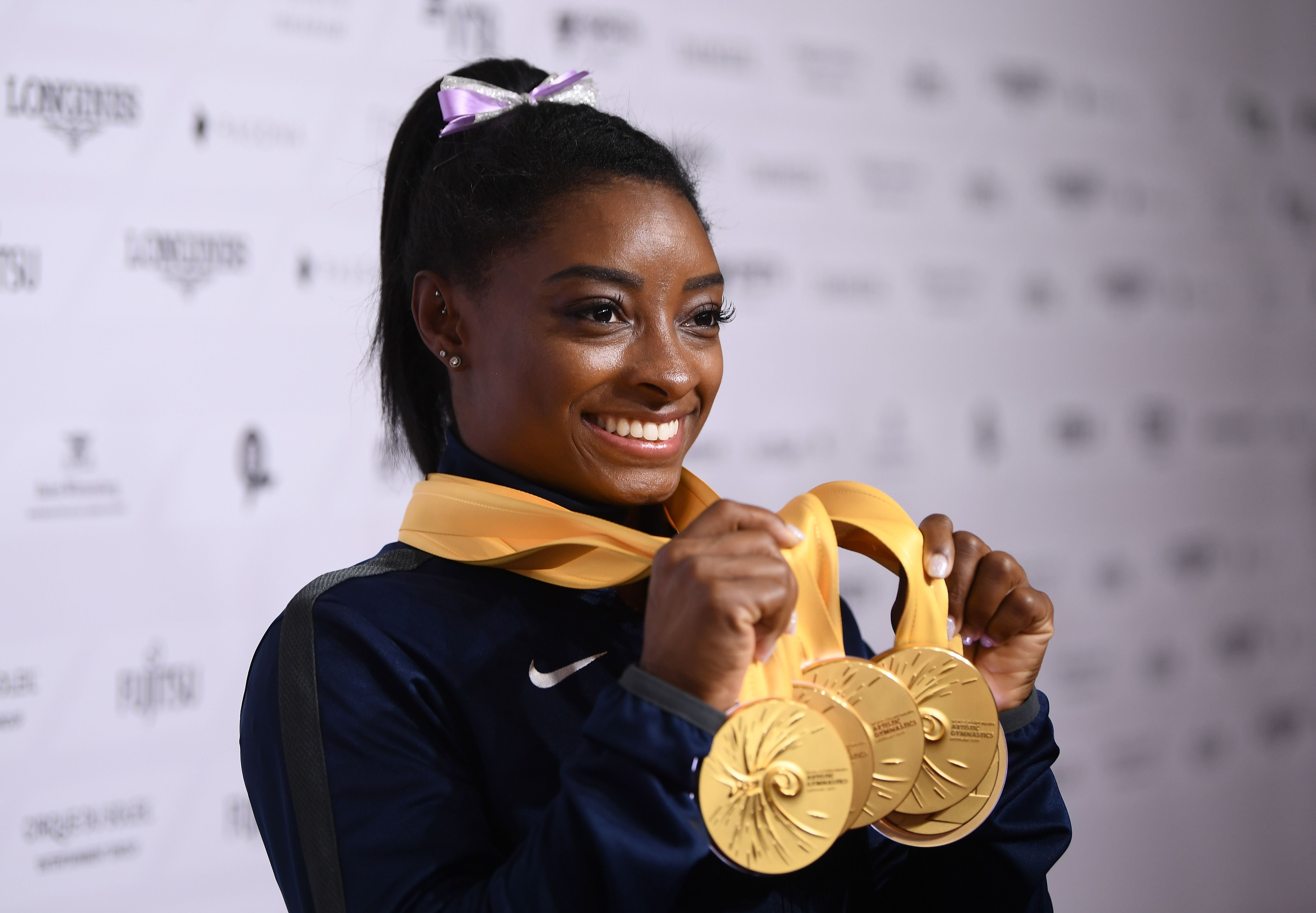 Her leotard also sported a print of the American flag with the Olympic symbol underneath, mirrored by her delicate necklace. Taking to the caption, Biles excitedly penned: 
"Olympic trials day 1 was a success ✨ looking forward to day 2."
The gold-grabbing athlete's hair was pulled up in a tight and high ponytail, complete with a blue ribbon. Her eyeshadow consisted of a matching cobalt hue.
One of the pictures showed the gymnast walking out of the tunnel entrance. She looked like a true champion with her head held up high. 
This highly decorated gymnast became the first woman to land this move.
The other was a close-up where Biles cocked her head to one side. She gave the lens a small but twinkling smile that radiated throughout the whole photograph.
During the trial, the champion managed to gain 15.366 points which beats her U.S Classic floor score by 1.116. Commenting on what she will take away from day 1, she expressed: 
"It's been a blast."
In the floor routine that earned her this high score, she received a standing ovation. The athlete pulled off two of her eponymous moves, which are both named the "Biles."
.@Simone_Biles doing the Biles on beam.

The 🐐 is putting on a show. #GymTrials21 pic.twitter.com/gUsSnQwgcJ

— Team USA (@TeamUSA) June 26, 2021
One move that the G.O.A.T has become synonymous with this year is the Yurchenko Double Pike. This highly decorated gymnast became the first woman to land this move.
The crowd erupted once again as she flew through the air. Biles was absolutely perfect as she landed on the mat with her arms gracefully flowing up. 
THE QUEEN HAS SPOKEN 👑

Simone Biles landed her Yurchenko double pike for the first time in competition.@simonebiles // #USClassic pic.twitter.com/j07ZweBZ8H

— #TokyoOlympics (@NBCOlympics) May 23, 2021
This 24-year-old is also the first woman in history to take home seven straight titles at the U.S Championship. She won this record recently when she secured a gold medal in Texas at the Senior Women's Competition.
Speaking about her seventh title, Biles stated that it was very emotional for her. She expressed gratitude to everyone who came to support her and the other competitors.