HGTV's Erin Napier Gets 'Weird Comment' as She Shares Pic of Newborn Mae & Fans Defends Her
When Erin and Ben Napier announced they were expecting their second baby, fans were excited for them and could not wait to see the new baby when she was born.
When the bundle of joy finally arrived, all that was left was for the Home Town's couple Erin 35 and Ben, 37, to show their baby to the world, but fans were not expecting a photo without a face.
While many celebrities thrive on sharing their lives with their online communities, the new parents are not big on sharing their baby's faces on social media, which did not sit well with their eager followers.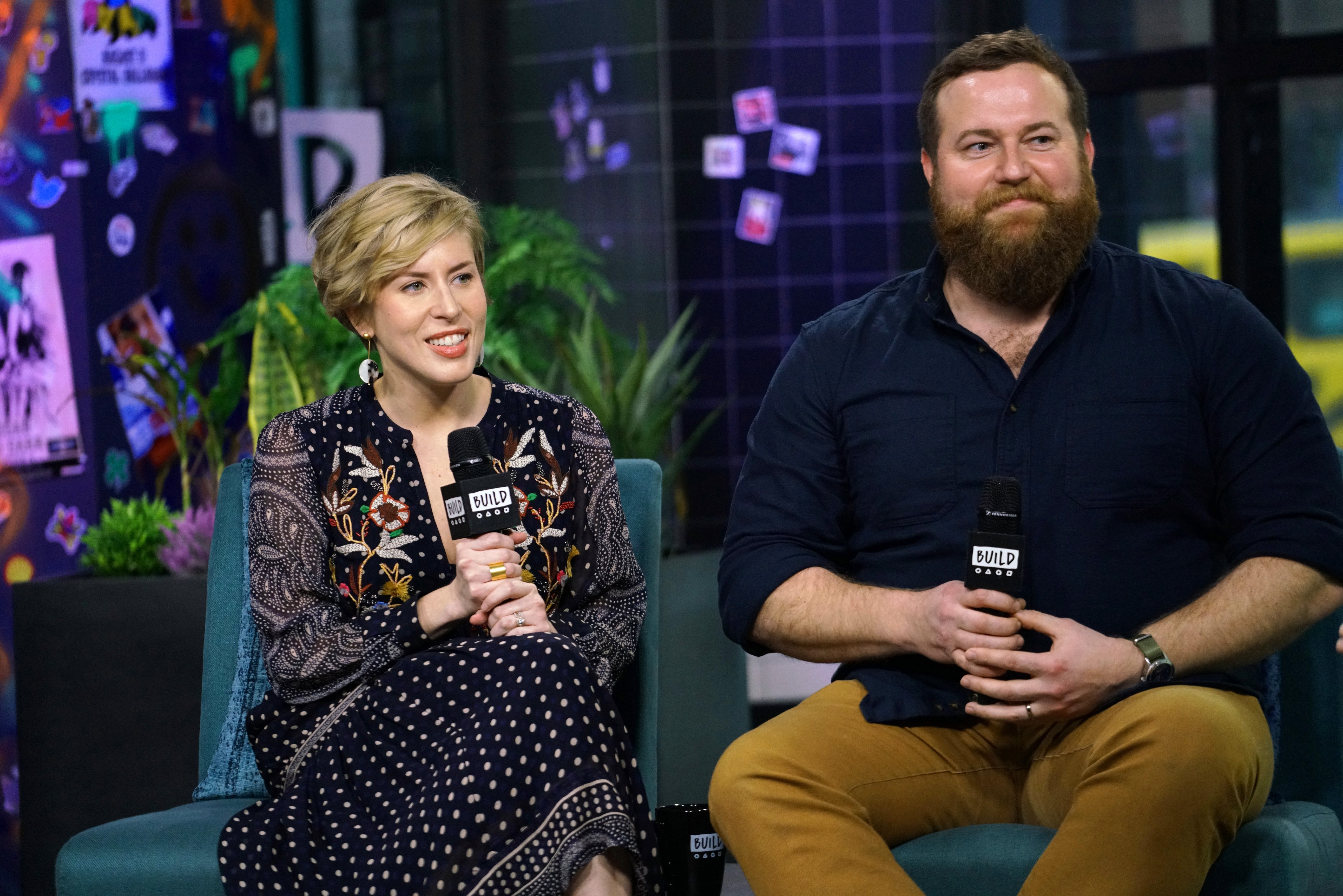 Many of their fans were ecstatic and took to her comment section to congratulate her on her new baby, pointing out sweet things about the baby's outfit and even her long baby legs.
However, not everyone was happy that the new parents hid their baby's face and could not wait to remind them that they have been with her throughout her pregnancy journey and had every right to see baby Mae's face. One comment read: 
 "[G]etting a chopped in half photo is sad and depressing for those of us who looked so forward to her birth!"
It is not the first time the couple has had to deal with entitled fans who won't respect their choice not to show their babies' faces. In yet another Instagram photo posted on the couple's page, their first daughter, Helen's face, was hidden.
This led to a heated discussion on the issue from her fans, and Erin quickly had to clap back, reminding the commentors that it was their duty as Helen's parents to protect her well-being from predators on social media.
[Diaz] reminded her fans that she wouldn't be sharing any pictures as they wanted to keep that part of their life private.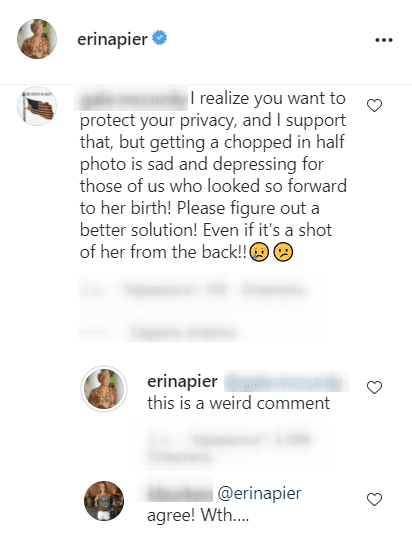 The "Home Town" hosts
welcomed
their second baby, Mae Napier, on May 28 at 8:23 a.m. The little girl weighed 7 pounds, 1 ounce, and measured 19.5 inches.
Erin and Ben were excited for Helen to be a big sister and could not wait to see the bond the two girls created. Talking to People, they said:
"While we are excited to have another daughter to love, we are more excited to see the bond she and Helen will have. They're already so in love with each other!"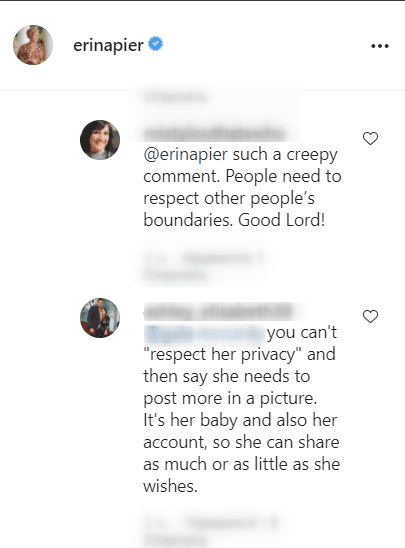 The Napiers
are not the only celebrity family that chooses to go against the grain when it comes to baring it all on social media. Just like them, some prefer to keep their
family lives private
.
Eva Mendes and Ryan Goslin are one such couple. Mendes, responding to a fan who asked why she does not post pictures of her daughters or her husband, said that she would only do so once they are old enough to consent.
Kerry Washington says that she sometimes takes sweet photos and videos of her kids and is almost overwhelmed by the urge to post them online but instead sends them to her parents or therapist.
Shortly after the birth of their daughter Radixx, Cameron Diaz and Benji Madden shared the happy news but reminded her fans that she wouldn't be sharing any pictures as they wanted to keep that part of their life private.