Daily Joke: 60-Year-Old Man Amazes His Doctor during a Physical
As people age, there are assumptions that life slows down and certain things become difficult. However, today's jokes are about older men who totally blew away their doctor's expectations. 
A 60-year-old man visited his doctor for a physical. When the doctor was finished with the examination, he shook his head and said to the patient, "Robert, you are 60 years old, but your body is in the condition of a 40-year-old, so I have to ask, how old was your dad when he died?
"What? Who said my father has passed away?" Robert responded. "He is still alive and rocking and rolling like he was 50! He is still working out, lifting weights, and will be featured in a weight lifting competition next month."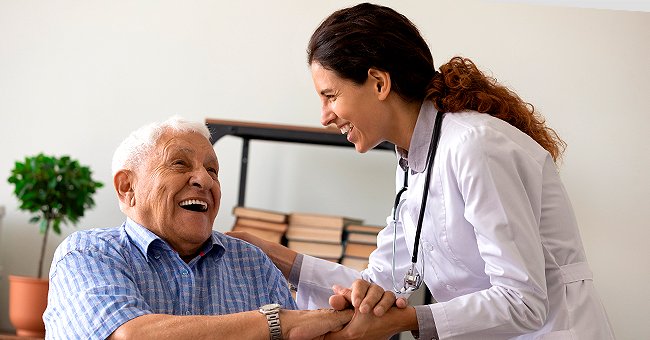 "I apologize for assuming your father had passed. Wow! That is amazing that your father can do all that. Most people, even much younger people, are not that fit. So I must ask then, how old was your grandfather when he died?" inquired the doctor.
"WHAT?" Robert responded. "My grandfather is not dead. He is 109 years old, runs a feeding program for people younger than him, owns a sailing boat, sails every weekend, and is about to marry a 30-year-old."
The doctor apologized again and said, "Wow, Robert, the men in your family are so impressive. But I have to ask, why would a 109-year-old man want to get married?" Robert started laughing, "Ha! Who said he WANTED to get married?"
Here's another joke: An 86-year-old man visited his doctor for his quarterly checkup. The doctor first asked the old man how he was feeling, and so the patient responded, "Doc, I am feeling great."
"I am set to marry my 30-year-old bride who is pregnant next month. What do you think of that?" The doctor thought about his question for a moment and then shared a story about an old friend. 
"I have an older friend, like you, who was an avid hunter. He never missed hunting season and made sure all his equipment was in working order. One day, he set off hunting but grabbed his cane instead of his rifle."
"He was walking along a lake when he noticed a big beaver. But he then realized he had bought his cane and left his gun at home. However, out of habit, he lifted his cane like it was his favorite rifle and took aim."
"He lined up the shot and went, 'bang, bang.' At the same time, two shots rang out behind him and shot the beaver. What do you think of that?" The man thought about the doctor's question for a moment. 
The patient then said, "Well, logically, it seems that someone else pumped their bullets into the beaver." The doctor started to laugh and said, "That is exactly my point."