Strangers Risk Their Lives to Save Physically Impaired Old Man from a Deadly Fire
Two friends scaled up the side of a building to lend a helping hand to an older man who was trapped in his balcony when the building caught alight. 
Heroic acts are expected from first responders and those who place themselves on the frontline of danger, but two friends from the Russian Republic of Chechnya proved that everyday kindness could also result in heroism.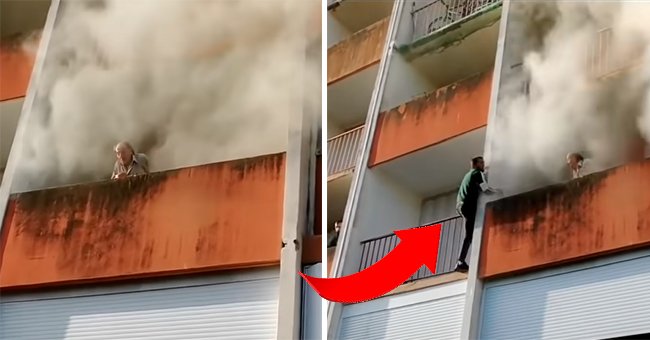 The two men, who were in the French area of Montereau-Fault-Yonne, realized that an older man needed their help when they saw him on his balcony with a fire burning behind him and no place for him to escape. 
NO SECOND THOUGHTS
Dombaev Dzhambulat and Ouloubaev Aslan were close by when they saw the alarming smoke come from a building nearby, and when they moved closer, they saw the older man in a dire situation. 
Dzhambulat's mind immediately went to how he could help the people in need, and with the help of his friend, he piled up trash cans so that he could climb up the side of the building and reach the victim. 
TO SAFETY
The brave man tried to coax the older man to come over to the other balcony where there wasn't any smoke or fire, but he was paralyzed by fear and struggled to breathe, making the move impossible. 
A fire that rampaged through a Pennsylvania family home ended in tragedy after a husband and wife and their 14-year-old son lost their lives.
Dzhambulat then climbed over to the burning balcony to reach the man. He took him into his arms and climbed with him over to the other balcony, with the help of others who also climbed up to help. 
HUMBLE RESCUER
In the aftermath of the two men's heroic acts, the crowd below chanted and cheered for them, showcasing that they had come to someone's rescue who really needed help. However, Aslan wasn't concerned with the praise as he shared: 
"I saw an old person [...] and I did not hesitate to climb. I was not afraid because it is not the first time that I have rescued people."
Both Aslan and Dzhambulat have been living in France for several years, both still waiting for their residency to be approved. The general public is now intervening for them to have them naturalized after their heroic acts. 
House Fire Kills Mom, Dad and 14-Year-Old Son in Pennsylvania https://t.co/k8ZCzxLmKV

— People (@people) June 22, 2021
TRAGIC ENDING
While this French fire had a happy ending for the older man, a fire that rampaged through a Pennsylvania family home ended in tragedy after a husband and wife and their 14-year-old son lost their lives in the fire. 
The fire broke out in Pottstown in a home that had no smoke detectors. The firefighters reported to the scene and immediately transported the three victims to local hospitals, where they were pronounced dead. 
The mother worked as a student counselor at Lauer's Park Elementary. In the wake of her death, tributes and prayers streamed in for the victim and her family on social media. 
Kristin Boyd Edwards, a spokesperson for the school, shared that the counselor was loved at her workplace by both her colleagues and students.