Chained Dog Will Not Stop Kissing the Man Who Set Her Free
Matheus Laiola, an animal protection officer, was smothered in kisses after working to free a dog that was left chained to a wall. The four-legged friend couldn't hide her elation when Laiola came to her rescue. 
A video posted on Facebook captured the joy and gratitude of a dog that was freed from her dire circumstances after being chained up in a small area for days on end. 
Matheus Laiola, an officer who works to enforce animal protection laws in Brazil, was met with unrestrained joy when he came to this pup's rescue, making his job all the more worthwhile.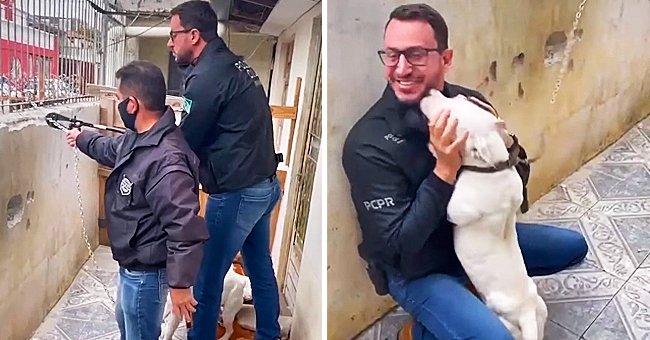 JUST A HAPPY DOG
The footage shows Laiola enter through a gate into a walled-off area with the white pup tied up with a chain connected to her collar, hindering her from moving around. 
More than a decade later, the owner received a phone call from a local vet saying that Crumpet was found. 
The dog was instantly happy to see someone and couldn't contain her relief at being found, and smothered Laiola with kisses. After a few moments of unstoppable love, Laiola and another team member cut the chain and freed the dog. 
MISTREATED PUPS
The officer revealed that they were monitoring the residence where the pup was discovered because they suspected that animals were being mistreated on the premises. 
When they found the furry friend stranded without anyone in sight, they decided to break the lock on the gate to get to her so that they could make sure she was rescued from the terrible circumstances. Laiola shared: 
"She lived in chains, in the cold, heat, rain, and sun. We arrived at the place and there was no one there, [so] we broke the lock and rescued the dog."
HAPPY ENDING
The puppy kisses weren't the extent of the happy ending for this pooch. Laiola revealed that after taking the dog with them, they took her to a rescue organization called Casa do Produtor. 
The organization managed to find the dog a forever home with owners who already loved her and wanted to provide her with a safe and happy home. The original owners have also been identified and are being investigated for animal neglect.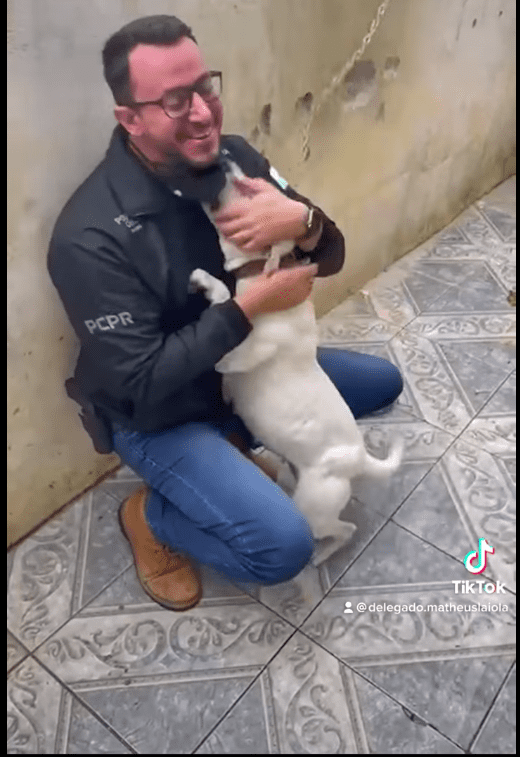 ANOTHER HAPPY ENDING
Another dog managed to find their way home when a Jack Russel pup was found by its original owners 10 years after she went missing from their home in Sherborne, Dorset. 
The pup, named Crumpet, had only been with the family for three months when she went missing while playing in the yard with their other dog. The family desperately searched for their pet but to no avail. 
Missing dog turns up a DECADE later: Crumpet the Jack Russell found https://t.co/NOLC2RvKzG via @MailOnline

— Christopher Hope📝 (@christopherhope) June 22, 2021
More than a decade later, the owner received a phone call from a local vet saying that Crumpet was found on a nearby golf course. Shocked and elated, the family rushed to see if it was really their pet. 
The pup had severely infected ears when they found her all these years later, which negatively affects her hearing, but otherwise, the dog is happy to be back in the loving arms of her family.