Angela Simmons Is Self-Proclaimed Modern Day Housewife Revealing Hourglass Figure in Tiny Denim Bra & Matching Mini Shorts
Angela Simmons knows how best to tease fans with raunchy snaps. She recently showed off her killer body in a two-piece denim-themed outfit revealing her hourglass figure while adding an eye-catching caption.
Over the years, reality TV star, businesswoman, and daughter of the famous rapper Rev Run has made her mark in the entertainment industry. Angela Simmons is not only a beautifully talented woman but is also confident and unapologetic with every move she makes.  
Recently, Simmons showed off admirable photos where she posed in a tiny denim bra that revealed plenty of cleavages and matching fringed shorts.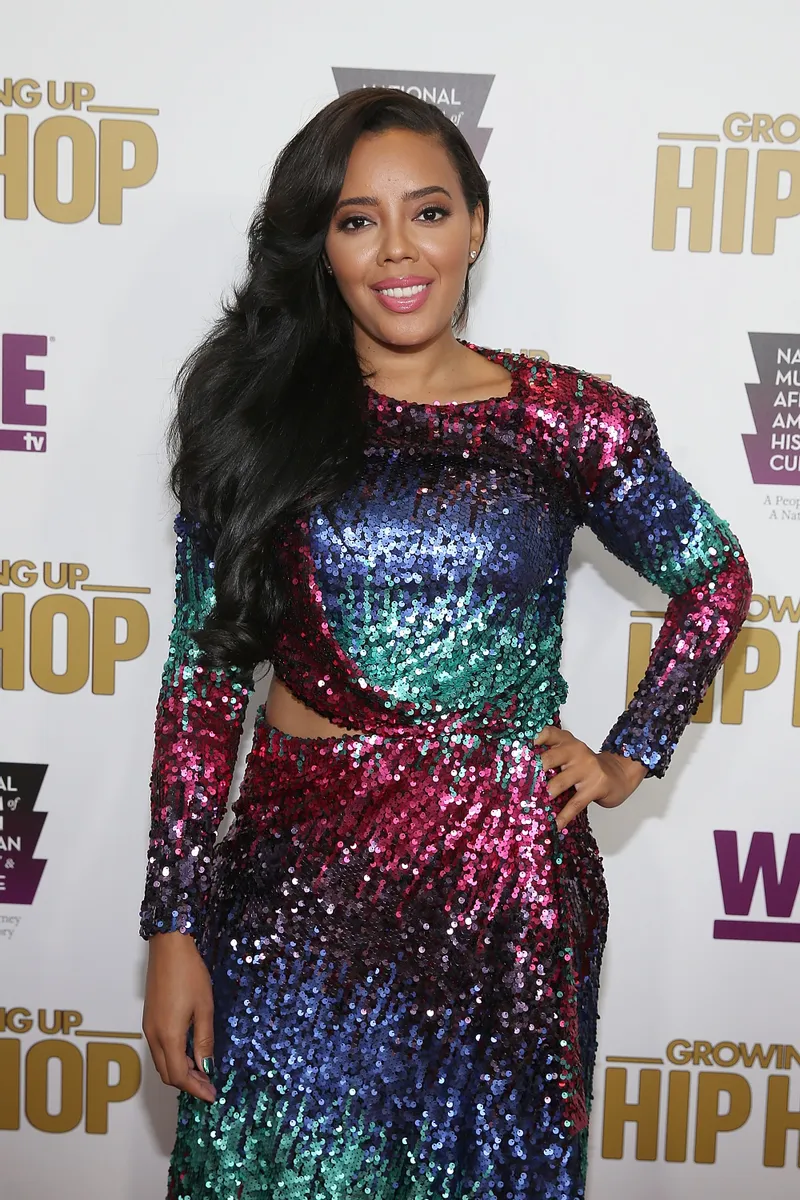 Simmons' blue two-piece outfit was blended with fiery colors and she added a red bow-styled hair accessory with a matching pair of heels to the mix. 
She assumed various poses in front of a huge glass slide door as she flaunted her perfectly groomed manicured nails, thick-trimmed curves, evenly toned skin, and straight legs.
Fans could also recognize her toned abs and red-carpet-worthy face glow behind the contouring and makeup highlights. Simmons's pose was daring, complementing her piercing stares.
A few weeks ago, news of the pair's breakup reached the media, as Simmons took off photos of the boxer from her Instagram page.
Still, she confidently maintained via the caption that she was the true definition of a "Modern Day Housewife," insinuating that she possesses the skills to be fashionable and homely.
Even though the onscreen diva described herself as a wife in the shared post, she told her fans via a previous one, with a similar image, that love is not in her dictionary at the moment. Simmons wrote:
"I just ain't fell in love cause I'm way too awake. #HavingMyWay."
SIMMONS' BOLD PERSONALITY
Simmons has never been one to shy away from expressing her feelings blatantly or showing off her thick figure. Her confidence has often drawn reactions and attention from fans and the media.
Last year, she went viral after being unapologetic about displaying her physique. A few months earlier, Simmons had charged her female fans to be confident and learn to be positive about their body instead of striving to be perfect.
Fans would have argued that Simmons has never felt not confident, but via the same post, she explained that she has had some good and bad days when her body is not at its best.
The upload was a makeup-free photo of Simmons posing in a mismatched bikini and a hair bandana. While sharing the body positivity message, she added:
"It's not easy. But it's worth it. You are worth it…You can be YOU freely. There's nothing more beautiful than a confident woman!"
This garnered over 7000 comments from fans who admired the inspiring message. A few comments also centered on the onscreen star's impeccable beauty even with no makeup on. 
Simmons does not only motivate via her words and snaps but has also put in the work and discipline where her trimmed hourglass physique is concerned. 
In September, she confessed to falling victim to body insecurities, which propelled her to hit the gym and maintain a healthy lifestyle for a better physique.
HER LOVE LIFE
The media got news of her romance in August, when Simmons and her then boxer boyfriend, Daniel Jacobs, flaunted their relationship online.
Fans were excited to see the reality TV star in love as she suffered the loss of an ex-fiance, Sutton Tennyson in 2018, and had closed that chapter of finding love again for a while.
Before the tragedy, the pair shared a son named Sutton Joseph and just like Simmons, her former flame Jacobs also has a child from a previous relationship.
However, a few weeks ago, news of the pair's breakup reached the media, as Simmons took off photos of the boxer from her Instagram page.
While speaking to an outlet, she established that when the time comes, a Mr. Right would show up, and she will walk down the aisle with him and welcome more kids.
For now, Simmons is focused on her career, maintaining a killer body, and being present for her son; even though her future plans center on becoming a modern-day wife, and mother to more kids!