Magic Johnson's Son EJ Flaunts Thin Waist in Tight Snake-Print off-Shoulder Dress He Designed
Magic and Cookie Johnson's only son, EJ, is unapologetic about his style as he flaunts a snatched figure in a tight snake-printed off-shoulder dress designed by him.
NBA legend Magic Johnson and his wife of many decades, and author, Cookie Johnson are parents to their only son, EJ Johnson. Although they have another child, a girl named Eliza, who was adopted, EJ is their biological child, born shortly after their marriage. 
Like his parents, the young man has climbed up the ladder of success and is famous and recognized for it. His red carpet appearances and Instagram posts show that he has a great and impressive fashion sense.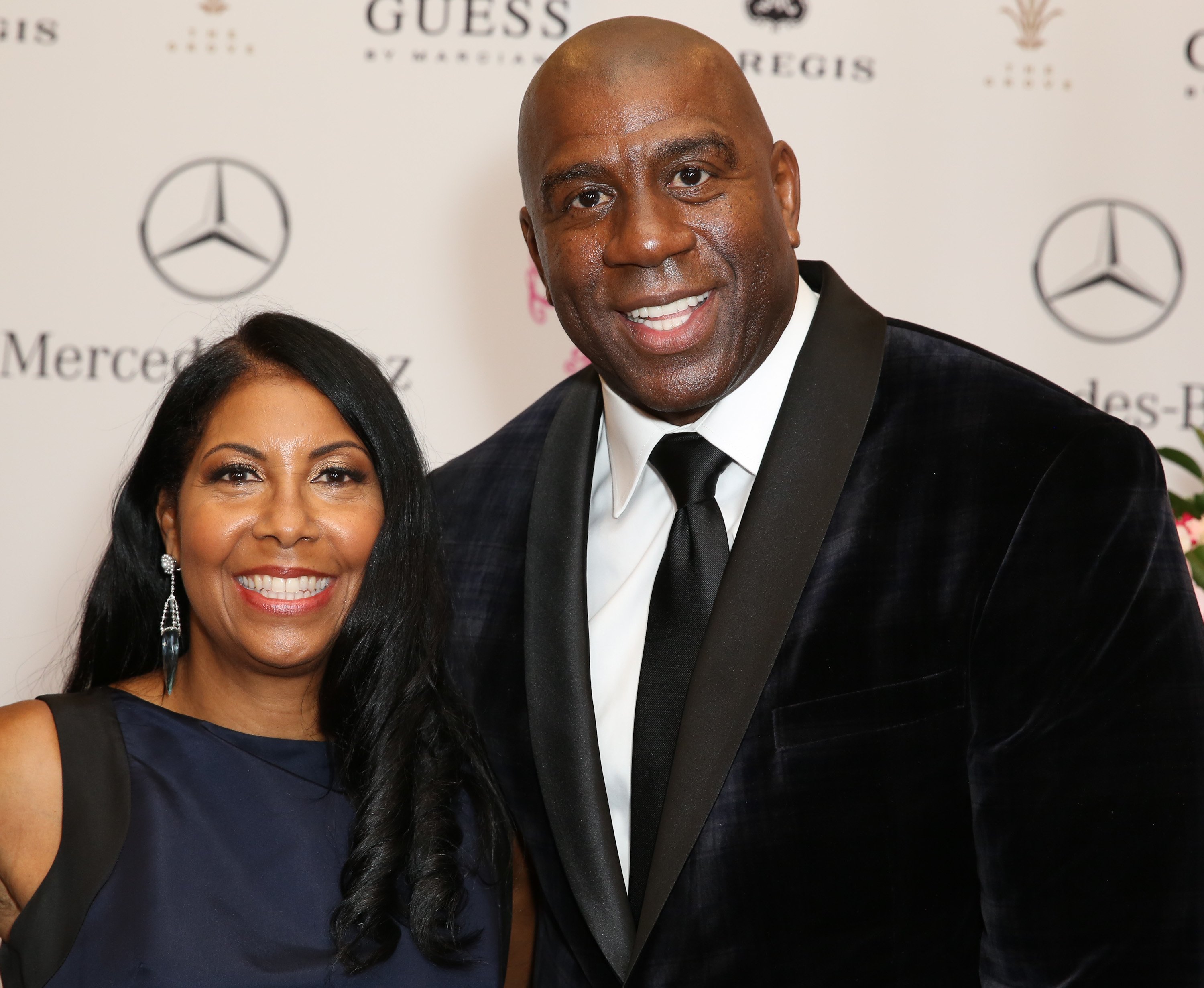 EJ recently shared a post featuring him in a lovely outfit. The fashion icon decked a self-made flowing, body-hugging, snake-print dress with layers of spiky-looking furs fringed around the chest area in an off-shoulder patterned design.
In the first image, he posed, rocking his signature haircut and glammed up face beat. The second was a clip where he mimicked the attitude of the iconic villain character Cruella De Ville, from "101 Dalmatians."
In the accompanying caption, EJ explained that he was inspired by the outfit from one of his favorite on-screen villains and recreated the look with the help of another designer. He concluded with:
"I love a character and costume that brings glamour and drama…#teamthis."
WHO IS EJ JOHNSON?
Over the years, the celebrity kid has established himself as a socialite, a fashionista, and an on-screen personality; all these roles are played with an overwhelming dose of confidence and pride that has set him apart from his peers.
Via interviews, he credits his mother for being stylish. According to EJ, his mom often purchases quality and high-class brands like Chanel and Versace, leading him to fall in love with top-notch threads.
Apart from the love for fashionable pieces, EJ is immersed in the world of looking and feeling good. With his creative personality, he has amassed a growing number of fans via his job as an influencer, makeup artist amid other titles.
EJ, who is also gay, has been open about his gender flouting. Sometimes, he could be found in a dress, and other times, he is donning a more masculine look.
But, whichever he decides to rock, EJ never forgets to be comfortable in his body; even when he decides on a more daring look like going totally blonde. 
ACCEPTANCE FROM THE JOHNSONS
EJ is a man who knows how to deal with the media and paparazzi and his peculiar personality of not minding the critics and living his life to the fullest is admirable.
In 2013, he was captured holding hands with another male by the paparazzi. After that, speculations began to fly concerning his sexuality.
It did not take long before the on-screen celebrity addressed the issue confidently and unapologetically, revealing that he is gay and a proud one at that.
The public reacted the typical way, with many tabloids running stories of the new information that seemed nearly unbelievable for them to grasp, with a dose of criticism and support here and there.
Cookie already sensed her son's sexuality long before he came out— he was a teenager at the time. However, her husband's first reaction was to disprove it. He concluded that it was not what he envisaged for their only son.
The Johnson matriarch frowned upon this behavior, leading the NBA star to tender a heartfelt apology and later release messages preaching that people should have unwavering love and support for their offspring.
EJ later expressed his appreciation for his family's support and confessed that it made him care less about what the media would think.