Magic Johnson's Son EJ Sports a Satin Top & Jacket Ensemble with a Gold Slit Skirt at His Sister's Party
Legendary basketball icon Magic Johnson shared lovely family goals at his daughter's party on Instagram. His son EJ Johnson dazzled in a white jacket over a satin top and a gold slit skirt, and his fans were left in awe!
EJ Johnson, son of former American professional basketballer Magic Johnson, is an American television personality and socialite. He is famous for appearing in the reality TV series "Rich Kids of Beverly Hills."
Outside appearing on the television screen, the 28-year-old is well known as a fashion enthusiast. Time and again, he has proven he possesses a top-notch dress sense.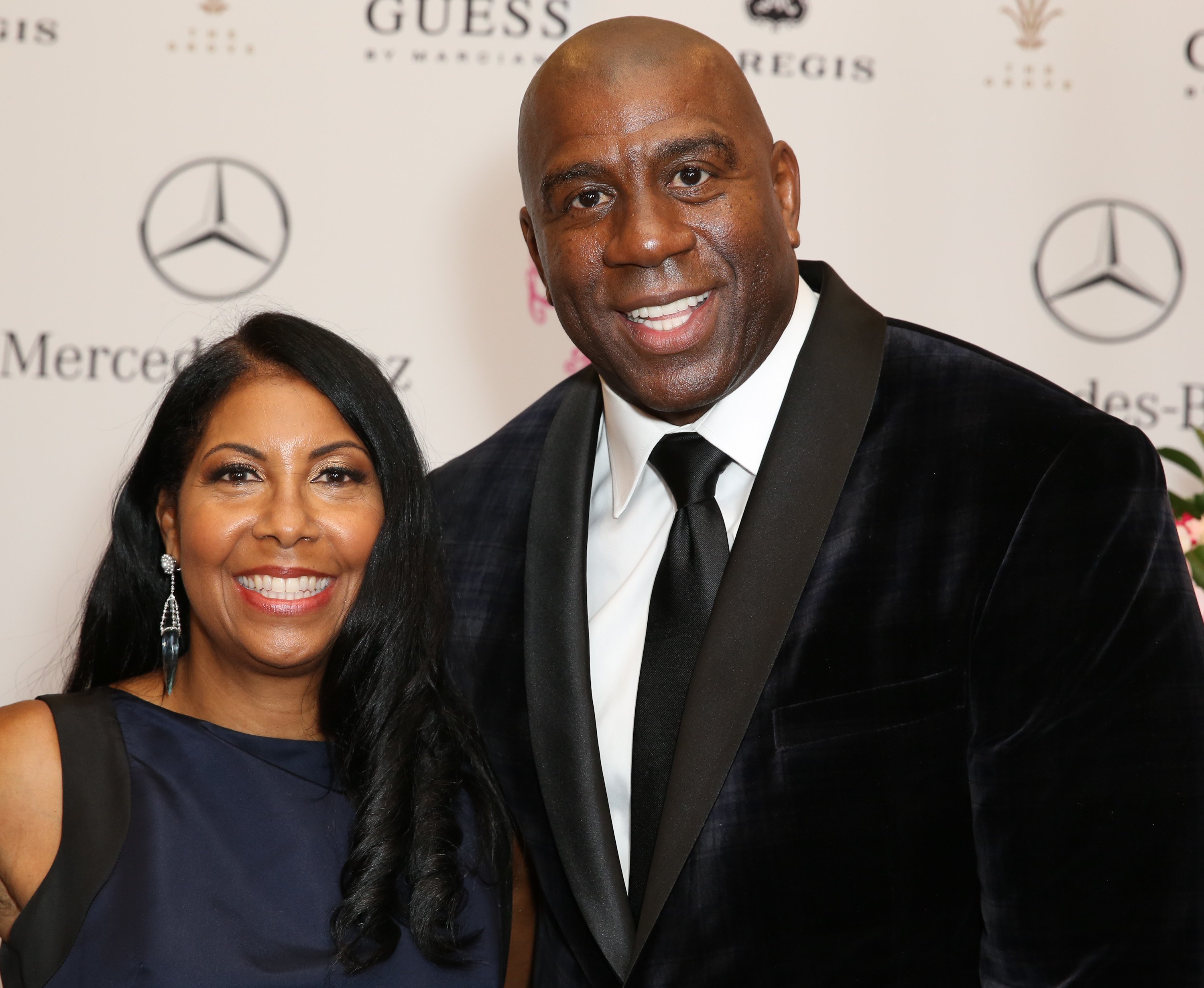 This time, he showcased his style at his sister's party. Taking to Instagram recently, his legendary father shared lovely snapshots of beautiful family moments from the celebration at Harriet's Rooftop Bar at 1 Hotel.
Magic and his family were a dazzling quartet dishing out real family goals. His socialite son went for a classic look, stunning in a white satin top underneath a matching jacket. His gold slit skirt was very pronounced as he topped it off with a pair of OTK boots. 
The 61-year-old opted for a white shirt underneath a striped suit with a pair of matching pants. His wife and daughter's choices of appearance were not far from his as the duo dazzled in blue and white suits.
Alongside the post, the NBA star noted in the caption that he and his wife Cookie threw their daughter Elisa a dinner party to commemorate the launch of her eyewear. The father-of-three added that the family was proud of her and that they loved her.
Having self-love and extreme confidence in his body, EJ shared on "Just The Sip" that he was not considering transitioning.
Cookie thought to share the amazing moments with her fans and followers by taking to her Instagram page, where she posted similar pictures from the fascinating event.
Lots of reactions poured in a few moments after the post was shared. A user noted how much respect he has for the family following their demonstration of unconditional love towards one another.
Despite the happy times the family has shared, they have been faced with tough occurrences in the past, including the sexuality of the "Rich Kids of Beverly Hills" star.
Letting the cat out of the bag, EJ revealed on the "Red Table Talk" show that the news of him being gay did not sit well with his father at first. However, he noted that their relationship improved after he went to college in New York.
Speaking on "The Ellen DeGeneres Show," Magic explained that he was happy when his son came out and advised parents with gay children to be a constant source of love and support.
Having self-love and extreme confidence in his body, EJ shared on "Just The Sip" that he was not considering transitioning. However, his advice to those who are not comfortable with their body was to strive to be where they want to be.