LL Cool J's Granddaughter Shows Her Uncovered Face While Watching 4th July Salute with Family
LL Cool J's youngest grandchild unveils her uncovered face for the first time in a new video while enjoying the 4th of July salute with her parents and young brother. 
The iconic rapper and actor LL Cool J is already a granddad to two beautiful kids, thanks to his eldest daughter and certified real estate agent, Italia Smith Cardinez.
Italia's journey into motherhood began a few years ago after she said "I do" to Lamar. The pair has since enjoyed marital bliss with a low-profile lifestyle.
The mother of two delights herself in sharing unique details about her family online. Italia's legion of fans is acquainted with the beautiful faces of the Cardinez pack, except her youngest child.
Their first three kids did not inherit either daddy or mommy's genes in terms of career choices, except for Nina.
This is because she shields her face and uses emojis or other icons to cover the young beauty. However, in a recent post, LL Cool J's daughter did not pay too much attention to the coverup, risking her daughter's uncovered face.
It was a nighttime recording in honor of the independence day celebration. The entire family was out to watch the 4th of July salute that welcomed smiles and fireworks when the camera flashed past her adorable face.
Italia seemed not bothered about the quick reveal; she attached a Bible quote to the caption after writing: "May God Bless America. Happy Independence Day."
A few hours later, she added a happy family snap showing mommy bonding with the kids to her Instagram stories. As expected, the mother of two employed an American flag heart-shaped filter to cover her daughter's face.
ITALIA AND THE SMITHS
LL Cool J shares his eldest daughter with his jewelry brand owner wife, Simone I. Smith. The couple has been married for almost a decade and are parents to four beautiful kids.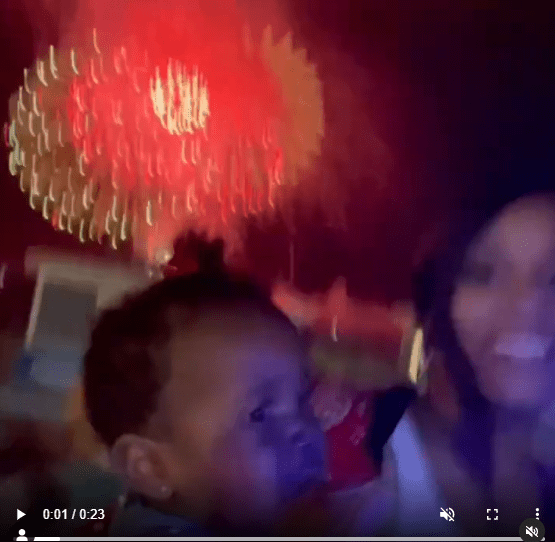 Italia, their eldest daughter, already has her family; still, she maintains a close bond with her parents and siblings, and often online, the mother of two celebrates their unique relationship.
In May, she shared a lovely photo of her and Simone in celebration of Mother's Day. The women were out dressed charmingly for the memorable holiday. As if that was not enough, Italia tugged at hearts with a caption that read:
"Surrounded by Love and I'll never take it for granted."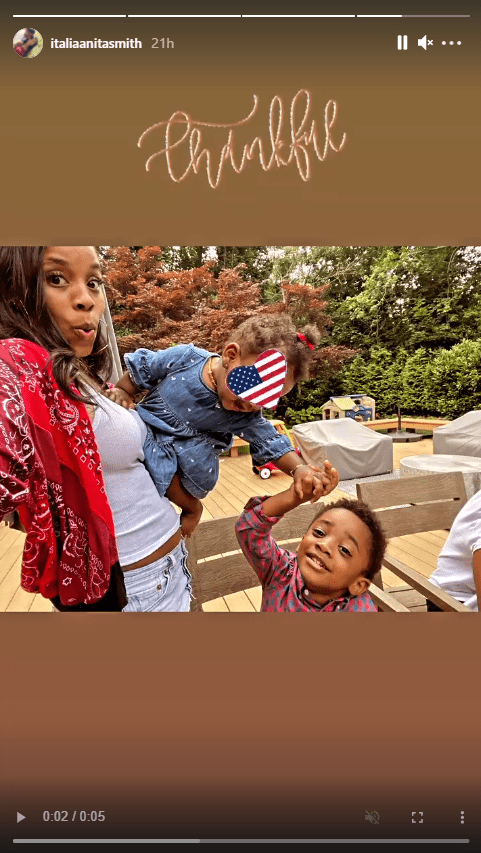 This undying and cherished love is often reciprocated by the Smiths, who show immense support for their girl online and offline. Fans would recall that in 2017 when the older couple gave their child's hand in marriage, they hosted a star-studded wedding for the newlyweds.
The actor walked his daughter down the aisle a few days before Father's Day at the Sparkling Pointe Vineyards and Winery event in Long Island, NY.
Both father and mother shared their excitement over the graceful occasion and their daughter's new phase online. Numerous celebrities like Mary J. Blige, Cookie Johnson, and Niecy Nash attended the event and passed heart-melting comments after. 
These same set of individuals have been supportive since the first day the couple announced their engagement in 2015— revealing that Italia's support chain ranged from family to family friends and famous aunties!
LL COOL J'S LOVING FAMILY
The Smiths share a son named Najee, and three daughters, Italia, Samaria, and Nina, all of whom are on the journey of achieving greatness in their respective careers.
Their first three kids did not inherit either daddy or mommy's genes in terms of career choices, except for Nina, who is an aspiring singer and model. Najee is a professional photographer, Italia, a real estate agent, and Samaria, a fashion designer. 
Despite the differences in their choices, they all witness nothing but unwavering support from their parents, with the actor being persistent in instilling core values in them and frowning on raising spoiled kids.
Although they all lived a privileged life, their dad made them appreciate the good things and understand the essence of hard work and determination.