Serena Williams' Daughter Olympia Is an Adorable Princess While Rocking Blue Floral Dress & Beaded Braids
Olympia Ohanian has stolen the hearts of many once again, thanks to her adorable floral dress. The sweet toddler looked as cute as ever while posing next to her dad's impressive pancake art. 
Serena Williams' daughter may just be a bigger star than the tennis icon herself. The three-year-old cutie looks more and more like her beautiful mother each day, as seen in the images shared by her dad on Twitter. 
Alexis Olympia Ohanian Junior is Serena Williams and Alexis Ohanian's young daughter. The toddler started making headlines even before she was born after her mom won the Australian Open while pregnant with her.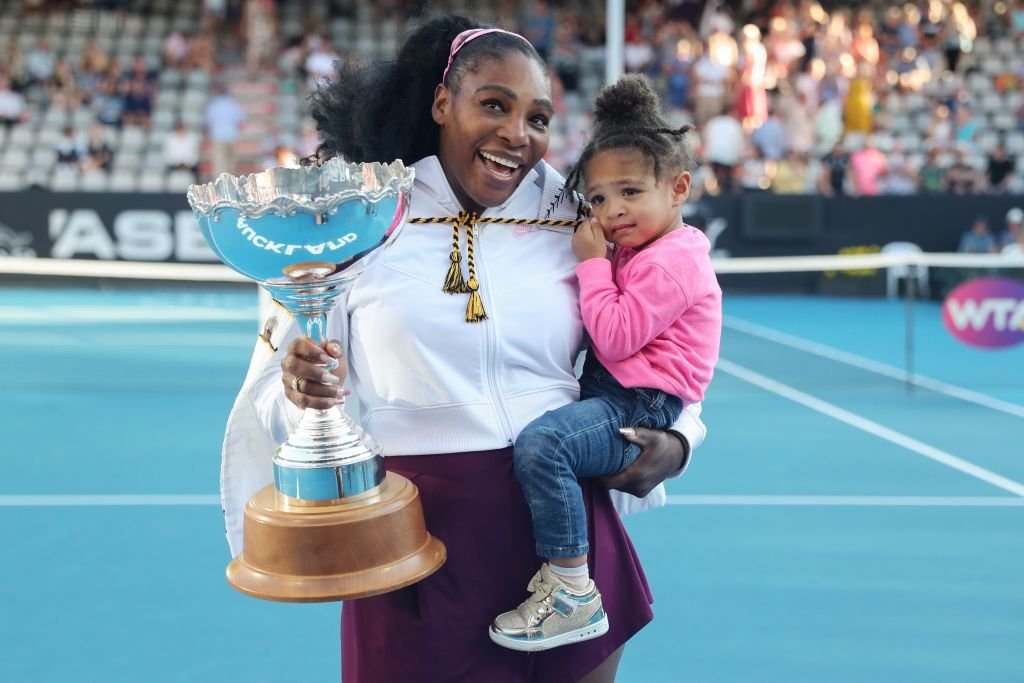 Since then, Serena's mini-me has been the topic of conversation every other time her parents are on social media. The toddler's princess-style dresses and matching mommy and me moments have fans hooked. 
Olympia's youthful style is showcased perfectly in the recent pictures that display her pretty blue and floral dress. One also can't help but marvel at the toddler's sweet bead accessorized braid hairstyle that she rocks. 
Yes. Beads first pic.twitter.com/MPEMTBsuvx

— AlexisOhanian.eth 7️⃣7️⃣6️⃣ (@alexisohanian) July 4, 2021
The recent images are not the first sighting of Olympia in a princess-style dress by far. In fact, the three-year-old style star is notorious for rocking an extravagant, full skirt princess gown for any given occasion. 
Olympia also seems to have her mother in on the fashionable princess attire of late. Williams shared a picture of herself and her daughter wearing matching pink gowns, proving there's always room for two princesses. 
Olympia also showed up for the occasion during a recent trip to the Palace of Versaille with her parents. The toddler arrived at the French palace in a yellow ball gown inspired by Belle's garment in "Beauty And The Beast."
In true princess spirit, Olympia also accessorized her magical outfit with a pair of sparkly gold shoes. This toddler surely knows she is some type of royalty, and we think her dad's spectacular pancake treatment is to credit for it. 
It isn't every day that you get to eat pancakes that look like your favorite characters and people unless you are Olympia. Her dad regularly makes the toddler impressive pancake art creations that are perfect for a little princess. 
Nothing and no one is off the table when it comes to Olympia's pancakes, even Williams herself. The tech entrepreneur shared his hilarious first attempt at making his daughter a pancake that looks like her mom upon her request. 
Olympia is spoiled with pancakes and also gets showered with quality time with her successful parents. Although Williams has many responsibilities, she shares that she is able to keep her schedule flexible for her daughter. 
However, having a schedule she can control does not mean Williams doesn't have a tough time juggling work and motherhood. The tennis star revealed that mom-guilt still affects her deeply when she has to leave her child. 
Williams also touches on how motherhood pushes one to be vulnerable, a big change from her athletic training that teaches strength. As a result, the mother of one expresses that the journey has been scary for her at times. 
Fortunately, Williams has enough training left in her to keep going for the little girl who has her heart. The athlete explains how having a daughter has made her even more motivated to fight for women's equality:
"That's why I want to take it head-on now. I'm in a part of my life where that's something that I really want to talk about."
Williams has dealt with several discriminatory instances in her profession, so her experience may strengthen her cause. Fortunately, she also has her mini-me to ensure that her strategies work for the future generation.