Widower Who Lost Wife in Kobe Bryant Helicopter Crash Brings an Emotional Performance to AGT
51-year-old Matt Mauser's performance on America's Got Talent had the judges and the audience on their feet in a standing ovation for his emotional rendition of "Take A Look At Me Now."
Matt Mauser took to the big stage of America's Got Talent to share not only his beautiful voice but also his moving story. The 51-year-old lost his wife, Christina, in the same helicopter accident that killed Kobe Bryant. 
Mauser had the audience and judges of the show captivated after telling them of his and his family's journey through loss over the last year before giving a stellar performance that left everyone breathless.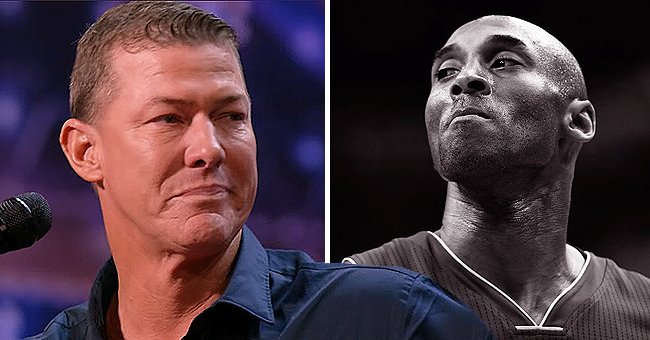 TAKE A LOOK AT ME NOW
Prior to his moving performance of Phil Collins' "Against All Odds (Take a Look at Me Now)," Mauser shared about his journey to the "America's Got Talent" stage and the loss he had to endure. The singer shared his backstory, saying: 
"we retired from teaching so that I could do the music full-time, and she got the opportunity to coach girls basketball with Kobe Bryant."
Mauser, who shared three children with his late wife, then revealed that his wife of fifteen years was killed in the horrific helicopter crash that also took Kobe Bryant's life on January 26, 2020. 
STILL STANDING
Mauser's heartbreaking story had the judges speechless as they witnessed his raw emotion over the untimely death of his wife and the repercussions it held for him and his children. 
Mauser also shared that he took life after the crash day by day.
The singer carried those powerful emotions into his performance of the moving song that he related to very well. Mauser managed to remain composed and portray his talent accurately. 
MAINTAINING COMPOSURE 
Mauser wasn't the only one who was teary-eyed by the time he sang the last note of the song as the judges stood up along with the entire audience to applaud him for his amazing performance. 
Remaining composed and not letting his emotions get the best of him was not as easy as Mauser let it look because, in a post-audition interview, he shared: 
 "The audition process was extremely challenging because I had to not only master the phrasing of the song but I also had to conquer my emotions while singing it."
FOR THE KIDS
Before stepping onto the big stage, Mauser sat down with the show's host, Terry Crews, to discuss what life before Christina's death looked like and what their love story entailed. 
The father of three revealed that their paths crossed when Christina saw him performing in a dive bar, and the two of them ended up sitting in the car talking about music for hours on end. 
Mauser also said that he was doing everything in his power to ensure that his children continue to live happy lives because that is what their mother would have wanted for them. 
In an interview with CNN last year, Mauser also shared that he took life after the crash day by day because looking too far forward was too big of a challenge to face. 
There is hope on the horizon for the Mauser family as the singer has an amazing journey on "America's Got Talent" to look forward to. His performance roped in four big yes's from the judges. 
Howie Mandel shared in Mauser's joy after receiving the go-ahead from the judges saying that Christina was always with the family and that she lives on in her children.